Wow I cannot believe it's Monday already!! It's so fast! It seems like just yesterday I made the popcorn ice cream and photographed it. This week's ice cream was abit rushing, if I may top up, VERY rushing. I made the ice cream on Thursday and never got the time to photograph it. Until the weekend, very early during the day, but I wasn't happy with it because it looked a little naked, as Tracie calls it 😛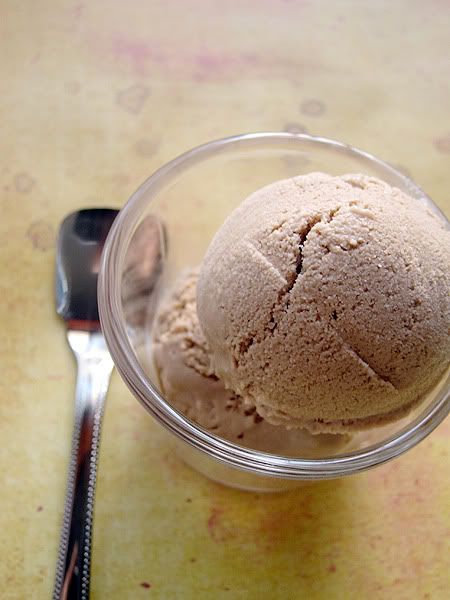 It can go off as Milk chocolate / banana / peanut butter / brown butter / caramel ice cream, right ? But this wasn't what I was looking for. I was intending to make an Affogato. Affogato means "downed" in Italian and usually takes the form of a scoop of vanilla gelato or ice cream topped with a shot of hot espresso. I mean, really, looking at it, it's not interesting at all without the espresso. So I decided to take the photo again, today, during lunch time. With partner in crime, Tracie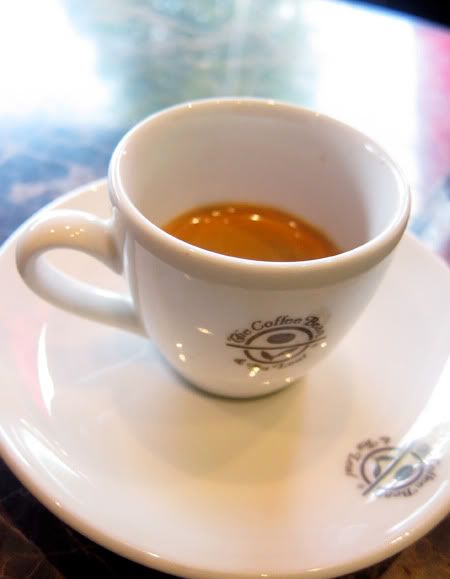 Espresso. Not my thing.
But anyways, I wanted to try just to see how it turned out to be. Definitely an adult thing. Really. And we decided to go to the nearest coffee shop, well nearest as in, next door anyway. And do some damage there.
Secretly, we bought a shot of espresso, snuggle in a corner with sufficient sunlight. And prepared the camera, adjust the setting, did some test shots, making sure we don't waste any time in  between because, espresso is hot, ice cream is cold. Somehow or rather, I won't have any time for any mistakes.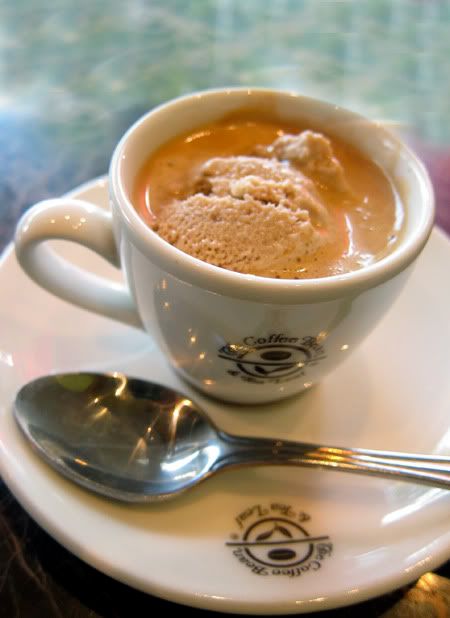 First shot, mm not too bad but the ice cream wasn't floating up too much, so we added more and more ice cream into it and made it look like it's overflowing, yumminess.
Oh have I said what ice cream flavour was it? It's a Milk Chocolate Guinness Ice Cream. I obviously did not come up with it, but it just seems logic to me. So I decided to give it a shot. I like Guinness, smooth and silky, and bitter. Hence, made into ice cream, maybe it will reduce the bitterness a tad as ice cream has cream, milk and sugar. So I went to look for some recipes and saw it in David Lebovitz's The Perfect Scoop. In the book, there's an ice cream, just what I wanted. Milk Chocolate and Guinness.
Does it make sense yet?
Milk chocolate will reduce the bitterness of Guinness even more and hence making it creamier and easier to eat. but it doesn't make sense now that I think of it, why do I reduce the bitterness of the ice cream, then chuck it into a shot of espresso, which is bitter. Hahaha … Doesn't matter I will tell the taste verdict later.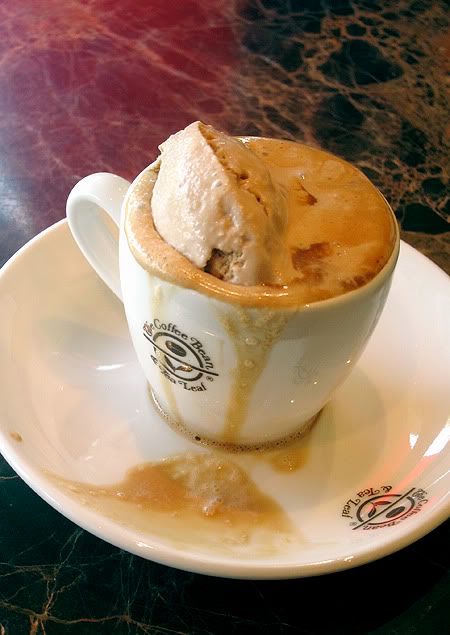 There's at least 2 scoops of ice cream in there, and some smaller bits. The best way to eat it is, to drink it while the ice cream is melting. I don't know how legal it is to drink stout and espresso together. It certainly is confusing.
Milk Chocolate Guinness Ice Cream
1 cup (250ml) cream
1 cup (250ml) milk
4 egg yolks
100g sugar
1 can Guinness Stout (which is around 300ml)
100g milk chocolate buttons or cut in small pieces.
In a saucepan, boil milk and sugar. In a separate bowl, whisk egg yolks with half the cream. Once milk and sugar comes to boil, stream down into the egg yolks while whisking continuously, to temper the egg yolks. Then pour in the remaining milk and whisk till combines. Pour custard back in saucepan and stir constantly under low heat for a couple of minutes.. Custard should thicken and coat the back of a wooden spoon.
In a bowl, put in milk chocolate buttons and strain in the custard into the bowl. Stir to melt the chocolate. Then pour in remaining cream and guinness into the mixture. This will bring down the temperature. Pour custard into ice cream maker and churn as per manufacturer's instruction.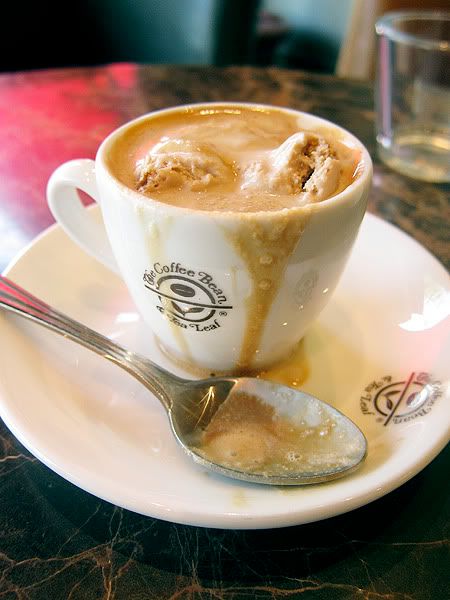 Taste verdict. It's pretty interesting.
The ice cream itself has a very distinct flavour of Guinness. Strong. The after taste was the sweet creaminess from milk chocolate. Bitter sweet, really. It's pretty interesting. It smells wonderfull too!, amongst all the ice cream I've made, this and the popcorn smelled really good. Because the ice cream had alcohol content, it melts really fast. And because there's water, the texture is rather grainy and not as compact as the usual ice cream texture.
With the espresso, it's even more intersting. Although it may be a bit confusing at first. Despite it's natural bitterness, it was the best espresso I've ever had. Though I've probably only had a handful of espresso. It's sweet, bitter, slightly sourish from the espresso, cold and creamy. Confusing, like I said, but it makes you think for a bit. Hahaha It's downright an adult ice cream, a more sophisticated "float".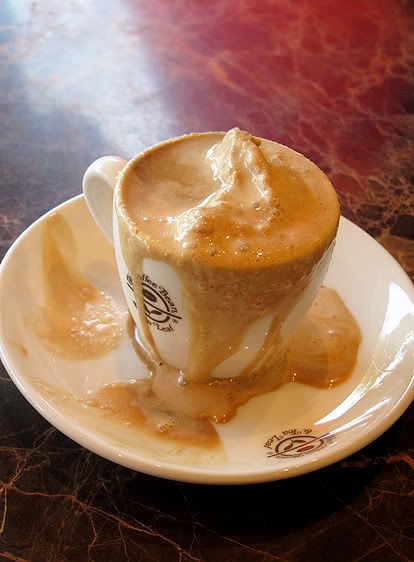 Messy. REALLY MESSY!!!
But I like… 🙂