Nutella, banana, chocolate, peanut butter; you can't really go wrong if you have these in your cakes or cookies unless, well, the texture is bad. But the name would win a few "pick me" already. If a toast can have bananas and chocolate, I don't see why a macaron can't. Heh. Macarons are very versatile in terms of pairing of flavours. It can be very daring with savoury ingredients like bacon, corn or chili or with the norm like chocolate, vanilla or raspberry.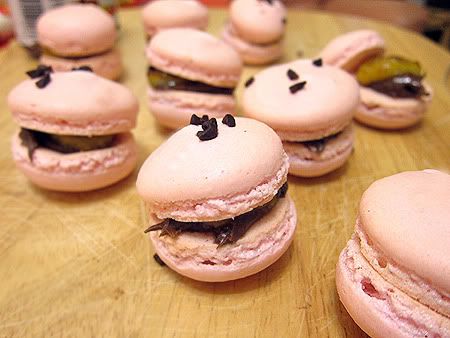 I haven't had much luck with macarons here. I probably don't make enough of them to really get the hang of it. It's like I can probably have one eye closed when making butter cakes or cupcakes, because i've made a million times of it. But these little morsels certainly eeks me up sometimes. Let's just say, it's not consistent yet. Sometimes I get a floppy batch, sometimes I get a well, pretty good batch.
Previously I've made macarons with the French meringue method (whisking egg whites then incorporate them into almond meal and icing sugar) They were so-so okay, but Like I said, not too consistent, which then comes back to not making enough of it. So then I remembered during my times in Le cordon Bleu, The original recipe was a French method, but another chef came and gave us another recipe using the Italian method. He's probably made macarons a million times and it was like a one-eye-closed thing for him. Heh am I confusing|
So then anyways, I decided to give the Italian Meringue method a go. I had a thermometer so there shouldn't be any problems getting the sugar syrup to the right temperature. I used Ko Wai's recipe, which was listed in Su Yin's blog. I'm sure there are other Italian meringue method macaron recipes, it's just the matter of time and trial & error in finding the right one. (With the right sweetness and texture)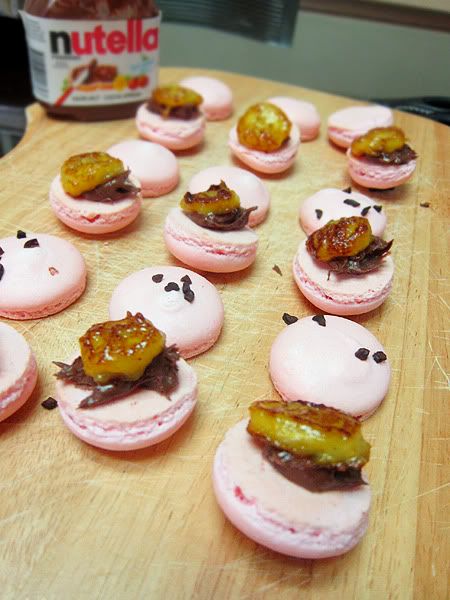 Macarons Recipe
Part A
110g Egg Whites
300g Caster Sugar
78g Water
Part B
110g egg white
300g icing sugar
300g almond meal
Part A. In a saucepan, boil water and sugar till 116 C to form a syrup. When the sugar syrup is at 112 ish Celcius, start whisking egg whites to a soft peak. When the sugar reaches 116 C, pour in in a consistent stream while beating egg whites in the mixer to form an italian meringue. Continue beating till glossy.
Part B. Pulverize icing sugar and almond meal till they're fine, without lumps. Sift once or twice. Combine all ingredients into a paste. You may add flavours or colour into this paste.
Then lightly fold Italian Meringue into the almond paste in 3 portions.
Fill piping bag with a round nozzle and pipe 4cm dots of macaron paste, 2cm apart on silpat or wax paper.Let it rest for about 30 minutes. Sprinkle some cocoa nibs on top for some crunch.
Bake in preheated oven at 180 C for about 6 minutes. Bring down the temperature to 160 C for another 5-6 minutes.
It really depends on your oven. Some might be spot on in timing, but mine is rather old-fashioned. It takes a bit longer for it to cook. So keep an eye on it. When done, remove from oven and let it cool completely before removing from paper or silpat.
Pipe dollops of filling, like me, nutella and caramelize some sliced bananas, then sandwich them with another macaron shell. Voila 🙂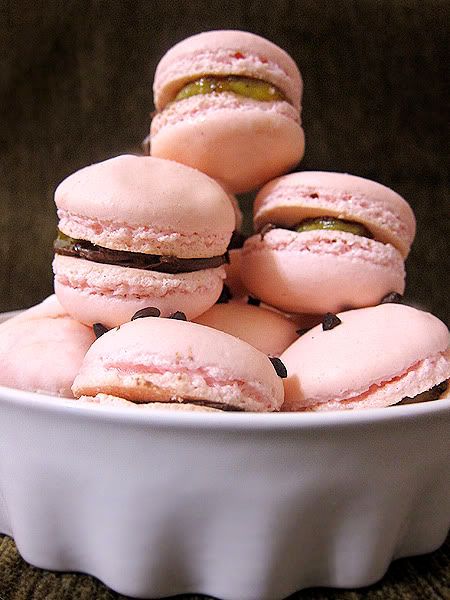 I'm no-macaron-master so as far as it comes to macarons, I can't tell or explain much in terms of why it turns out bad or why there are no feet or why it cracks. But there are some few good blog posts which I reckon worthy reading material if you want to know more about the technical parts of it. Not So Humble Pie's take on Italian Meringue method and French Meringue method and Syrup and Tang
Next I may try some different recipes with the italian meringue method as I find this method easier. Although you need to boil sugar and check the temperature thingamajig, it's reduces the chances of overmixing the batter compared to the French Meringue method. This batch was slightly sweeter for me. Though I have to say I have quite a sweet tooth. I may also try my chef's recipe, but first I have to find it 😛 I seriously have alot of egg whites in the freezer from all the nonsensical ice creams making session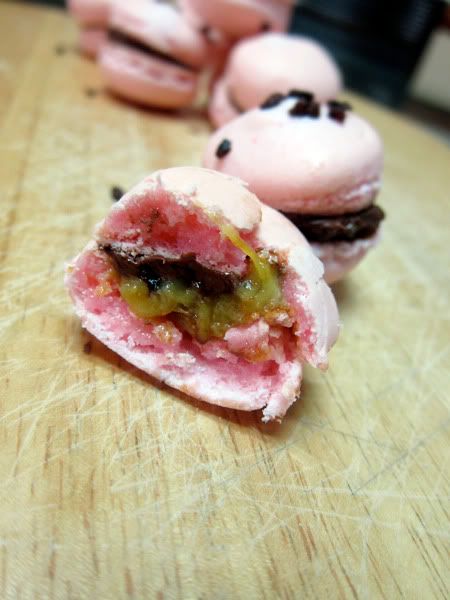 —-
On a totally unrelated note, I just found an old picture of dessert I made quite some time ago in a school in Melbourne. Heh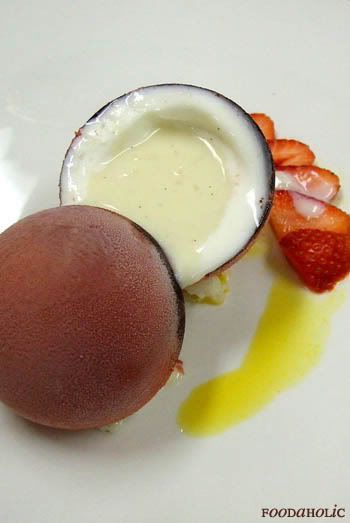 It's a coconut something something something. Lol. 3 years are not that long to forget. Well anyways, it's just a pic 😉
And I used to be so so fat in Australia omgomgomg
ciao