You've been redirected from my old blog http://sweesan.blogspot.com . Please kindly update your links or bookmarks, or even feeds. And come back to this address from now on 😉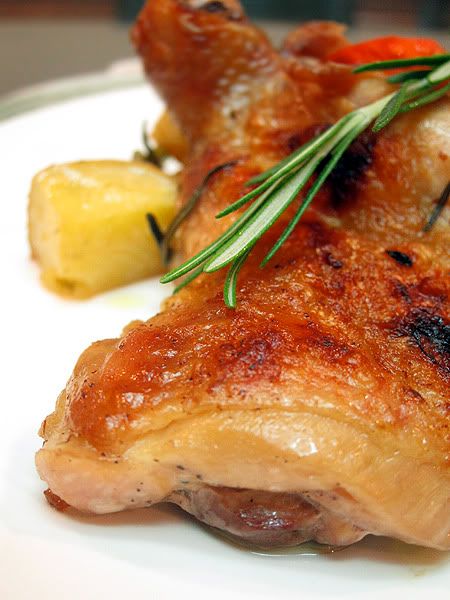 I hardly ever cook with a recipe when it comes to roasting chicken or potatoes. It's more instinct based and, really, it's very easy. I bought a rosemary plant quite a while ago (which it died eventually) and because it was tall, I snapped off some stems (smart choice, because it died anyway) and used it for some cooking instead. Previously made some focaccia with it and used up the rest in this dish. It's quite a classic pairing between both. When I first started making roasted chicken, I used dried herbs instead as fresh herbs were so much more expensive back then, and there usually are too much and you can't keep them. So dried herbs, easy to store at least for a few months. But nowadays, fresh herbs are relatively much cheaper than it used to, and the selections are wider. There are even pineapple mint in the market now. No joke.
So buying fresh herbs for cooking, not an issue. Planting them? want to, but haven't gotten there yet. If they don't die on me, I would have quite a few stalks already. Anyways… Back to the chicken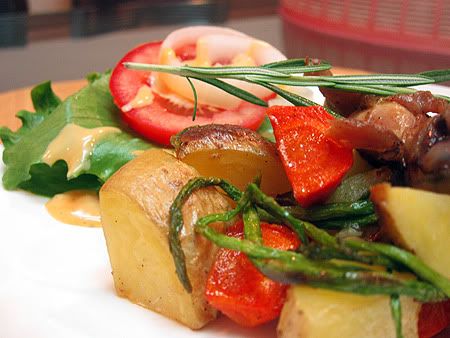 And the vegetables..
Roasted Rosemary Chicken and vegetables
(serves 2)
2 Chicken legs (thigh + drumstick)
2 small potato
1 carrot
3-4 sprigs of rosemary
4 cloves garlic
baby asparagus
salt
black pepper
olive oil
1. Wash vegetables and peel the carrot. Cut potatoes to half, then cut into 6 pieces, or however much you prefer, but it should be somewhat the same size as the carrots after you cut them so they cook better. Bring a pot of water to boil, then add in potatoes and let it cook for about 15 minutes. This should quicken the roasting time. Drain in colander, give it a shake to release the steam, then pour into a roasting pan. Add in carrots, salt and pepper. Drizzle and toss with olive oil.
2. Wash chicken and pat dry. Drizzle some olive oil over chicken and rub with some rosemary leaves all over. Make small slits on the skin and tuck some leaves in. I usually also tuck them underneath the skin so the chicken meat has more flavour. Season with some salt and pepper and place it on the roasting try with the potatoes. Crush garlic and place them under the chicken on the pan.
3. Put in a preheated oven of 180C and let it roast for 30 – 40 minutes or until it's cooked. Turn the vegetables once or twice before it's done. Add in baby asparagus 5 minutes before it's cooked. After it's done, I usually turn on the broiler. Put a small knob of butter or drizzle more olive oil on the skin and grill the chicken for 1 or 2 minutes so the chicken skin is crispy and slightly burnt.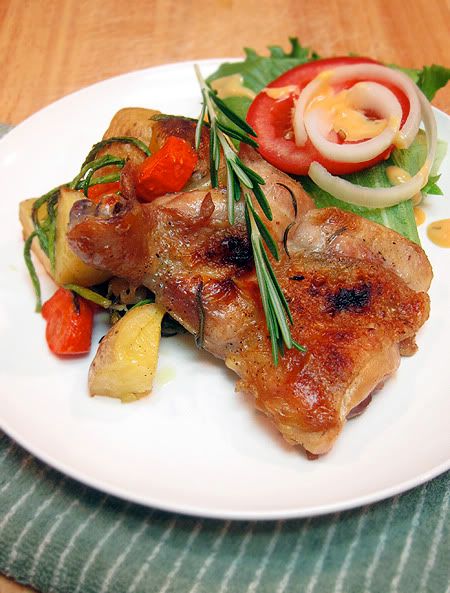 Et voila!
Serve with some lettuce leaves,  sliced tomato, onions and some dressing. Should be yums..
No stir frying or deep frying. Just put everything in the oven and let it do its job. Then you can sit and watch tv while it's cooking. No hurry :)Although some bacon would be extra yums..