OK This will be a quick one.
I've made this cake quite a while now and it was during midnight. I love midnight baking, despite the noise, but the weather is just more cooling. The best part is, chiffon cake is still awesomely fresh the next morning!! So I used the same chiffon cake recipe I use all the time, and tweaked it a little by adding mango, banana, yogurt and walnuts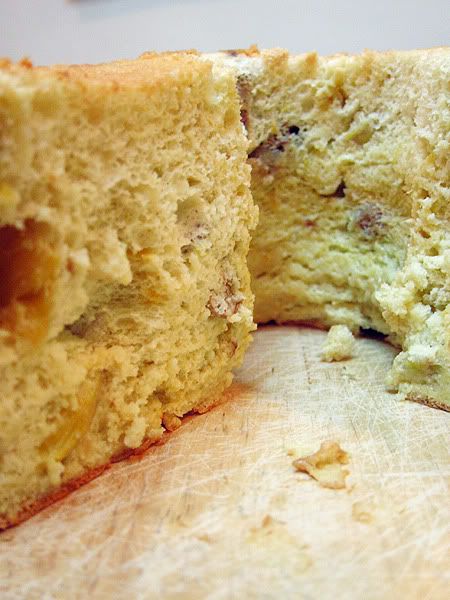 The thing about midnight baking is that it's very impulsive. Initially, I only wanted to make a chiffon cake with mango and yogurt instead of 100% milk. But then I was cutting the mangoes, a few almost over ripe bananas caught my eye. Then I thought, maybe a few bananas wouldn't hurt.
Mix mix..  whisk whisk
throw in mango
throw in bananas
(please cut them smaller if you're adding chunks of fruits into the batter as this would then cause huge air pockets when u cut them open.)
Then the batter's in the pan.
Just right before I put it in the oven, I caught a glimpse of some walnuts!! Oh dear, if it was Oreo I saw, it could have been a weird combination, but walnuts, hey, healthy nut.
Throws in some toasted walnuts into cake batter… puts in oven..*errrr… doesn't matter if it doesn't work… *


Banana Mango Yogurt Chiffon Cake with Toasted Walnuts
(makes a 10″ chiffon cake)
140g All purpose Flour
1 tsp baking powder
6 egg yolks
1 mango, diced
2 ripe bananas, mashed
50g yogurt
4 tbsp Corn oil / Canola oil
50g caster sugar
pinch of salt
6 Egg whites
1/4 tsp cream of tartar
120g Caster Sugar
handful toasted and chopped nuts
Method:
1. Combine yolks, oil, caster sugar, bananas, yogurt and salt with a whisk. Add in flour till it forms a smooth batter; lump free.
2. In a mixing bowl, whisk egg whites and cream of tartar until foamy. Gradually add in caster sugar while whisking at high speed till medium peak. It should also be glossy.
3. Gently fold in beaten egg whites into egg yolk batter until well combined with a whisk. A little TLC needed here. Lightly scatter mango and nuts and give it another fold.
4. Pour batter into a 10? chiffon cake pan. DO NOT GREASE PAN. * Bake in preheated oven at 175 C for 35 minutes or until cooked.
5. Once cooked, remove from oven and invert it to cool completely. To remove cake, slide a knife around the inner perimeter of the pan, twist it out. Then slide a knife at the bottom to release it, and knock it out onto a plate / board. Basically it's upside down now.
*The reason why you don't grease chiffon cake pans are so that they stick to the pan when they rise. And when you cool the cake, it has to be inverted upside down so the height of the cake remains "high" and it doesn't sink back down.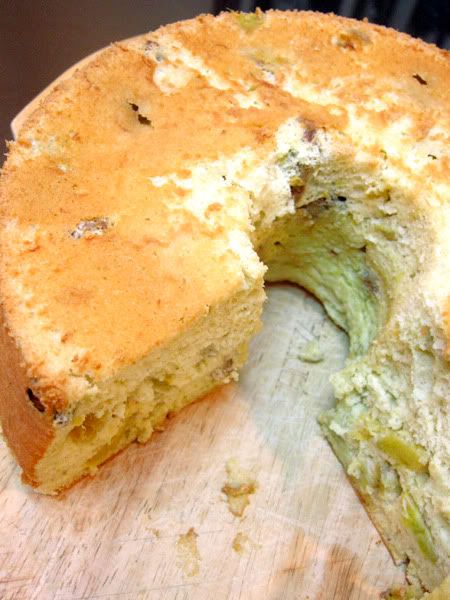 Faulty it was. Why? Because I the mangoes were too big and the bananas weren't mashed. Hence it was a little too rustic. Lol. And I've probably used too much yogurt, so in the recipe up there, I've reduced the amount of yogurt. But chiffon cakes are very adaptable and versatile. It works with lots of flavours if you want to experiment it and it's light. It will only take a day or 2 to finish the entire cake! Well, at least, in my house, it is.