Yup, cherry!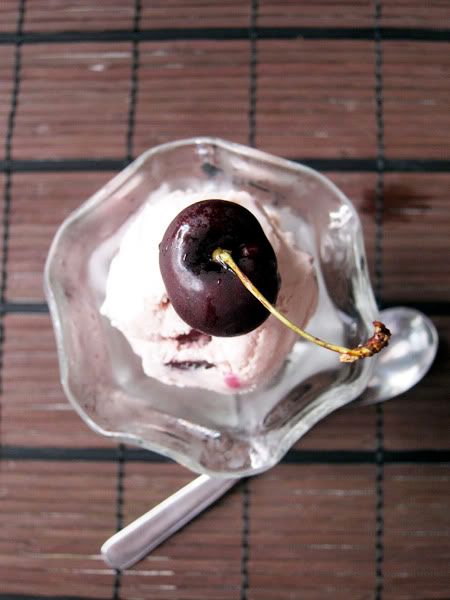 If you follow me in twitter, U'd know I'd bought 2 kgs of cherries for just RM50. Really. I'm not kidding! It's probably the best bargain u'd find here in Klang Valley.
It's probably the best time to make Ben and Jerry's Cherry Garcia. But since I've made it before, I'll make a full-on cherry ice cream.If I can get more cheap cherries this week, I'd make sorbet. hehe
Fresh cherries are so yum.. I've got more cherries post coming. Clafoutis and Pie. hehe However this ice cream is more like sherbet. With water in the recipe, it's a less heavy. And with alcohol in it, it doesn't freeze as well. It kinda melts faster too because rum was added in it.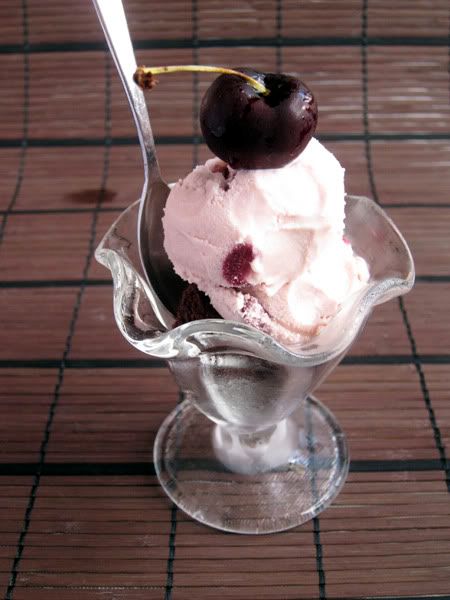 Cherry Ice Cream Recipe

(adapted and modified from The New York Times Dessert Cookbook)

250g cherries, pitted, quartered

1/2 cup water

170g sugar

1 cup dairy cream

1 cup milk

6 egg yolks

1 vanilla pod

2 tbsp rum *optional

Pit cherries, cut them in quarters and put in a bowl. In a saucepan, bring water and 50g of sugar to boil. Add in cherries and let it boil for 5 minutes. Set aside, let it cool.

In a bowl, add egg yolks, and 1/2 amount of milk. Whisk to combine. In a saucepan, add cream and remaining milk, and sugar. Scrap vanilla beans into pot. Bring to simmer, lightly whisk into egg mixture. Pour mixture back into the saucepan and whisk constantly over low heat for 4-5 minutes or until mixture thickens.

Strain into another bowl. Stir in rum and discard vanilla pod, or let it dry and make vanilla sugar with it. Combine both cherry and egg mixture. Let it cool and make ice cream in the maker according to manufacturer's instructions. It took about 60 minutes in my Cuisinart Ice Cream Maker as it was about 1.1 L.

Once done, freeze in the freezer for a couple more hours so it sets fully.