Apart from Kuih Bangkit, peanut cookies are my favourite cookie during the CNY period. I love the melt-in-your mouth but not too sticky type. Sometimes the cookie is so "thick" it gets stuck at your throat. lol.These Peanut cookies are similar to the green pea cookies but because peanut itself is oilier than green peas, the amount of oil used is lesser than the green pea cookies.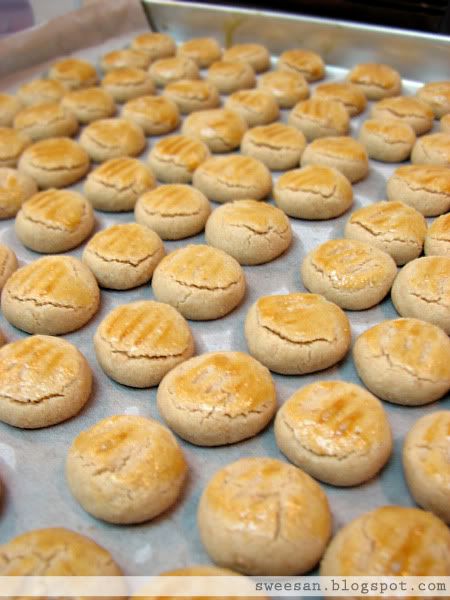 Peanut Cookies
Ingredients
150g peanut (without skin)
50g Icing Sugar
1 tsp salt
170g Flour
½ tsp Baking Powder
½ tsp Corn Flour
80ml Corn oil (or other vegetable oil)
Instructions
Roast peanuts in a 150 C oven for 15 minutes. Remove from oven and leave to cool. Meanwhile, increase temperature to 170 C.
Grind peanuts in food processor till resembles fine crumbs, the finer it is, the smoother the cookie is. But becareful as peanut is naturally oily, try to avoid over-grinding it.
Mix all dry ingredients together and whisk. Make sure everything is well incorporated.
Add in corn oil and mix till it resembles a dough.
Measure each piece at 5g (or more if you want a bigger cookie, but I find this size is just right) Roll into balls and press top lightly with fork. Brush with egg yolk wash and bake for about 15 minutes or till brown.
I made 3 recipes of this and yield more than 250 cookies..  @_@
PS : I just made another batch with….. 1kg of peanuts, that makes it abt 6x . My mum approves the recipe woh, so means its nice la okay.. LOL