made with homemade peanut butter. Lol, I didn't know peanut butter was so easy to make till I had my hands on it.
Homemade Peanut Butter
250g Peanuts
1 tsp salt
1 tsp Honey
1 to 1.5 tsp peanut oil
Method
1. Roast peanuts on sheet pans for 25-30 minutes at 150 C. Cool peanuts. Remove skin (if there is) by rubbing the peanuts in a dry kitchen towel. I used peanuts without skins.
2. In a bowl of a food processor, add in peanuts, salt and honey. Process for 1 minute. Scrap down sides of bowl. Continue till it resembles very fine crumbs.
3. While the processor is running, gradually drizzle in the oil. Process until mixture is smooth (about 2-3 minutes).
After which you can keep them in a sterilized jar and keep in the fridge for a week or so.. Or use to make peanut butter cookies!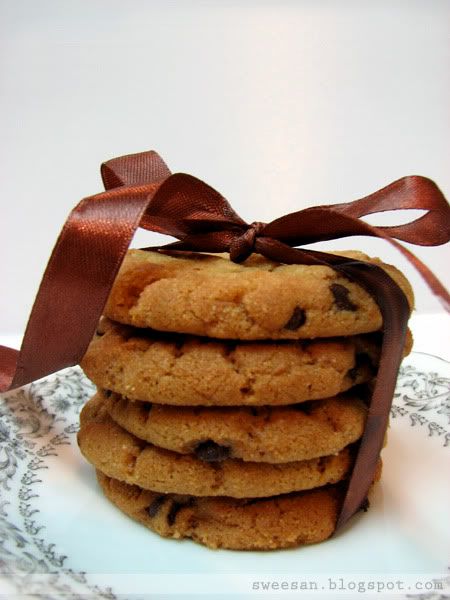 Peanut Butter Chocolate chip Cookies
125g Butter
100g Brown sugar
100g Caster Sugar
1 egg
250g Peanut Butter, chilled (use all that you yield from the above)
150g flour
3/4 tsp baking soda
1/2 tsp baking powder
1/4 tsp salt
1 cup Chocolate Chips
Method
1. Preheat oven to 170 C. In a mixing bowl, cream butter, peanut butter, both sugar till light. Add in egg and mix well.
2. Sift dry ingredients and add into mixture. Add in chocolate chips or nuts, whichever you like.
3. Chill dough in fridge if it's soft, otherwise roll dough into balls of 5-10g and place on lined pans. Press gently with a fork. Bake for 10-12 minutes.
4. Cool cookies on cooling rack,
This cookie is slightly chewy on the inside and crunchy on the outside. But if you bake it for an extra 3-5 minutes, you'll get a completely crunchy cookie..!!