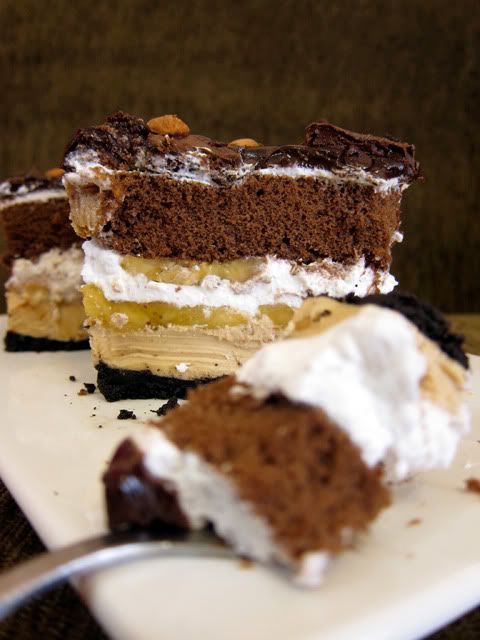 Remember this book by Nutriplus; Think Out Of The Shell ? It has a whole lot of recipes by different chefs. Different style and different technique. So my aim is to make 1 recipe from each chef. Of course, no time frame is inducted into this challenge, unlike Project 52 Ice Cream Mondays.
So one of the very first recipes that caught my eye was FatBoyBakes' Peanut Butter Banana Cake. Luscious layers of cream, chocolate, peanut butter and banana. It's as comforting as a lasagne, only sweeter.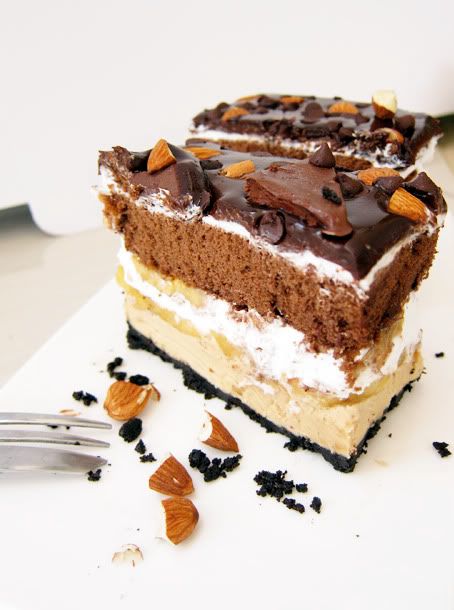 "Fatboybakes is an accidental baker. A civil engineer by training, he found that mixing batter was not much different from mixing concrete, but far more therapeutic."
Well I'm not so far off, I did architecture for a while before enrolling into Le Cordon Bleu. Conceptualizing, designing, planning, construction.. I guess it works the same too, only with butter, eggs and sugar instead of sand, cement, and steel.
When I saw the picture, I knew I wanted to make it, whether there's an occasion for it or not. How wrong can you got with peanut butter, chocolate and banana right ??? Now with bonus, cream 🙂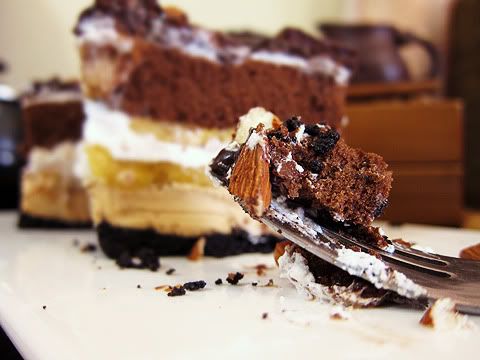 Peanut Butter Chocolate Banana Cake Recipe
(slightly adapted from Nutriplus's Think Out of the Shell")
1 packet Oreo biscuits
30g melted butter
200g Chunky Peanut Butter
400g Whipping Cream
4-5 ripe bananas
Chocolate Sponge cake
125g Chocolate Sponge Cake mix
2 eggs
25ml water
25ml oil


Ganache
150g Dark Chocolate Ganache
150ml Cream
Method
1. Prepare chocolate sponge cake. Whisk cake mix and eggs in a mixer till ribbon stage on high speed. Gradually reduce speed and stream in water, followed by oil. Pour into 8″ pan and bake at 180 C for 10-15 minutes or so.
2. Once baked, remove from oven and let it cool.
3. Grind oreo biscuits together with the filling in a food processor. Add melted butter and mix well.
4. Press mixture in the bottom of a 8″ cake ring, or a removable base pan.
5. Place peanut butter in the mixer, whisk to break up a bit. Add in 200g whipping cream and whisk till the mixture is light, fluffy but firm. Pour onto the Oreo base.
6. Whip the remaining 200g of cream till medium peak. Spread a thin layer, then layer with bananas, then a layer of cream, lastly bananas. Leave a small amount of whipped cream.
7. Lay the chocolate sponge ontop. Press lightly. Spread a thin layer of cream and refrigerate while you prepare the ganache.
8. To make ganache, bring cream to almost boiling stage, then pour over chopped dark chocolate. Sit for 1 minute. Stir the chocolate mixture with a spatula till everything is combined. Let it cool and pour ganache on top of cream. Refrigerate for a few hours before serving.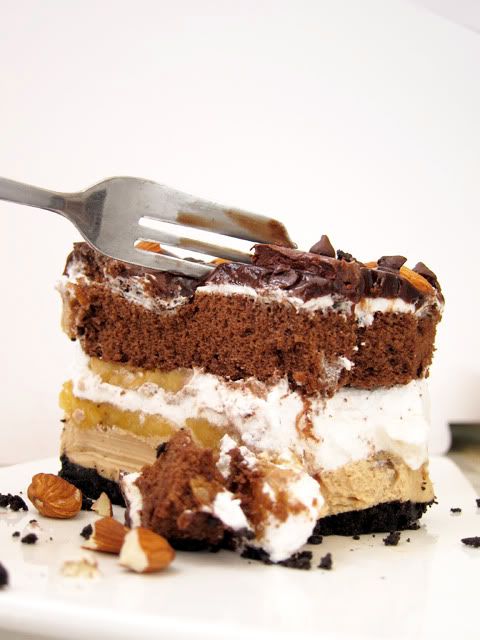 Oreo + peanut butter + cream + bananas + Chocolate = Bliss
cheers