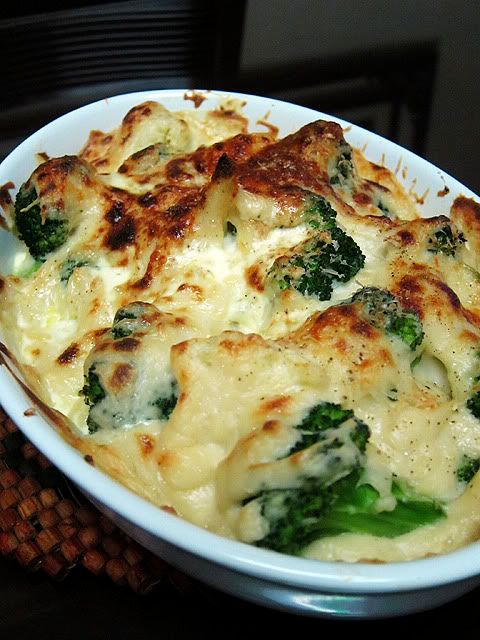 Gooey yummy cheesy comfort food, with vegetables ! It's 50% healthy and 50% unhealthy Hahaha so I'll let you decide whether it's a healthy dish or not. Anyways, I got this book a long long time ago; Apples for Jam by Tessa Kiros. The book is categorized with colours of food. Say for orange, there'd be recipes for butternut squash, carrot, pumkin.. and even for pink, there's pomegranate, prawn those yada yada stuffs. And came upon green, of course the veges. I picked Gratineed broccoli to serve with the orange chicken (wah so colourful already :))
I added some cauliflower to it because there are some leftoevers of it in the fridge, might as well use it up. I don't mean to kid but do read some benefits of the most dreadful vegetable for a kid on a table; broccoli
Broccoli provides a high amount of vitamin C, which aids iron absorption in the body, prevents the development of cataracts, and also eases the symptoms of the common cold.

The folic acid in broccoli helps women sustain normal tissue growth and is often used as a supplement when taking birth control pills and during pregnancies.


The potassium in broccoli aids those battling high blood pressure, while a large amount of calcium helps combat osteoporosis.

The vegetable is also fiber-rich, which enhances the gastrointestinal (GI) tract, as well as aims to reduce blood cholesterol levels.
I reckon if you prepare the vegetable in a way that it doesn't look exactly like a vegetable, the kid will accept it. Haha but then again I don't have a kid, who am I to say lol.. Do you kids like broccoli ?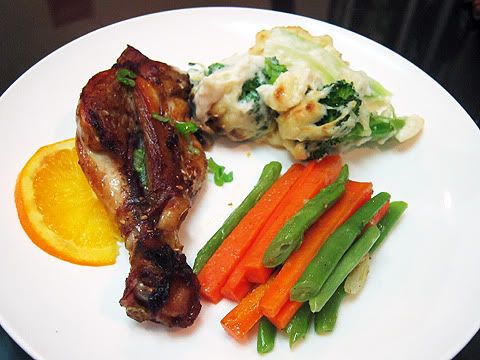 Broccoli and Cauliflower Gratin Recipe
(adapted from Tessa Kiros's Apples for Jam)
serves 4-5
300g Broccoli florets
100-200g Cauliflower florets
50g parmesan cheese, grated
Bechamel Sauce
45g butter
30g plain flour
1 1/2 cups milk
1/2 cup cream (optional, I added for more creaminess)
salt and pepper to taste
Preheat oven to 180 C and grease a shallow oven proof dish that is suitable to take directly to the table.
Bring a pot of salted water to boil and lightly blanch broccoli and cauliflower florets. Drain and put into the dish.
Make bechamel sauce. Melt butter in a saucepan. Whisk in flour and cook for a few minutes, stirring constantly, then add in warm milk and cream gradually.
Whisk quickly so everything dissolves. Sauce should be smooth, add in salt and pepper to taste, some grating of nutmeg too. Continue cooking for 5 minutes or so, till sauce becomes thick and coats the back of spoon. Stir parmesan into bechamel sauce.
Pour sauce over broccoli and cauliflower, shake a little to fill up the gaps.Leave some florets showing. Bake for about 30 minutes and then serve hot.
For the brown / grilled colour, turn on grill during the last few minutes.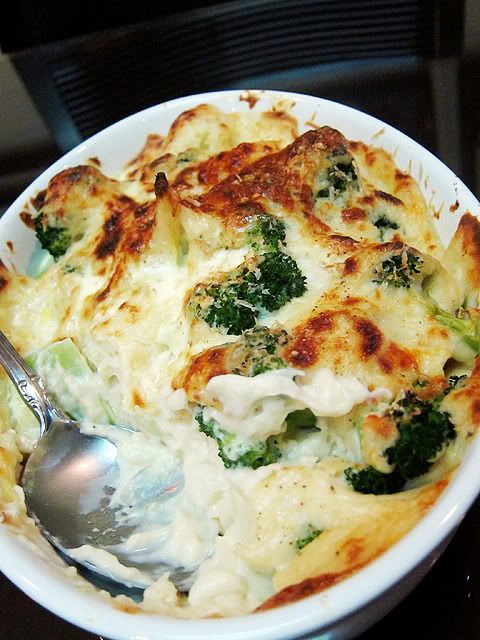 I thought the bechamel sauce was a bit thick for my liking, so maybe the flour can be reduced. But it was gooey good. 🙂