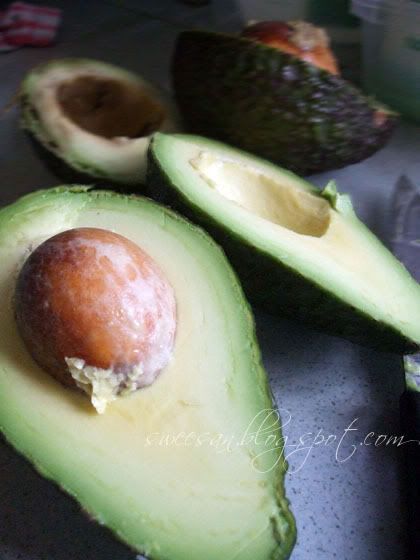 Recently I've been doing alot of blog-hopping and catching up on those blogs I've not seen in months! I always love those blogs with nice photos to inspire and creative ideas to share. So I came across Joy the Baker (hence the title)'s Vegan Chocolate Avocado Cake
At first glance, it may seem. Errggh ? Eeeww ?? ESpecially over here in M'sia, avocado is not the most favourite among the people here. In fact, it's pretty expensive too! More expensive than most fruits / vegetable anyway. Avocado is a fruit, btw.
I was amazed actually, by the fact that this lil green fruit here, doesn't discolour! Er I mean change its colour to be darker after oxidation. Cut fruit = exposed to air = oxidize = change colour. And it replaced butter! how amazing is that.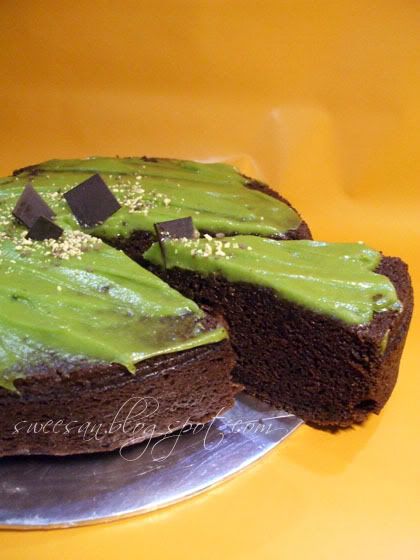 I twisted the recipe a little. Used milk instead of water and added some melted chocolate as well for the extra chocolaty gooeyness. For the avocado cream, I just added the sugar to personal liking. I'm not sure if its a pound of icing sugar I added. Maybe more maybe lesser..
Vegan Chocolate Avocado Cake

makes 2 8-inch rounds or 2 thinner 9-inch rounds

from Vegetarian in the Middle East

3 cups all-purpose flour

6 Tablespoons unsweetened cocoa powder

1/2 teaspoon salt

2 teaspoons baking powder

2 teaspoons baking soda

2 cups granulated sugar

1/4 cup vegetable oil (I used almond oil)

1/2 cup soft avocado, well mashed, about 1 medium avocado

2 cups milk

2 Tablespoons white vinegar

2 teaspoons vanilla extract

1/2 cup melted Callebaut Chocolate

Preheat oven to 350 degrees F. Grease and flour two 8 or 9-inch rounds. Set aside.

Sift together all of the dry ingredients except the sugar. Set that aside too.

Mix all the wet ingredients together in a bowl, including the super mashed avocado.

Add sugar into the wet mix and stir.

Mix the wet with the dry all at once, and beat with a whisk (by hand) until smooth.

Pour batter into a greased cake tins. Bake for 30 to 40 minutes, until a toothpick inserted comes out clean.

Let cakes cool in pan for 15 minutes, then turn out onto cooling racks to cool completely before frosting with avocado buttercream.

Avocado Buttercream Frosting

from Alton Brown

8 ounces of avocado meat, about 2 small to medium, very ripe avocados

2 teaspoons lemon juice

1 pound powdered sugar, sifted

1/2 teaspoon vanilla extract

Peel and pit the soft avocados. It's important to use the ripest avocados you can get your hands on. If the avocados have brown spots in the meat, avoid those spots when you scoop the meat into the bowl.

Place the avocado meat into the bowl of a stand mixer fit with the whisk attachment. Add lemon juice and whisk the avocado on medium speed, until slightly lightened in color and smooth, about 2-3 minutes.

Add the powdered sugar a little at a time and beat. Add vanilla extract until combined. If not using right away, store in the refrigerator. Don't worry. It won't turn brown!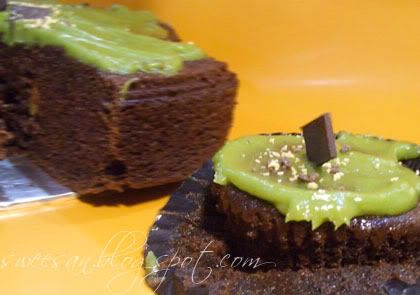 Ah, the cake was surprisingly soft and moist (must be the vinegar and milk) and look at the avocado frosting.. green as it is. naturally green. As I was eating this cake, it kinda seemed funny to me. Maybe avocado makes people laugh!! hahaha
ciao