And it doesn't get chocolatey enough? After the chocolate brownies, choc avo cake, now chocolate biscotti? Hehehe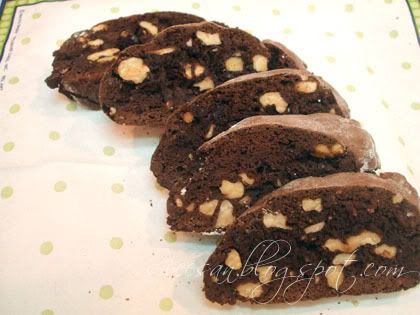 After the brownies from DL's web, I searched if there was any other things to make, quickly; while watching football. Biscotti, sounds like a good idea
Here's the recipe from David Lebovitz's
For the biscotti

2 cups (280g) flour
3/4 cups (75g) top-quality cocoa powder
1 teaspoon baking soda
1/4 teaspoon salt
3 large eggs, at room temperature
1 cup (200g) sugar
1 teaspoon vanilla extract
1/2 teaspoon almond extract
1 cup (125g) almonds, toasted and very coarsely-chopped
3/4 cups (120g) chocolate chips

For the glaze

1 large egg
2 tablespoons coarse or crystal sugar

1. Preheat the oven to 350F (180C) degrees.

2. In a small bowl, sift together the flour, cocoa powder, baking soda, and salt.

3. In a large bowl, beat together the 3 eggs, sugar, and vanilla & almond extracts. Gradually stir in the dry ingredients, then mix in the nuts and the chocolate chips until the dough holds together.

4. Line a baking sheet with parchment paper or a silicone mat. Divide the dough in half. On a lightly floured surface, roll the dough into two logs the length of the baking sheet. Transfer the logs onto the baking sheet, evenly spaced apart.

5. Gently flatten the tops of the logs. Beat the remaining egg and brush the tops of the logs liberally with the egg. (You won't use it all). Sprinkle the tops with the coarse or crystal sugar and bake for 25 minutes, until the dough feels firm to the touch.

6. Remove the cookie dough from the oven and cool 15 minutes. On a cutting board, use a serrated bread knife to diagonally cut the cookies into 1/2-inches slices. Lay the cookies cut side down on baking sheets and return to the oven for 20 to 30 minutes, turning the baking sheet midway during baking, until the cookies feel mostly firm.

Once baked, cool the cookies completely then store in an airtight container for up to two weeks. If you wish, the cookies can be half-dipped in melted chocolate, then cooled until the chocolate hardens.
Brought some for breakfast the next morning and dipped them into coffee. I think maybe dark espresso would be bomb! Biscotti for Breakfast ? hahaha yes I'm serious. I'm planning a project, a cookbook project. I have like millions of books but I always never really bake or cook anything from the books. So this time I'm picking a book and I'll be making everything from there. I think people around me are going to gain some weight then 😛
Oh but, sharing is caring, eh? hehe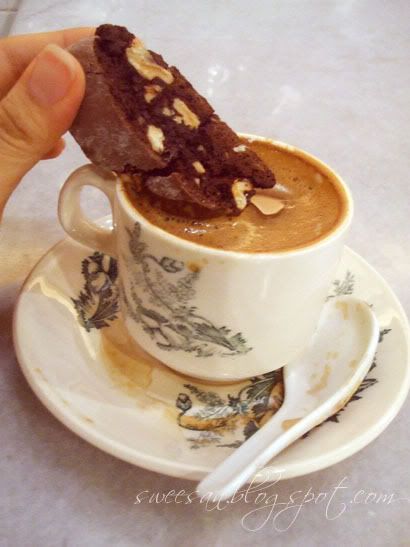 xoxo,
Swee