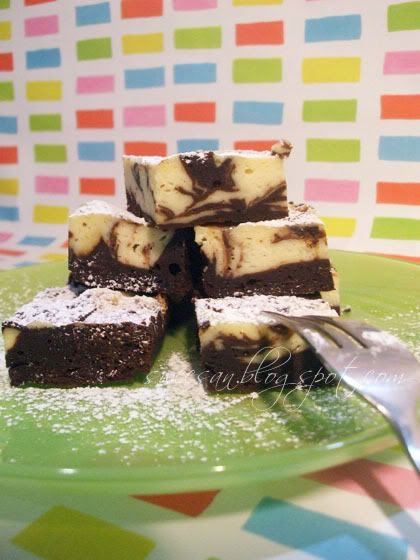 I love brownies, they're fudgey, less cakey and rich in chocolate. and they're easy to make! simple ingredients and no fancy mancy tools needed
I came across David Lebovitz's Cheesecake Brownies and wanted to make them.
Chocolate + Cream Cheese = yay!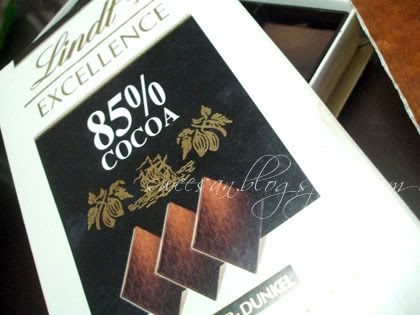 I found a 85% lindt Chocolate in the fridge. 85%'s gotta be really bitter! yay! even better!
But I didn't use all, as I was going to add something else as well, so chocolate bitterness can't be the main component in there. I used Callebaut's Dark Chocolate as well.
What was I going to add ? Chilli Powder! Yay!
Recently I've been quite gung-ho about Chilli Chocolate. Salt and Chocolate used to be the hit thing. It still is, but I think chili chocolate rocks too! plus, the kick kills of the sweetness and its sends a little curiosity out to those who's eating it.
Chili Chocolate Cream Cheese Brownies


One 9-inch (23cm) square pan

6 tablespoons (85g) unsalted butter, cut into pieces
2 ounces (60g) 85% Lindt Chocolate
2 ounces (60g) Callebaut Dark Chocolate
1/2cup (90g) sugar
2 large eggs, at room temperature
1/2 cup (70g) flour
1 tablespoon unsweetened cocoa powder
2 tsp chili powder
1/8 teaspoon salt
1/2 cup (80g) broken chocolate pieces

8 ounces (200g) cream cheese, at room temperature
1 large egg yolk
5 tablespoons (75g) sugar
1 tsp cinnamon powder
1/8 teaspoon vanilla extract

1. Line a 9-inch (23cm) square pan with foil, making sure it goes up all four sides. Use two sheets if necessary. Mist with non-stick spray or grease lightly.

2. Preheat oven to 350 degrees (180C).

3. In a medium saucepan, melt the butter and chocolate over low heat, stirring until smooth. Remove from heat and beat in the sugar, then the eggs.

4. Mix in the flour, cocoa powder, chili powder and salt, then the vanilla and chocolate pieces. Spread evenly in the prepared pan.

5. In a separate bowl, beat together the cream cheese, the yolk, 5 tablespoons (75g) of sugar, cinnamon powder and vanilla until smooth.

6. Distribute the cream cheese mixture in eight dollops across the top of the brownie mixture, then take a dull knife or spatula and swirl the cream cheese mixture with the chocolate batter.

7. Bake for 35 minutes, or until the batter in the center of the pan feels just set.

Let cool, then lift out the foil and peel it away. Cut the brownies into squares.

Storage: These will keep in an airtight container for a couple of days. They also freeze well, too. If they don't finish just straight away hehe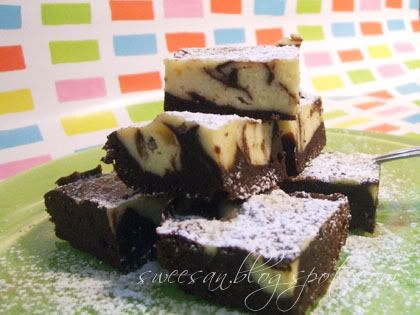 Yummy. Good quality chocolate DOES make a difference! *skips around*