Selamat Hari Raya Aidilfitri to all muslim friends.
Have a safe journey and save me some lemang and rendang k! 🙂

*      *      *      *
back to post.
*puts in some Japanese background music* tee hee hee
Since I started working full time again, time has been an issue. Especially when my schedule works on shift and I work over the weekends. Some meals that require a longer preparation time would have to wait till my off day, or when …. it's my off day! Well there are some days where I am over enthusiastic about cooking something great after work. Wait, honestly, there's none. I may feel like baking more, thats' when I start midnight baking.
We don't cook everyday at home either as, everyone at home works, or goes to school. Sometimes, a simple fried rice with egg, or fried bee hoon can be crossed off as dinner Hahaha. Really. But everyone comes back home at a different time, it's not easy to get everyone at the table to eat unless there's a special occasion. Wait, I'm being long winded.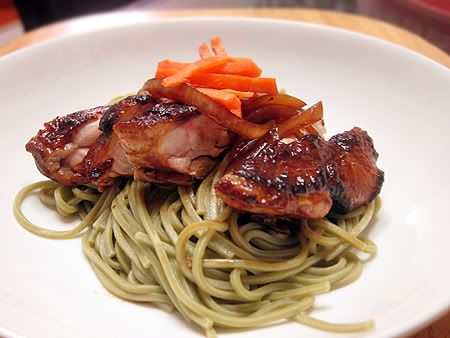 What I'm trying to say is, sometimes it doesn't take long to prepare a meal for 1 or 2. All you need is to prepare some things before hand, for example, in this case, marinating the chicken in the morning, then cook it at night. Easy ? yes. without doubts.
This recipe was inspired by momofukufor2's Claypot miso chicken. I have this box of miso paste that never seems to finish. So instead of making soup, I thought marinating it on chicken would be great! *adds in some oriental flavour*
Miso Chicken and Green Tea Soba

(serves 2)

2 pieces chicken thigh, deboned

1 tbsp shiro miso paste

3 tbsp mirin

1 tbsp soy sauce

few cloves of garlic and 1 brown or red onion, sliced

salt and pepper (if needed)

1. Rub chicken thigh with miso paste. It looks like this. Add in mirin, soy sauce, garlic and onion. Let it marinade for at least an hour. Or for me, I mix everything together in the morning and put it in the fridge. Then when I come back, it's infused with much yumminess.

2. You can either bake this in the oven, or for me, I pan fried it on a non stick tefal pan. It gets a little messy with all the oil splatting and all. Cook it in a piece, then before serving, slice into 3-4 slices. That way, the meat stays moist.

3. For Soba Noodles, I got mine from Daiso. Boil a pot of water seasoned with salt. Put in soba noodles and cook for 5-8 minutes or until al dente. Strain noodles out and briefly dip noodles in cold water to stop the cooking. Serve with miso chicken.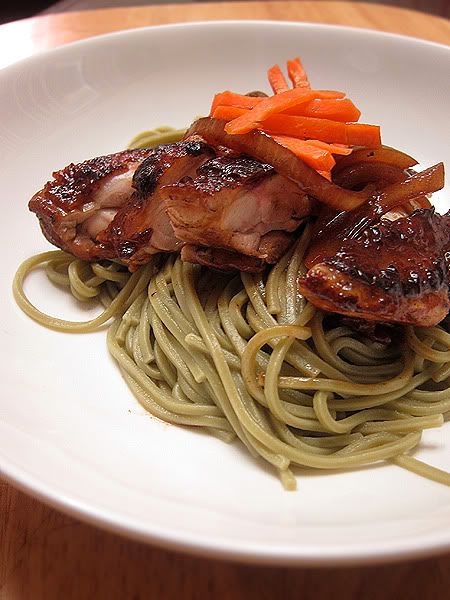 Now, at least the box of miso paste has other purposes, rather than just making miso soup. I've seen them in cake recipes.. Hrm.. but I'm not really sure about that..