Beetroot / Beet is a root vegetable that is often purple or red in colour. Sometimes there may be candycan beets that comes in white and red colour, which looks really pretty. I have not seen any of these here yet.
Beetroots are a rich source of potent antioxidants and nutrients, including magnesium, sodium, potassium and vitamin C, and betaine, which is important for cardiovascular health. It functions by acting with other nutrients to reduce the concentration of homocysteine, a homologue of the naturally occurring amino acid cysteine, which can be harmful to blood vessels and thus contribute to the development of heart disease, stroke, and peripheral vascular disease. Betaine functions in conjunction with S-adenosylmethionine, folic acid, and vitamins B6 and B12 in order to carry out this function.

excerpt from wikipedia.com
I've made both savoury (warm salad) and sweet dessert with beetroot. Apart from making juice with it (it works really well with orange, carrot and a little pineapple) soup is the next best thing. It may scare off some people with the reddish hue, but it's natural. 🙂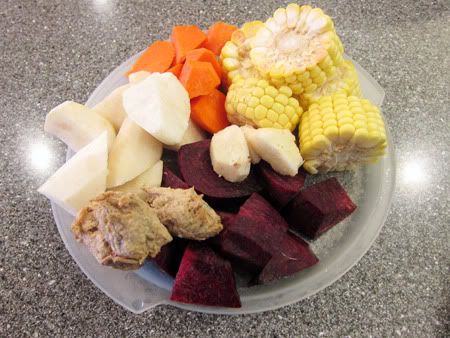 We make alot of this soup at home as my mum's a vegetarian. But you can also substitute and add pork bones into the soup for the extra flavour.
Beetroot and Corn Soup
(serves 6)
2 medium sized beetroot
1 small carrot
1 corn, husk removed
1 small Chinese white radish
3 fresh water chestnut
few pieces of vegetarian meat (or use pork ribs / bone)
salt to taste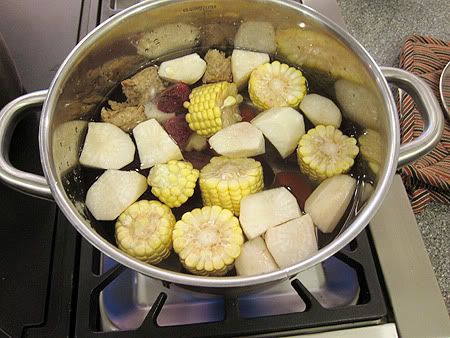 1. Peel all vegetables and wash them. Roll cut into 2 bitesize pieces. For water chesnut, cut in half.
2. Fill a pot with 2 litres of water, put all ingredients in and let it come to a boil over high heat. Once it's boiling, turn down the heat to medium / low and let it simmer away for 30 minutes – 1 hour.
3. Add in seasoning before serving.
Now, isn't it red ? Hehe
PS : I actually made this in the office 🙂