Or rather, milk bottle and cookies. Ha Ha Ha
Ok so let's face it. There's probably a million chocolate chip cookies out there and everyone has their favourites. I came across David Lebovitz's Choc Chip Cookies from his latest book, Ready for Desserts, and coincidentally, had the urge to bake something. So I gave it a go. I usually am not a cookie person. OMg I'm not a cookie person, not a bread person, not a sponge cake person, not a butter cake person, what the hell am I doing in this line. !! HAha kidding. In fact actually I'm not such a big ice cream fan either. Lol Sometimes I can't help but think I'm the perfect example of a gemini, 2 sided? or contradicting. Seems like it. Anyways, so chocolate chip cookies it is!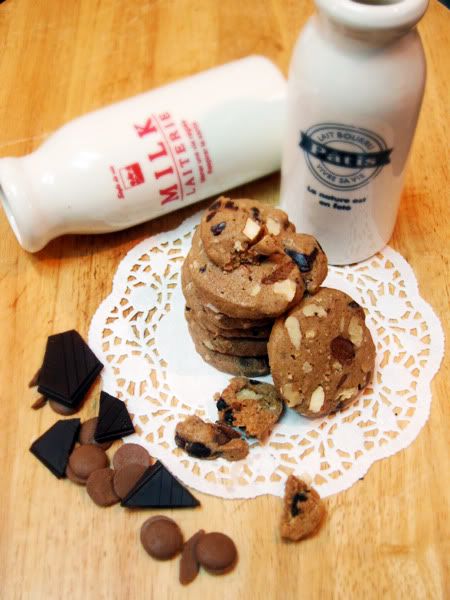 It looks nothing like the ones in the book. Well tht's because I deliberately reduce too much sugar that it doesn't have the thin glossy crust on top. Hence it looks a little….more like a short bread instead.Plus, my oven doesn't "brown" things, except when I turn on the grill function. So my cakes and stuffs are pretty much white or light brown even if it's cooked perfectly inside.
Chocolate Chip Cookies
(adapted from David Lebovitz's Ready for Desserts)
(makes about 4 dozen cookies)

350g all purpose flour
3/4 tsp baking soda
1/8 tsp salt
225g unsalted butter
215g light brown sugar (I reduced to 170g)
150g caster sugar (I used only 100g)
1 tsp vanilla extract
2 eggs
2 cups nuts, (such as walnuts, almond, pecans, macadamia, toasted and coarsely chopped) I used almond and walnuts in mine
3 cups chocolate drops / chunks or 2 handfuls of chocolate chips. I used Lindt's dark chocolate bar and Callebaut's chocolate droplets
In a small bowl, whisk together flour, baking soda and salt.
In a mixer, beat butter, brown sugar and caster sugar until just smooth. Beat in the eggs one at a time until thoroughly incorporated, add in vanilla.
Stir in flour mixture followed by the nuts and chocolate chips / chunks. On a lightly floured surface, dicide the dough into quarters. Shape each quarter into a log, about 9 inches long. Wrap the logs in plastic wrap and refrigerate until firm, preferably for 24 hours. (Ok let's face it I did not wait till it's firm or 24 hours. Oh wait, probably just 1 hour waiting time.
Preheat oven to 175 C. Line baking sheets with parchment paper. Slice the logs into disks 2cm thick and place them on the tray. If the nuts of chocolate fall out, push them back in. Bake, rotating the baking tray midway through baking until the cookies are very lightly browned in the centers, about 10 minutes. or 12-13 minutes for a crispier cookie. Let cookies cool on the baking sheets until firm enough to handle, then transfer them into a wire rack with a spatula. Resist from eating it hot!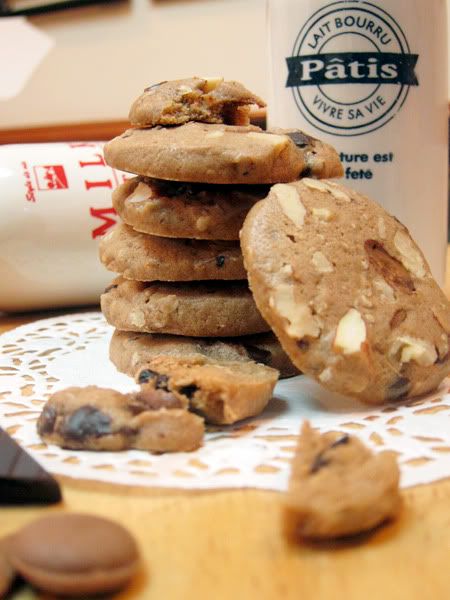 Sliced chocolate chip cookies looks so …… wrong. Next time I won't put it in a log. Probably just scoop them in a small ice cream scoop and let it bake and spread and have all those reggae edges and uneven surface…
xoxo