PS : please kindly update blog feeds, it's working now 🙂
Name explains all..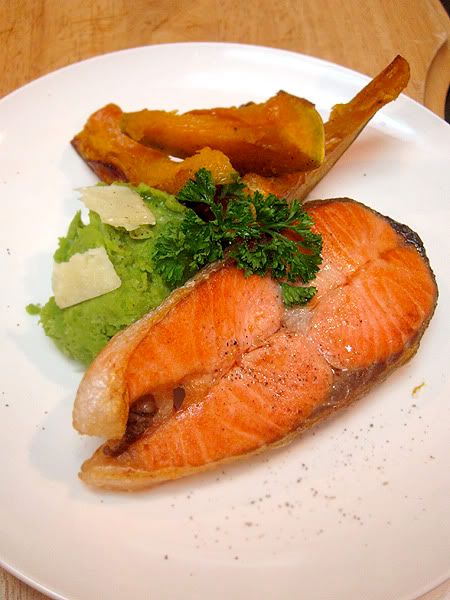 Heat non stick pan, drizzle some olive oil and place seasoned salmon and cook for 3-4 minutes. Turn to the other side, cook for further 3-4 minutes. I usually flip it skin side down and fry that part so the skin is crispier.
For roast pumpkins, peel, slice them into wahtever size you like, then season with salt and pepper, and toss with some olive oil and chuck in the oven to roast at 170 C for around 15-20 minutes, depends, reallly.
For mashed peas, bring a pot of boiling water to boil. Oh wait that doesn't make any sense at all. I mean, bring a pot of water to boil and add some salt. Then add in couple handful of peas and 1/2 a clove of garlic. Boil till softened, frozen peas takes a while. I didn't time myself. I just estimated. Then drain and pulse it in a food processor. Hot stuffs and food processor don't go along well, so be really careful!
Well actually I'd make the roasted pumpkin first, then put the peas to boil, then when I'm going to mash the peas, I cook the salmon. That makes more sense, right?