It must be the sugar content from the durian.
It's an eggless ice cream!! Yup, there's no eggs so it's not so rich? Heh, I doubt. Lol, *looks at durian*
Anyways, this week's Ice cream is… *drum rolls* the stinky fruit; THE king of fruits; DURIAN !! Aren't you happy. It actually is literally frozen durian, except that there's no seed and you can eat with a spoon *wink*
Durian is yum. Durian ice cream is even yummier. I never liked durian ______(cakes, cheesecakes whatever, u name it) except for durian pancakes in SG, cause they're filled with real durian flesh anyway, and this durian ice cream. Not for the faint hearted. Oh well, wait, seriously it's not that dangerous. The taste of durian are more palatable for Asian tongues, especially South East Asians, and there's a reason why they don't allow you to bring durian up to your unit if you stay in an apartment or condo. The stench is just too obvious from a few miles away. (ok maybe not so far, but you get what I mean) I think I've actually seen these guys from Fear Factor or other reality show asking them to eat durians to pass to the next stage?? Haha that would be a sure win for most asians. Most but I'm sure there are alot of people who don't enjoy durian either. Too bad for u. Hehe
Eh I was just trying to get a picture of durian, then I googled and found this RED MEAT DURIAN.. !!! Scareeeeyyy but does it exist?? Ok I mean it doest exist, said to be found only in Sabah, true? Has anyone seen this before or even eaten it?? Is it poisonous ? Ok silly question but why is it red!!Then I can prank people saying it's strawberry ice cream but it's actually durian ice cream !! HAHAH *evil evil*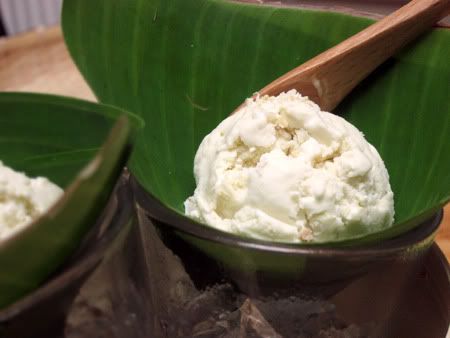 Durian Ice Cream
(makes 3/4 L)

80g raw sugar
1 tbsp gultinous rice flour
1/4 tsp salt
200ml coconut milk
200ml single cream
250g durian flesh
Combine all ingredients except for durian in a saucepan. Whisk to combine. Bring mixture to simmer over medium heat, stirring constantly. Cook until mixture has fully thickened, about 1-2 minutes. Let cool completely either in a ice bath or in the fridge. I put mine over the ice bath, while stirring to quicken it.
Remove flesh from durian and blend to a coarse puree. Stir durian into cold coconut milk mixture. Pour into ice cream machine and churn according to manufacturer's instructions. Using the cuisinart Ice Cream Maker, it took me only 20 minutes because my durian flesh was actually frozen prior to mixing it, and the coconut milk was quite cold.
Remove ice cream into an air tight container (trust me, you don't want your freezer to only smell of durian) and put in freezer for a few hours to harden.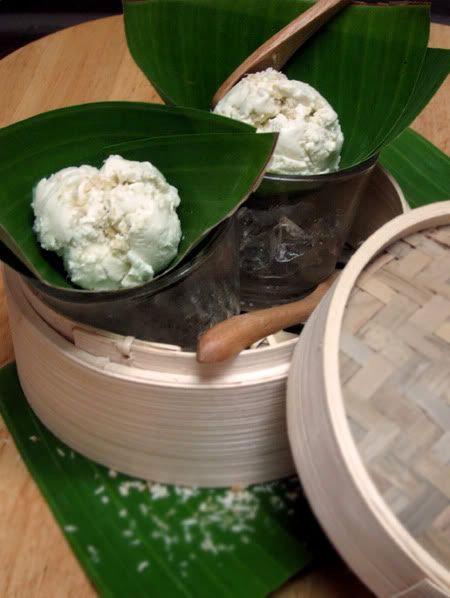 It is by far the quickest ice cream I've made. It took me only 40 minutes from prep, cook, peel flesh, blend and to churn. Usually most ice cream takes about 40 minutes to churn. There weren't any eggs in the recipe. So I'm pretty sure it was the sugar content from durian that made the ice cream stay intact and it doesn't melt as quick as the rest do. It's frozen durian with a slight hint of coconut milk and… OH YEAH !! I Know what's missing!!!! palm sugar caramel!!! Ok if you're making this, melt some palm sugar and drizzle on top. It'd be even more awesome!But I'm just tempted to try with glutinous rice flour on other ice creams… Oh, like Yam or sweet potato maybe!! *gasp*
For this week's Project 52 Ice Cream Mondays round up,
Quinn from Adelaide has submitted her vanilla Ice cream.
I do round ups every Monday if you'd like to submit to Project 52 Ice Cream Mondays. These are the stuffs u need to know if you want to submit for P52 Ice Cream Mondays
Project 52 Ice Cream Mondays mini rules
1. Entries to Project 52 Ice Cream Mondays must be posts written specifically for Project 52 Ice Cream Mondays. This means they cannot be cross-posted in other events. Photos used in the posts however can be submitted to photo events like DMBLGIT.
2. Project 52 Ice Cream Mondays entries should have the goal of easing Monday blues and quite possibly the rest of weekdays. Just as simple as that.
* Recipe posts of iced concoctions (Ice cream, Gelato, Sorbet, Sherbet, Shaved Ice, Granita, Semifreddo, Parfait or Frozen Yoghurt) will be accepted.
3. Posts must contain the phrase Project 52 Ice Cream Mondays with a link to this site.
4. The posts may be written anytime during the week but you must email me by Sunday 10pm (KL, Malaysia time)
You can use this converter to find out the corresponding time in your location.
5. In your email please include the following information:
Your Name
Your Blog Name/URL
Your Post URL
Your Location
Attach a photo – 300px wide min
6. Roundups will be done on the next Monday.
7. You don't have to submit every week but I will do the round up every week nonetheless.
Oh right peeps, spread some love !! WE need ice cream on Mondays to cure the blues!!
😉