Really, there aren't many dim sum restaurants around Klang, maybe just a handful of those that has really nice dim sum. No wait, actually only 3? But recently we went to this Chinese restaurant in Centro Mall (next to Hokkien Association) called Klang Palace, and tasted some dim sums, very nice!
But also expensive!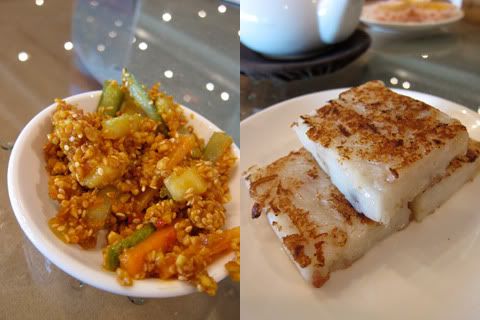 Vegetable acar and Pan fried steamed radish cake
This acar is pretty alright, crunchy and not too soggy. The radish cake wasn't that good cause it was a bit mushy inside.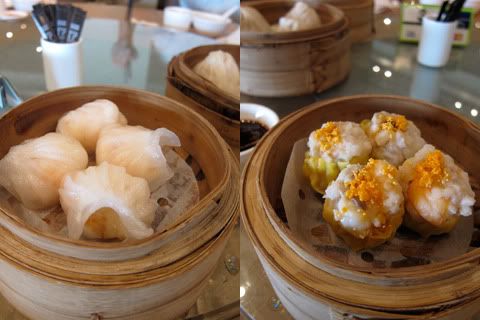 Har Gau and Siew Mai
It's just some obligatory dishes to call for in Dim Sum restaurants. The prawns were big and juicy. I have this thing for thick har gau skin; absolute hate. So I'm pretty happy that the skin was just at the right thickness. YUM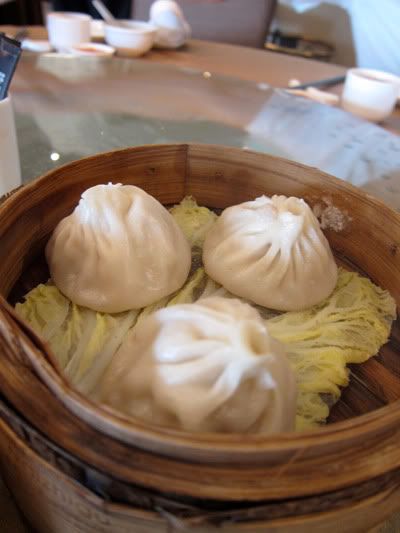 Siew Loong Pau
There was once where I ate this, when I was kid, and I burnt my tongue cause I didn't know there's actually soup in it. So from that time onwards, I was a little skeptical to eat siew loong paus. But ah, one's gotta grow up. Thin skin, aromatic broth and mediocre minced meat. It's actually better than dragon-i's, but I'm sure there are better siew loong paus out there .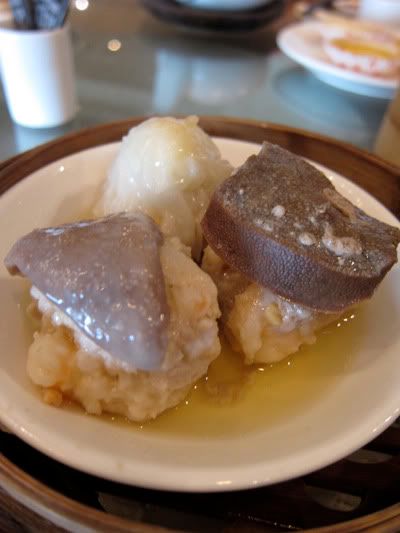 Special Siew Mai
They should start to label what's in this "special siew mai" cause we're expecting probably scallop on top of the siew mai, but nope!! it's PIG ORGAN! Liver, stomach and quail egg (at the back) It's a bit scary to eat at first cause they just don't go well together and the smell… too strong!! I like my bah kut teh with intestines n stuffs, but maybe just not in dimsum..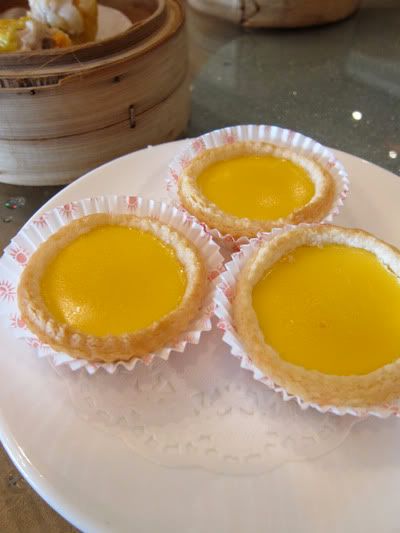 Egg Tart
Wobbly and silky egg custard with buttery flaky skin. YUMMMMM
Char Siew Pau
Oh I love char siew pau. Ok ONE FINE DAY, I shall make my own char siew paus. But at the meantime I think I'll just get them outside 😉 Steamed fluffy buns with generous char siew filling. Ah so hungry now …
!!
Klang Palace Restaurant
1st Floor, Centro Mall, (Next to V Garden and Hokkien Association Hall)
No 9, Jalan Batu Tiga Lama, 41300 Klang
PS : A surprise coming up very very soon. Watch out this space.. 😀