We got a little random one day and decided to cook at home. I made the pumpkin salad, carbonara for us, ah but of course, we need a dessert. So instead of thinking too much, I decided to just pan fry some left over butter cakes from the freezer and top with some ice cream!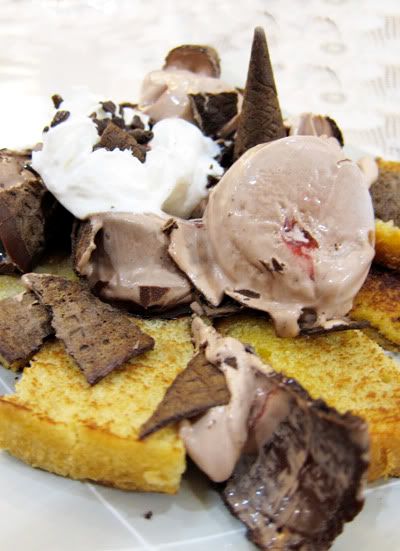 This is like instant express dessert. See, I told my friends to bring in ice cream one the way to my home. I did warn them and say the grocery shops near my house don't have much interesting ice cream. (read, vanilla ice cream as white as paper, absolute hate!) So anyway, I told my friends to get cornetto or any stick ice cream cause they maybe more interesting that the tub ice creams..
So she bought 2 cornetto ice creams.. And there we go.
Few pieces of pan fried butter cake + crushed Cornetto's Ice cream = YUUUMMMMMM
Easy peasy 😉