So it's the Easter weekend and how many bunny eggs have u found ? or try to hide away and keep 'em all to yourself? lol. When I was in Sydney, the best part of Easter was the actually the day after. Cause all Easter eggs are 50% LOL.. Well u can't blame a student for trying to find the cheapest way to shop.
Anyway, I don't celebrate Easter.. But today happened to be Qing Ming festival as well. (read, big feast prepared for prayers.. ) Well I just think about food only don't I ? hahaha
I remembered these hot cross buns that I made way way way back in Sydney (counting, 3 + years already :() and decided to excerpt it and blog for the occasion.
PS the photos tagged foodaholic cause I used to blog there.


Hot Cross Buns Recipe
Makes approx 50
1000g flour
120g sugar
60g yeast
20g salt
30g milk powder
240g eggs
200g butter
5g dough improver
+ – 550ml water
200g sultanas
150g mixed peels
150g raisins
pinch of cinnamon, nutmet and mixed spice
1. Soak sulatnas and raisins in hot water to eliminate dirt and soften it. Mix flour, sugar, yeast, salt, milk powder and fat into the mixing bowl till slightly crumbly.
2. Add in eggs and let it mix. Slowly add in water but don't add all at one time. Check the consistency of the dough to decide the amount of water.
3. If it's dry and not stickying together, add in a lil more water. If the dough is sticky on the outside but dry on the inside, mix it for about 4-5 more minutes on the machine. If dough is sloppy, too much water is added, and thus, you might need to add in flour.
4.When the consistency of dough is achieved, add in the drained sultanas, raisins and mixed peels, and the spices. Let it ferment for about 30 minutes then knock the air out and shape them into round balls at 60g each.
5. Place them on trays and let it prove for about 30 minutes or till double in size. Then make the Cross mixture.
Cross mixture
150g flour
50g vegetable oil
130ml water
1. Mix all till well combined, about 5 minutes. Pour mixture into piping bag and pipe crosses on the buns.
2. Bake at 190-200 C till golden brown. Glaze with sugar syrup when it's baked. Or apricot glaze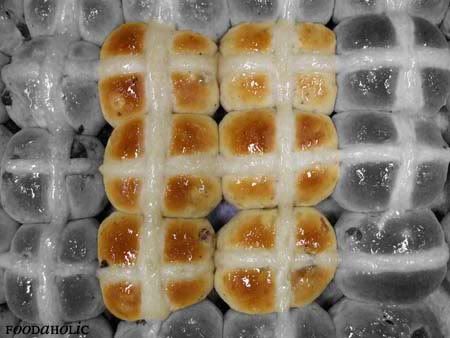 Ok now I shall go have my lunch.. Have a great weekend, for whatever that's left lol 🙂