I actually wanted to post this in the morning, but since I'm so awake now, I might as well do it. If u follow me on twitter (IF you haven't, follow now! @sweesan) u'd have seen my mini cooking adventure lol.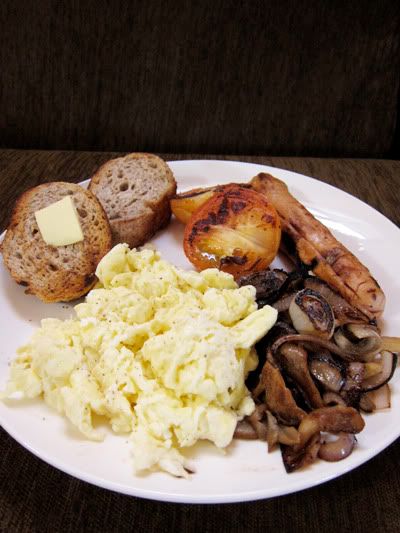 Sometimes I stock up sausages in the freezer cause they're always handy whether I'm making instant noodle or craving for some savoury snacks. And one morning, I woke up and decided ok I wanna have the Cheese Sausage for breakfast.
Then, I thought, Okay, why don't I make scrambled eggs cause all I've been thinking was Bill's scrambled eggs in Surry Hills <3
So I cracked 2 eggs, added some milk (wanted to add cream but there weren't any in the fridge) salt and pepper. And scrambled it.
Then, I remembered! Oh I bought a wholemeal baguette the day before, I might as well toast it on the pan. So I went and slice 2 pieces and just lightly toast it.
Just when you thought ok, she should be done…. I suddenly recalled this "morning crepe" I always make when I was working in Sydney. It's crepe with caramelized onion, mushroom, egg and maple syrup. So OKAY!! Maybe I will just cut some onion and caramelize it.


*sizzle sizzle sizzle* – At that point, the eggs were scrambled, the baguette were toasted and the sausage is still cooking on the same pan as the onion.
I ran to the fridge, grabbed some oyster mushrooms, washed them and chuck them together with the onions. Whilst checking out the fridge, I saw this cute tomato and I thought, okay some vege wouldn't hurt. So I sliced the tomato in half and put it in the pan with the rest of stuffs.


*seriously did I cook too much???*
Then, I saw this white wine (leftover from the carbonara) and decided to add some into my caramelized onion and mushroom.
Really.
I think I had too much.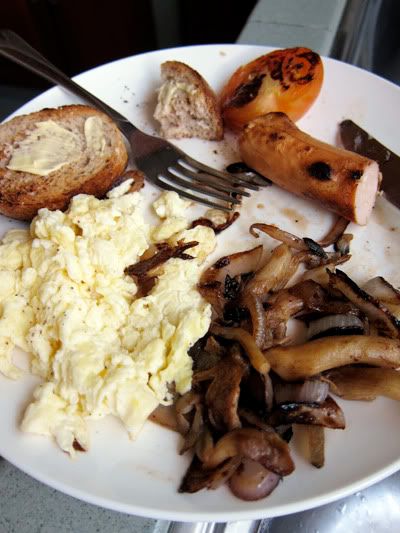 But it was FREAKING GOOOOOOOOOD I tell ya. Most satisfactory breakfast ever at home, and don't need to pay a ridiculous price for it.