Ok I'm trying to sound as excited as the World Cup fans rooting for their favourite country. Really, I like football but much so as team, not during World Cup or Euro Cup, which happens just every 4 years. It's just hard to tear up the team, and put them back playing for their country, which then makes them temporary opponents. But well I still watch, maybe just not as excited as watching Manchester United vs Arsenal or Chelsea. Hahaha… Lol But I'm voting for Spain..
I think the whole world may pause for a while for World Cup matches (like sudden extra "emergency" leaves or "MC" or late for work) Eh, not me ok!! hehe
Anyways, back to the blog post.
Curtis Stone, for the past few maybe just 1 or 2 years, I've been watching him on TV with his cooking show, Take Home Chef. Wah lah please come to Malaysia!!
"My cooking philosophy is to keep it simple and cook with
naturally produced ingredients just as Mother Nature intended" – Curtis Stone
His recipes are quite simple and straight forward, for easy and quick cooking. His book Relaxed Cooking with Curtis Stone is, well, just as it says so. One of the chapters was "Something to eat on the sofa", which I really liked. I don't know about you but I like eating on the sofa, watch tv or in another case, it could be on my chair, whilst watching streamed TV shows on the Macbook. Another chapter I liked is "Brunch That Will Blow Their Minds" Hahaha Yeah, it's no secret that I love brunch. Just look at these .. ( 1 2 )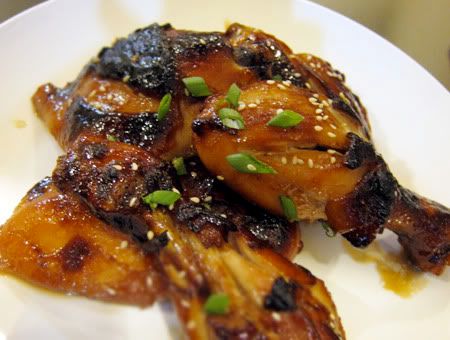 This sticky chicken drumsticks recipe is from "Something to Eat on the Sofa" Well, coincidentally, it was anyway. It's easy, fuss free ok maybe just remember to serve them with some napkins 😉
Sticky Chicken Drumsticks
(adapted from Curtis Stone's Relaxed cooking with Curtis Stone)


Serves 4-6
1/4 cup soy sauce
1/4 cup chinese Barbeque Sauce (Char Siu Sauce)
1/8 cup honey (reduced from 1/4 cup as it tends to burn the chicken faster)
3 Garlic Cloves, finely chopped
1 tbsp finely chopped peeled fresh ginger
12 chicken drumsticks
sesame seeds, toasted
Mix soy sauce, char siu sauce, honey, garlic and ginger in a resealable storage bag to blend. Add the chicken, seal the bag and toss to coat wit hthe sauce. Refrigerate for at least 1 hour but preferably overnight.
Position an oven rack 8 to 10 inches from the heat source and preheat the broiler. Line a large, rimmed baking sheet with heavy-duty foil. (For easy cleanup afterwards) Transfer the drumsticks and marinade to the prepared baking sheet and broil, turning the drumsticks occasionally and watching them closely, for 25 minutes, or until the chicken is cooked through and marinade has glazed it. Sprinkle the sesame seeds over the chicken, and serve.