It's almost like a routine, an ice cream a week. Sometimes if the supply finish fast, it may be an ice cream and a fruit based sorbet. I just have one question before I forget, does the cuisinart Ice Cream maker make loud obnoxious sound ? I mean, I really don't remember it being extremely disturbing noisy with it's churning sound. Maybe something is wrong with it. I shall check with the distributors before something is screwed up. It's 2.4k after all. (and alot of ice creams live are depending on it)
So it's week 6, I have to confess, I have only taken the photos this very morning even though I've made the ice cream some days back. I wanted to catch some sunlight and today, I woke up pretty early for my work which starts at 2pm.. Anyways…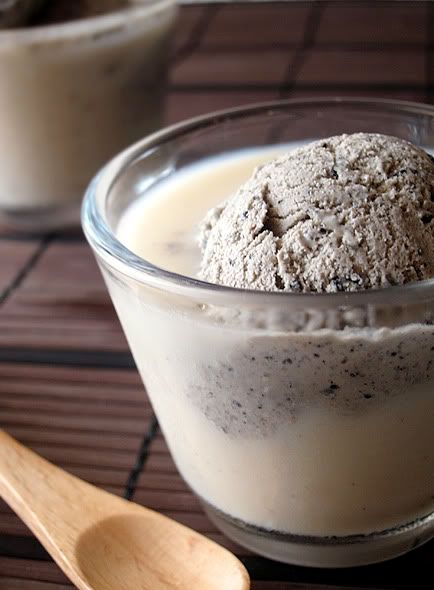 We're going East this week. The flavour is …. *drum rolls* (actually the title and the photo tells it all right) Black Sesame.
I have this profound interest in black sesame. Like how people love chocolate, I like black sesame. Don't get me wrong, I like my chocolate too. But there's always space to like black sesame in me. Lol. Maybe it's the distinct colour, maybe its the musky smoky taste, or maybe because they're a good source of calcium, heh.
The black sesame ice cream was serve in a small glass of soy milk. It doesn't quite work well with milk, or as far as I'm concerned. The pairing of black sesame with a bit of soy milk brings out the smokiness of the black sesame. Unlike float, there's no bubbles sizzling at the top. (Oh maybe I should make a float next)
And because I took these photos just this morning, I meant that, I actually had it for breakfast. Hahahahahaha
Really..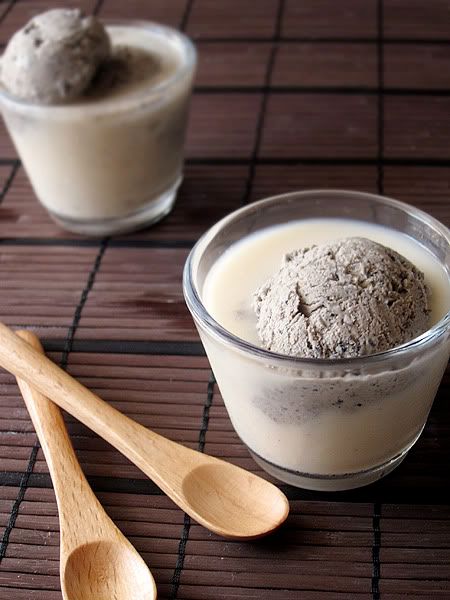 Black Sesame Ice Cream
makes 1L
50g black sesame seeds, toasted lightly on a pan
600ml full cream milk
250ml pouring whipping cream
pinch of salt
130g caster sugar
5 egg yolks
Toast the sesame seeds lightly on a pan, remove and let it cool. Grind sesame seeds to a rough powder using a pestle and mortar or spice mill. Put in a saucepan with milk, cream and half of the sugar over medium heat. Cook, stirring constantly, for a few minutes, or until sugar has dissolved and the milk is just about to boil. Remove from the heat.
Whisk egg yolks, remaining sugar and salt in another bowl. Whisk in 1/4 cup of the hot milk mixture until smooth. Whisk in the remainder, then return to a clean saucepan and stir constantly over low-medium heat until it thickens and coats the back of the spoon. Do not allow to boil. Cool slightly, cover and refrigerate till cold.
Transfer to an ice cream maching and freeze according to manufacturer's instructions. Alternatively, transfer to a shallow metal tray and freeze, whisking every couple of hours until frozen and creamy. Freeze for 5 hours or overnight. Soften in fridge for 10 minutes before serving.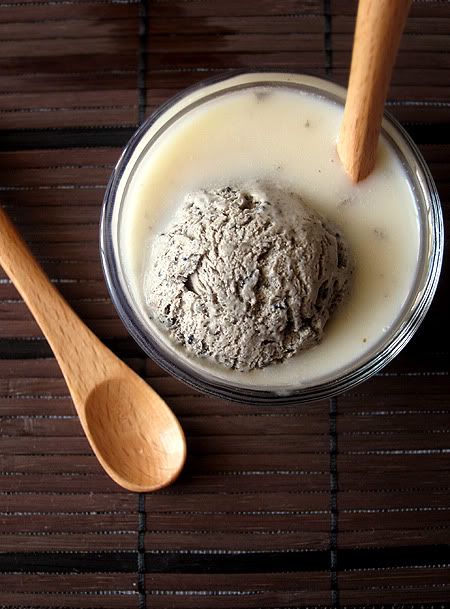 Maybe I should whizz the soy milk and give it a faux bubble top.
Candle glass, from Ikea
Wooden spoon and roll mat from Daiso
Thanks to Wendy and Tracie who told me of the glasses existence in Ikea. trick is, it's actually not glass (for drinking) they're for candles but perfectly sized.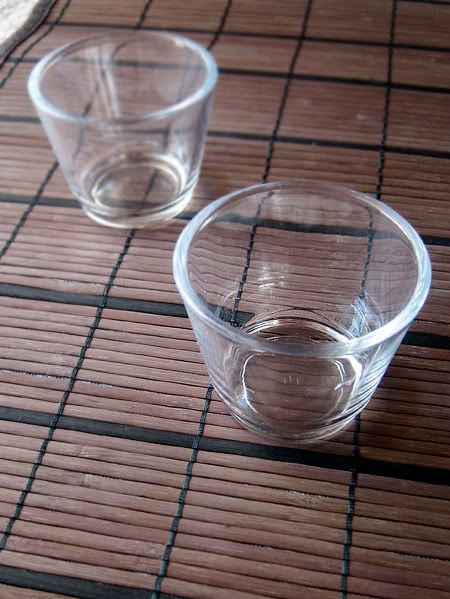 I'm planning on making popcorn ice cream or bacon and maple syrup next.. geezz I wonder …