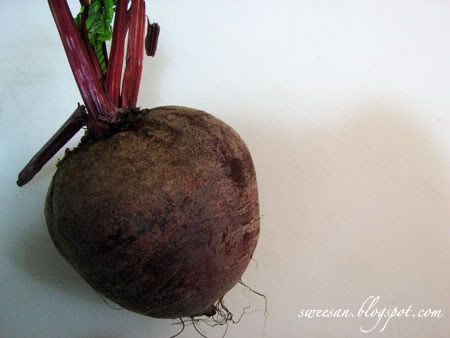 I like beetroot. I love them in soup. I adore them in salads. I like them in fruit juices and I love the colour!
Just some notes on beetroot
1.Beet juice can help lower blood pressure. Research published in the American Heart Association journal Hypertension showed drinking 500ml of beetroot juice led to a reduction in blood pressure within one hour. The reduction was more pronounced after three to four hours, and was measurable up to 24 hours after drinking the juice.
2.Beetroot can also be used to make wine. The consumption of beets is known to cause pink urine, but is very healthy for the immune system.
3. try wiki for more info 😛
The marble effects are so cool!!
Anyway, here's a recipe for chocolate beetroot cupcakes.
Chocolate Beetroot cupcakes
Makes 16

250g dark chocolate
3 eggs
200g brown sugar
80g all purpose flour
1 tsp baking powder
1/2 tsp baking soda
25g cocoa powder, sifted
50g ground almonds
200g raw beetroot, finely grated
100g milk
30ml oil

Method.
1. Melt chocolate over double boiler or in microwave for 30 seconds interval for a few times. Set aside to cool
2. Wash beetroot, peel off skin and finely grate them. Set aside.
3. Measure all dry ingredients, sift.
4. Beat sugar and eggs till light and creamy for about 3 minutes.
5. Add in oil, milk, beetroot and melted chocolate and cream till all ingredients are well mixed.
6. Fold in the remaining dry ingredients and fill into cups. Bake at 170 C for 35 minutes.

This is how the batter looks like once the beetroot are added. Pinkish – purplish.. Really cool!!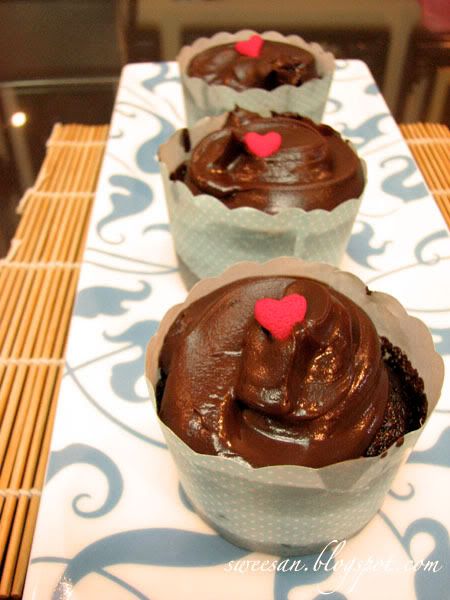 Once baked, I topped them with some leftover ganache so to give in a more chocolatey kick.
can't really taste the beetroot once its baked, and the amount of chocolate covered it.. But the colour of the cake is of dark burgundy-ish instead of chocolatey brown.
And they look like there're worms HAHAHA. No they're just shredded beetroot. To avoid that, grate them finer. 🙂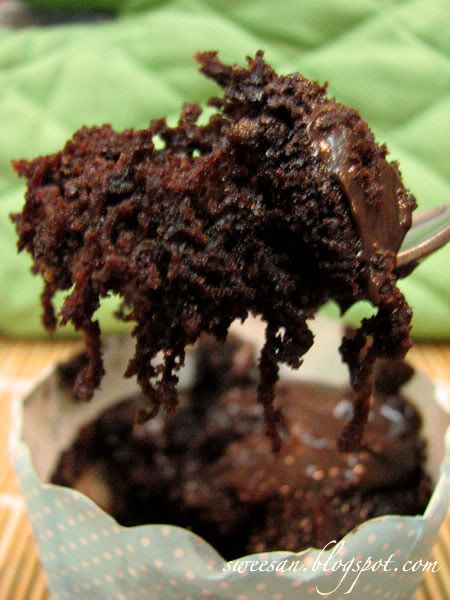 Next post, weekend in Singapore!
Sneak peek : The Daily Scoop, Shermay, Pan Pacific, Canele, Cedele, Esplanade, too much food…