Kylie Kwong has probably made a name in Chinese / Asian cooking in Australia, and probably SEA as well. When I was back in M'sia waaaayy before I went to Sydney, I've seen her on TV cooking Chinese food. (though not so much now) It is very different actually as if you've seen some of the Chinese cooking show in Astro Wah Lai Toi or other chinese based channel, they're very ad hoc. Every possible ingredient is measured properly and placed in little ramekins or small glass bowls. But the difference between some English based cooking show, they're much more spontaneous and impromptu, which I very much prefer, as it's more casual.
*opps gotta go check my rosemary chicken in the oven*
*ok chicken is done*
Yup so back to Kylie Kwong. See 5 years ago, I probably don't know much about these chefs or cuisines or methods of cooking. I probably know only a pea size. Knowing that cooking and baking is also like every other thing, I continue to learn and learn and learn. It would seem like a never ending process of learning and sharing. Which means, buying more books and lurking around the flogosphere. Wait, is it a word. So anyways, cut the story short, I bought Kylie Kwong's Simple Chinese Cooking in one of a market in Sydney. I can't remember which but I reckon it wasn't haymarket or anywhere near the city. It was probably some outer suburbs. It was dirt cheap. I think it was only 5AUD or 10AUD. couldn't really remember but it's just one of those moments that you go like "OMG SO CHEAP HAVE TO BUY" yeah?
I've not made much from the book. It's quite repetitive in the sense where if there's Stir fry pork fillets with honey and ginger, there'd probably also be Stir fried chicken fillets with honey and ginger. HAha I know.
So the only one recipe I tried was the Sweet and Sour _____ (fill in meat)
The first time I made it, the fried pork (well can't remember if I used pork or chicken) tasted like KFC Popcorn Chicken. No joke. I told my housemates (at that time) that .. I just made KFC in your kitchen HAHA. So a couple of years later I decided to dig out and try the recipe again.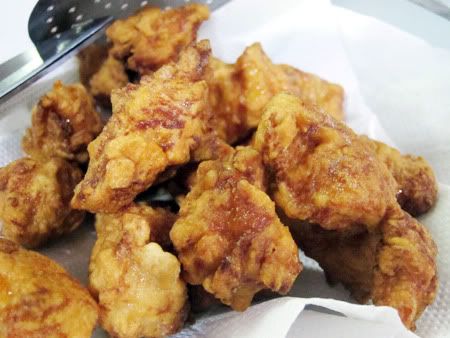 Sweet and Sour Chicken
(I used chicken, but pork can be used as well)
(adapted from Kylie Kwong's Simple Chinese Cooking)
Serves 6
1 1/2 tbsp cornflour
1 tbsp cold water
2 pieces chicken breast meat, cut in half lengthways and then into bite-size pieces.
2 egg yolks, lightly beaten
3 tsp light soy sauce
2 tsp sesame oil
1 tsp sea salt
1/4 cup plain flour
1/4 cup corn flour
vegetable oil for deep frying
Sweet and Sour Sauce
1/4 small ripe pineapple, peeled (I didn't use as I didn't have any)
1 small carrot, peeled
1 small cucumber, peeled
3/4 cup malt vinegar *I used half Chinese rice vinegar and half Japanese Rice Vinegar. It was obviously a shot in the dark, I didn't have any malt vinegar.
5 tbsp shao xing wine or dry sherry
1/2 cup white sugar *I used 1/4 cup
1tsp salt
4 garlic cloves, crushed
2 tbsp ginger julienne
1/2 medium sized yellow pepper, julienned
1 tomato, finely sliced
2 tbsp light soya sauce.
Method
1. Mix cornflour with water in a medium sized bowl. Add chicken, egg yolks, soy sauce, sesame oil nad salt and mix well. Cover and leave to marinate for a couple of hours in the fridge.
2. To make the sweet and sour sauce, remove core from pineapple and finely slice carrot lengthways into ribbons. I used a vegetable peeler for this. Cut cucumber in half lengthways, slice diagonal and set aside, together with the pineapple and carrot.
3. Place vinegar, wine or sherry, sugar and salt in a medium sized heavy based saucepan and stir over high heat until sugar dissolves.
4. Bring to boil, add garlic and ginger, reduce heat and simmer uncovered, for 10 minutes.
5. Add reserved pineapple, carrot, pepper and tomato and simmer for a further 3 minutes or until pineapple is tender and tomato has broken down slightly.
6. Stir in soy sauce, remove from stove and set aside.
7. Combine flour and extra corn flour. Add to the marinated pork and mix well. Heat vegetable oil in a hot wok.
8. Deep-fry chicken or pork cutlets in batches over high heat for 1 minute, then reduce heat to medium and fry for another 3 minutes, or until meat is cooked through, lightly browned and crispy
9. Remove from wok, drain on kitchen paper. Gently reheat sweet and sour sauce.
10. Arrange pork on a platter and pour sweet sour sauce over or serve in a bowl.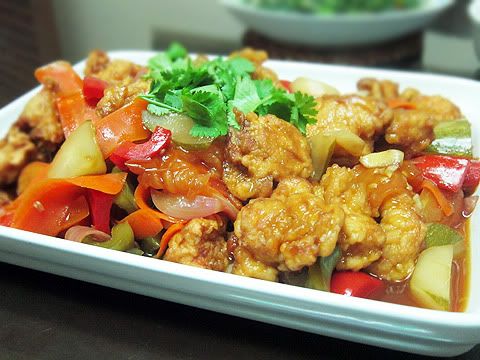 At first when I looked at the recipe, I couldnt see the usual tomato ketchup or plum sauce which is commonly used in most sweet and sour recipes. So I was a bit skeptical. But after boiling the vinegar, it makes sense as it became thicker and naturally became sweet and sour. It's not like the usual ku loh yok in those chinese restaurants of course but it is nice in its own way.
The 2nd time I made it, it didn't turn out like KFC popcorn chicken but the it was still crispy.