Doesn't the title explains it all.
When it's time for trashy, comfort, rich, sinful food, I just can't help it but to think of Nigella Lawson's Nigella Bites. It was my very very first cookbook that I ever bought, and it wasn't too long ago. And the reason was probably because of TV and it was smothered with pictures and more pictures! Trashy food, comfort food, weekend food. I guess it's another way to categorize them so you know which chapter to turn to when you feel like a quick snack (healthy one) or a lavish weekend dinner.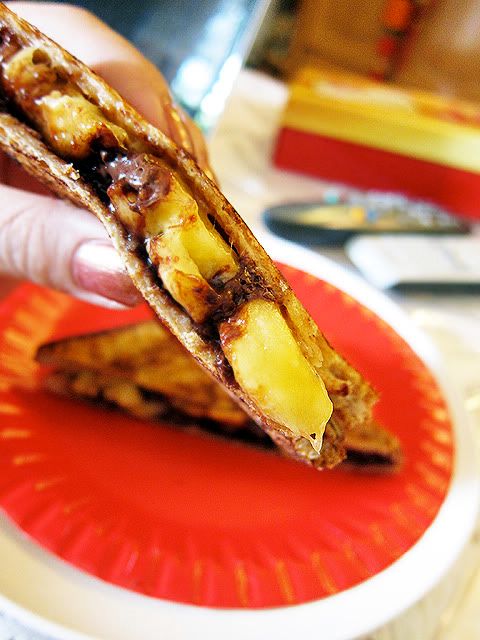 Elvis Presley's Fried Peanut Butter and Banana Sandwich (now with chocolate, obviously my addition)
(adapted from Nigella's Nigella Bites)
Serves 1
"Let's not mess around: you want trashy, I'll give you trashy – I'll give you the KING. This recipe, for want of a better word, comes from a rhinestone gem of a cookbook, Are you Hungry Tonight?, a collection of his favourite foodstuffs bought on a visit to Graceland many years back, prized ever since and a delight from cover to cover."
*exceprt from Nigella Bites
1 small ripe banana
2 slices of white bread
2 scant tbsp smooth peanut butter
2 tbsp butter
and some quartered Lindt Chocolate
Mash or slice the banana.
Lightly toast the bread, then spread peanut butter on one piece and banana on the other. Top with some chopped chocolate. Sandwich together then fry in the butter, turning once until each side is golden.
Remove to a plate, cut the sandwich carefully in half on the diagonal, and eat!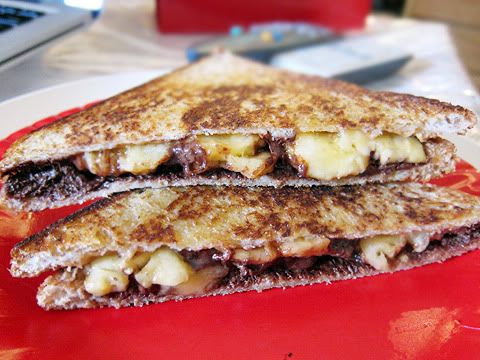 Certainly is one hell of a trashy (yet comforting) snack!!
*Waaa tomorrow is ma Birthday yo!*
😀