Ah, and this will be the start of many many many food recipes to come. I've really been cooking alot recently, say about 4-5 days a week. (Which is a big leap considering I don't even cook at all except for breakfast or supper) Haha, it's like an undiscovered thing all over again. When I first started baking, it was rather therapeutic for me. Hence I continued doing more and more baking, which eventually lead to my "career". Every possible conversation I've had regarding what I do, Oooo and AAahhhhs are always mentioned. Saying oh, well how lucky am I do to things I like as a job, than to sit in the office and do things one doesn't like.
I have never considered myself lucky in this sense. (Okay maybe lucky cause my parents were open minded about it) It's just that I knew what I wanted at that time and asked for it! I mean, it didn't really drop down from the sky one day and hit on me; neither was it a "pluck from the sky" thing. So, ideally, if I had passion for web designing or law, I would have went for it. But it wasn't. So what can I do right ? Haha
*Summer is now 6 months old already!! I have no idea why she did that.. Hugo is as chillax as always*
Anyways, cooking recently has been quite therapeutic for me nowadays. and I'm pretty addicted to it. Heck I even cook my own maggi goreng and make my own dahl. I haven't venture into making roti canai JUST YET.. Nowadays I find peace in chopping vegetables and deciding what's for dinner. I guess it's turning to this way cause making cakes has been more like a JOB, and I have the urge to do something else. Life has been pretty mundane recently..
Okay I shall not bore you with my ramblings anymore. Here's what is suppose to be, Steamed Spare Ribs with Black Bean Sauce.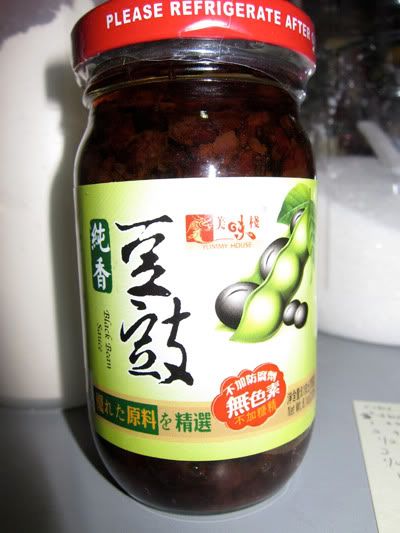 My mum cooks very well and I probably got the genes from her lol. I asked her if she's used black bean sauce before cause I can't find at home, or seen before. I think yup, we don't make things with black bean sauce. So we were looking for it in the supermarket. I see plum sauce, black pepper sauce, char siu sauce, hoi sin sauce, fish sauce but not black bean sauce. Haha after a while my mum found it. Here's how it looks like if you can't find it. I'm sure there are other brands out there. But really I don't mind which brand it is as long as it's good.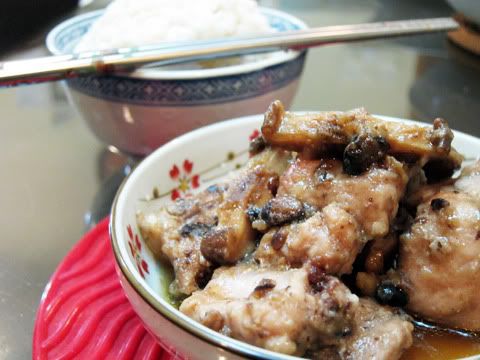 Steamed Spare Ribs with Black Bean Sauce Recipe
(serves 4)
400g pork spare ribs. (ask your butcher to cut to smaller sections for u)
1 tbsp caster sugar
1/2 tsp baking soda
2 tbsp black beans sauce
2 cloves garlic, minced
1/2 inch size ginger, minced
2 tbsp oyster sauce
2 tsp light soy sauce
2 tsp Shao Xing Chinese Wine
1 red chilli, sliced or chopped to tiny pieces
a dash of sesame oil
salt and pepper to taste
2 tsp corn starch
Method:
1. Marinate pork ribs, caster sugar and baking soda for 20 minutes. Wash and pat dry.
2. Add in all of the remaining ingredients into the ribs and marinate for a further 1 hour or overnight for more flavour.
3. Steam for about 10-15 minutes or so depending on how big the ribs are cut, until they are cooked through.
I like eating this, so I may make again Ahaha Just wondering if it works with chicken. It should, right ?
Ok now, who blogs at 3am in the morning … *ME*