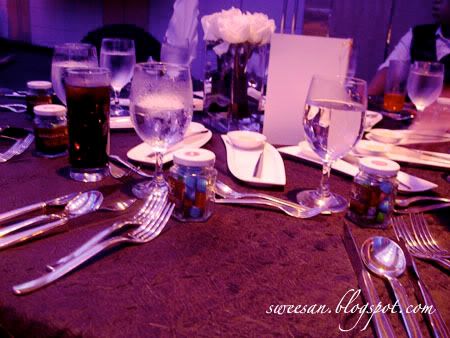 table. no alco 🙁
OK so I've decided to divide the photos and post them up slowly..
Now there were photos of the people and bloggers, now here're photos of the food served during the Nuffnang Asia-Pacific Blog Awards 2009.. Then maybe I will post up random photos on what happened before the blog awards. I was actually at NTV7's Breakfast Show in the morning. and because of that I had to book a flight to SG instead of following the crowd. Actually I think it was a wise choice cause i think the pilot speed-ed and we reached very fast.. Anyho.. save that for another post HAHA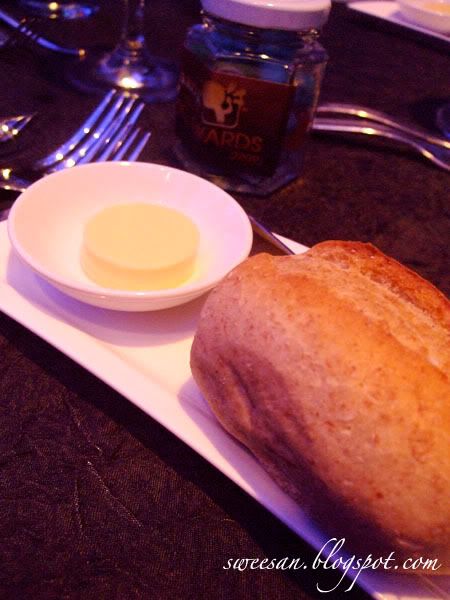 First up we were served with warm breadroll with cute slab of butter. I can't eat bread with just butter. So I kinda waited for the pea & asparagus cream so I can dip dip..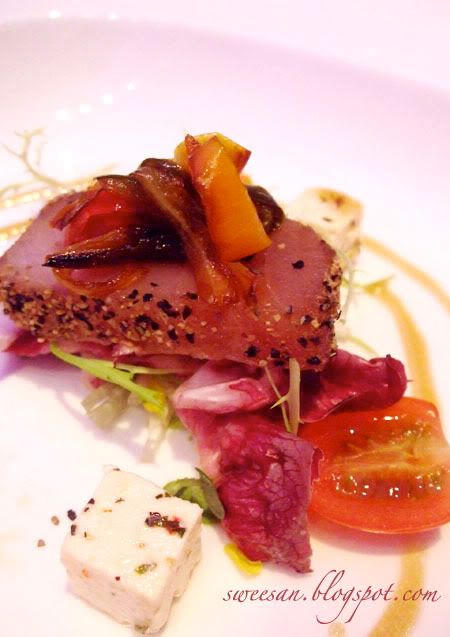 Marinated Smoked Tuna with Feta, Herb Salad and Balsamic Olive Oil.
I love tuna and I love feta cheese. The dish was diligently plated and the colours rocked it. I was starving prior to dinner and I totally gobbled down the dish.. I can eat feta the whole day.. I have a weird liking for feta and haloumi cheese. Ok great. I'm hungry should I go eat a piece of cake…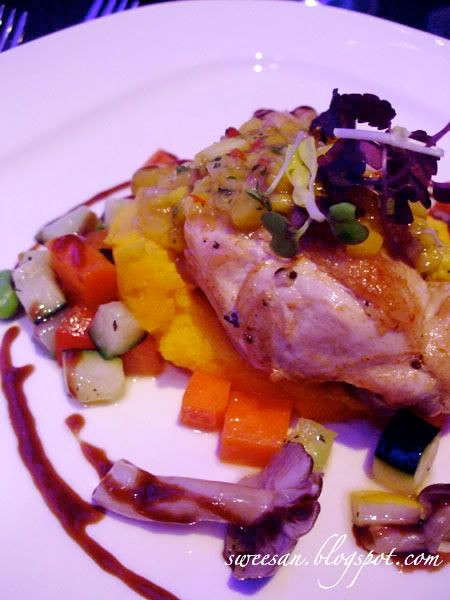 Rosemary marinated Chicken Breast with Saffron Cheesy Mash Potato and Balsamic Reduction Mediterranean Vegetables in Mango Coriander Salsa Sauce
That is one serious name. U know I honestly thought mine wasn't the breast cause it was tender and juice, it tasted more like drumstick or something.. I adore the saffron cheesy mash potato and the med. veges. To think of it I actually like Mediterranean inspired food.. saffron, feta, greek salad, eggplant (ok i think this is not..), Moroccan Lamb, kebabs, Chick peas, all except for olives.. Ok I am seriously hungry now :S
Praline Hazelnut Gateau with Raspberry Jelly
And the part that I was waiting for, the dessert!! I actually thought this was the heaviest amongst the rest served. hazelnut, praline, white choc.. muahahah I love.. I can eat anything with hazelnut all day.. ><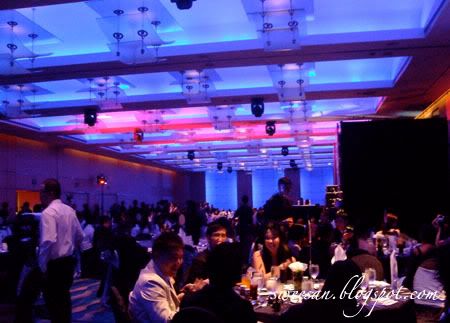 The room
OKay!! tomorrow I talk about what happened before this Blog Awards..