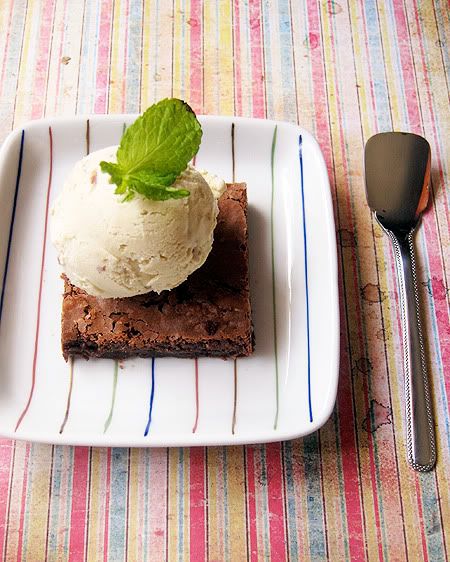 I remember many years ago, well I'd say probably 15-20 years ago, there's a very big pot of mint plant in our house. It's so big that the leaves are so wide and fat. But we hardly use it anyway, infact, as far as my memory can recall, no one in the family ever cooks or uses mint. I only recognize mint in those "after eight" chocolate pieces and mint chocolate chip ice cream. It was only until I was in Sydney and been heavily exposed to Vietnamese food, that I really started appreciating mint. But only too late, heh, the mint plant in my garden has been gone for way too long. I've been trying to plant some stuffs but I guess I only have fingers for pastry, and not plants. My rosemary dried up and sorta died, but oh well we'll leave the story for another day.
So, funny enough, mint chocolate chip ice cream is one of my top 10 favourite ice cream to order in an ice cream parlour. And surely I know its just mint flavour or essence. If that's what you're grown up with, it will take a while to change your perception of it. Anyways, one day, I decided to plant mint again, so I went to the market and ask the lady if there are any mint stems with the root. She gave me a bunch and I just asked her if I could plant this and will it grow, she said "boleh boleh (yes)… *points at root* " So the bunch was pretty darn big. I took those with roots out and planted them (oh it didn't work either hahaha died with the rosemary..) Those without the root, I used them to make the ice cream.
It's not green because there's no colouring in it. Natural as it is.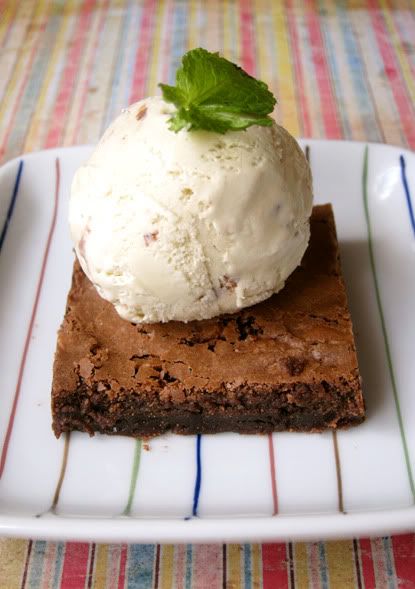 The recipe was from David Lebovitz's The Perfect Scoop. I ordered it from amazon last month and it arrived somewhat 10 days later. I've already tabbed a few ice creams from it and it's a good one to get if you're an ice cream lover.
Confession, one would think that I'm an ice cream fan upon taking up this Project, uh, I'm not actually. I love ice cream but I am not those who would stock tubs of ice cream at home. I'm sorry, but it's not you, it's just me. Commercialized local brand ice cream with lotsa pumped air never made it and I'm just too stingy to buy expensive imported ice cream. Making your own ice cream isn't very cheap either but, somehow I just like making Ice Cream 😛
Ok. back to the ice cream.
Fresh Mint Ice Cream
(adapted from David Lebovitz's The Perfect Scoop)
(makes about 1 Litre)
250ml milk
120g sugar
500ml whipping cream
pinch of salt
2 cups lightly packed fresh mint leaves
5 egg yolks
Warm milk, sugar and 1 cup of the cream, salt in a small saucepan. Add mint leaves and stir until they're immersed in the liquid. Cover, remove from the heat and let steep at room temperature for 1 hour.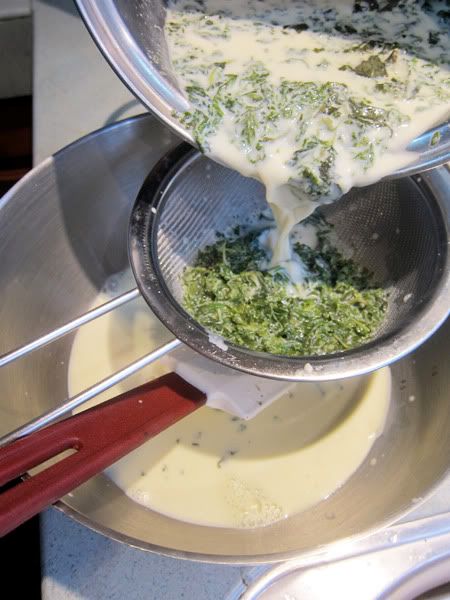 Strain the mint-infused mixture into a medium saucepan. Press on the mint leaves to extract as much flavour as possible, then discard the mint leaves. Pour remaining 1 cup of cream into a large bowl. Rewarm the mint-infused mixture.
In a separate medium bowl, whisk together egg yolks. Slowly pour the warm mint liquid in the egg yolks, whisking constantly, then scrap the warmed egg yolks back into the saucepan.
Stir the mixture constantly over medium heat with a heatproof spatula, scraping the bottom as you stir, until the mixture thickens and coats the spatula. Pour the custard through the strainer and stir it into the cream. Stir until cool over an ice bath.
Churn in the ice cream maker according to the manufacturer's instructions. Put in the freezer and let it set further for a few hours.
I added in some Chewy-Dense Brownies into the ice cream after it's churned for the bits of chewy chocolate.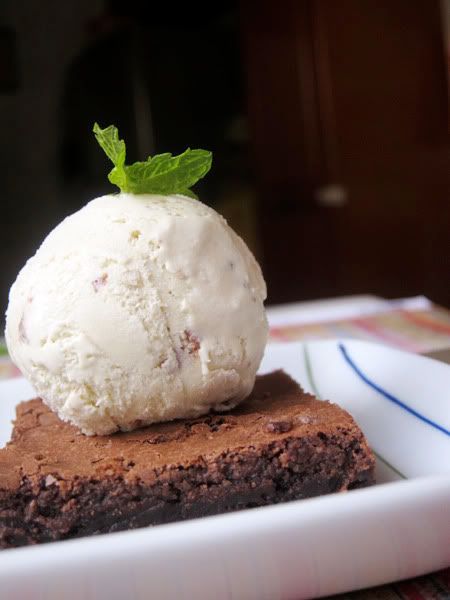 This could very well be a prank on someone who doesn't like mint because the colour is so deceiving. It's actually in a lovely light shade of emerald green, just very very light, almost brown. I think it can pass off as a cookie dough ice cream or something like that . hehe.


Chewy-Dense Brownies
(adapted from David Lebovitz's The Perfect Scoop)
(makes 12 brownies)
115g unsalted butter, cut into pieces
115g unsweetened chocolate, cut into pieces
180g caster sugar (reduced to)
2 eggs
1 tsp vanilla extract
70g flour
1/8 tsp salt
80g chocolate chips
75g hazelnuts, pecans, almonds or walnuts, toasted and chopped
Preheat oven to 170 C.
Line an 8″ square pan (I used a 9″) with a long sheet of aluminium foil that covers the bottom and reaches up the sides. Grease the bottom and sides of the foil with butter or nonstick spray.
Melt butter over a double boiler. Add chocolate pieces and stir constantly with a whisk until chocolate has melted.
Remove from heat and stir in the sugar, then eggs one at a time, then the vanilla. Stir in flour and salt. Beat the batter vigorously for 30 seconds, until it begins to form a smooth ball. (I didn't quite get the smooth ball but I beat the batter for 30 seconds anyway. It was quite starchy. Stir in chocolate chipes or nuts if using.
Scrape batter into the prepared pan, smooth the top and bake for 30 minutes until the center feels just about to set. Remove from oven and let cool.
To mix brownies into ice cream, chop or crumble them into bite-szed pieces and fold them into the frozen ice cream as you remove it from the machine.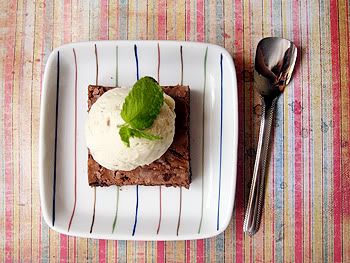 Chewy it is! Mint Ice cream and Chocolate Brownie, old fashioned combination but well, there's a reason why it works. Eating fresh mint ice cream for the first time, let alone making it. It's quite different from the non-fresh mint ones. Using mint leaves, there's a little sweet bitter soothing after taste, very different from using essence. I'm not saying either one is good or bad but it's just different. It could be the type of mint. I've seen on 17 and baking, she has Chocolate Mint. I've seen peppermint, pineapple mint, apple mint and spear mint, but not chocolate ones.. Can any kind souls send me some??
Mint Herb uses are made in reducing symptoms related to digestion. And it tastes good going down the throat! Mint uses are nowadays made by doctors to cure the problems of stomach cramps, menstrual cramps, flatulence, upset stomach, nausea, vomiting, and colic in children.
The Peppermint which is one of the species of mint has dark green leaves with a reddish stem and lavender flowers.
The Spearmint has lighter green, pointy leaves and pink flowers.
The Apple mint has light green foliage.
The pineapple mint has green leaves that are banded with white.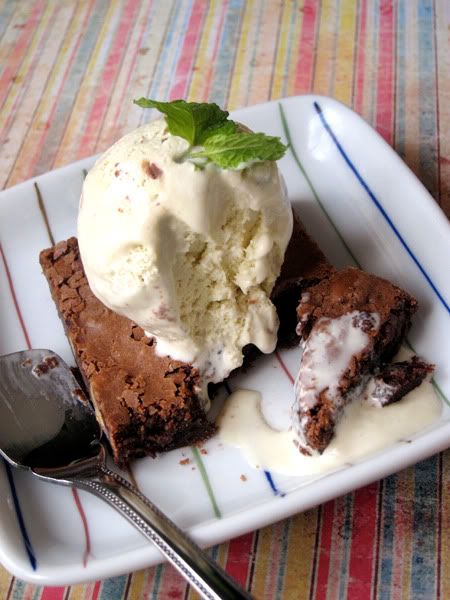 And that's for this week's installment of Project 52 Ice Cream Mondays.
Now that I actually am working with a normal schedule, I could actually feel THE Monday Blues. it sucks.