Project 52 ice cream Mondays have come to the 3rd week. This round, we have Mango Sorbet, and tapioca coconut soup and cake stick. Mangoes are in season now so I bought alot of them to make this sorbet. Though you really don't need so much, 2-3 big ones should be enough, unless you wanna make a few batches.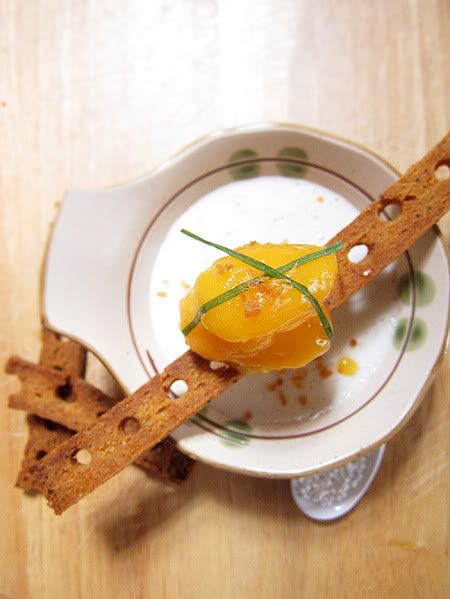 Sorbets are never made with milk or cream. And incase you're thinking of Sherbet which sounds quite close, sherbet often have milk or buttermilk or in some cases, egg white as well. But they're not set entirely that way, sometimes, there may also be some crosses here and there. But for sorbets, naturally it's easy as all you need are some fresh fruits, if some fruits come in season, it's best to make them when they're in season, like mango, lychee, strawberry etc etc. What I like about this is the vibrant orange natural colour from the mango. Yums
Mango Sorbet
(makes close to 1L)
(recipe adapted from Tessa Kiros's Apples for Jam)
"This is pure frozen mango – wonderful, thick, plain and simple yet a splash of colour. IT looks fantastic served with a scoop of pomegranate or strawberry sorbet. Seek out best quality fruit – your sorbet will only ever be as good as the mangoes you start off with"
2 large ripe mangoes (about 1.2 KG)
80-100g caster sugar (the mango I used were pretty darn sweet so I reduced the sugar)
lime rind of 1 lime
juice of 2 limes
apple juice
Peel the mangoes and cut out as much flash as possible from the stone. Cut the flesh into small chunks and put in a bowl with sugar, lime rind, and lime juice. Stir, cover and leave overnight in the fridge to draw out the juices. (Or I'd say 1 hour would be enough if you're impatient) Remove lime rind, puree mango until smooth and if necessary, pass through a sieve to extract the pulpy and stringy bits.
The book says to top up with water to make up to 500ml. AT that time, I had about 500g of puree, so I added a cup of apple juice, because well let's just face it, 500g of mango sorbet wouldn't serve us justice. Hence I added up the amount to about 750g to 800g. You can add water but adding water means you get harder sorbet from the freezer.
Pour puree into ice cream machine and churn, following the manufacturer's instruction. (In my case, about 35 minutes) Or put the puree in a shallow pan and put in the freezer, whisking every 1 hour, for a couple of hours until the sorbet is nearly firm.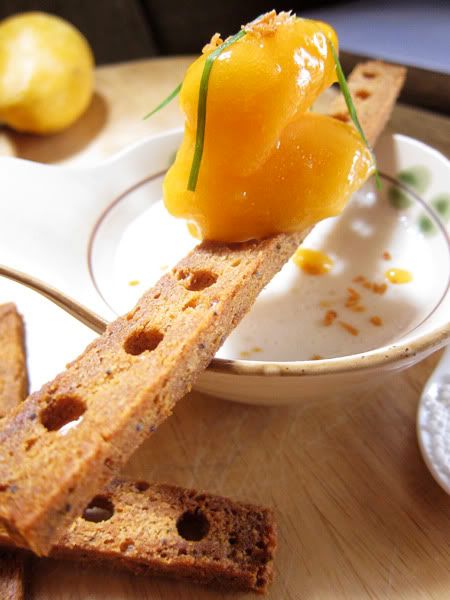 To serve with it, I made a couple of cake sticks, or rather cakescotti (OK new word, but you'll understand why so later) from cake scrap. Basically I just cut few strips from left over orange poppyseed butter cake and bake at low temperature (120-130C ) for about 20-30 minutes until its brown and biscuit-like. Then take it out to cool, it will harden further. Remember to give it a turn so the colour is even. For the holes, I just used a piping tip to cut out the holes for some …. funky designs lol. Basically it works on most butter based type of cakes as long as there's no big chunks of raisins, it would turn bitter after baking.


Coconut Tapioca Soup
(serves 4)
1 cup milk
1 tbsp sugar
1 tbsp small tapioca pearls
100ml coconut milk
Heat milk and sugar in a pot, using low heat. Stir till sugar dissolves.
Add in tapioca pearls and stir every 3 minutes. Make sure its very low heat.
It will take about 20 minutes or so, or until the tapioca pearls turns translucent. Then turn off heat and add in coconut milk. Stir and let it chill. Serve with mango sorbet and toasted coconut shavings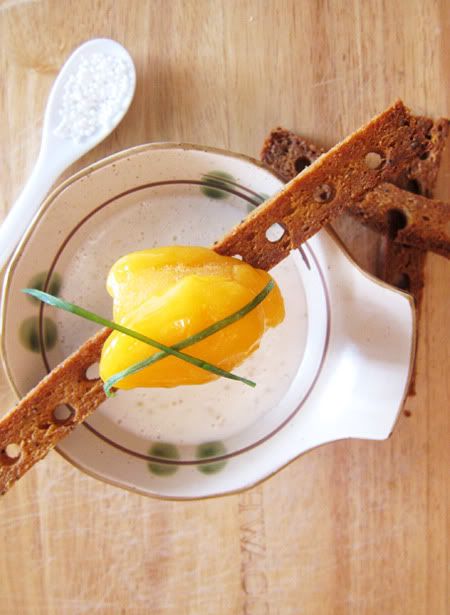 3rd week done and looking forward for more ice creams !