Katsu don is a famous Japanese dish with deep fried meat cutlet served on top of rice and topped off with eggs and other condiments. The dish takes its name from the Japanese words tonkatsu (for pork cutlet) and donburi (for rice bowl dish). It can be done with either chicken or pork, in this case, I used chicken leg, deboned. It has become a modern ritual tradition for Japanese students to eat katsudon the night before taking a major test or school entrance exam. This is because "katsu" is a homophone of the verb ?? katsu, meaning "to win" or "to be victorious". Well I certainly didn't have any exams but I saw this on Momofukufor2's site. Check out her site on How to debone a chicken drumstick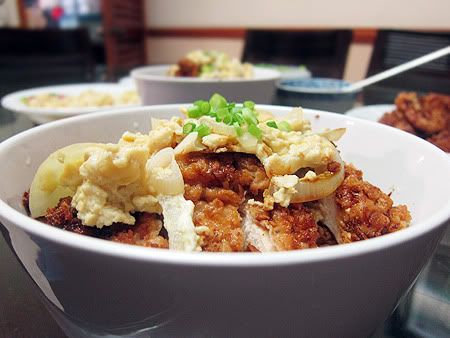 For katsu-ing the cutlet, I like using panko (Japanese Breadcrumbs) as it's crunchier and has a very nice golden colour compared to the normal local breadcrumbs. But of course it can be substituted. Chicken Katsu Don is one of my regularly ordered dishes in Japanese Restaurants when I just want simple food fast and yummy without going through the whole thinking-of-what-to-order process.
Chicken Katsu Don Recipe
(adapted from momofukufor2.com)
(serves 2)
2 cups of cooked white rice
2 chicken leg (drumstick + thigh attached), de-boned
2 tablespoons flour
salt and pepper
1 egg, lightly beaten
1 cup panko
oil for pan-frying
1/2 cup dashi
2 tablespoons soy sauce
1 1/2 tablespoon mirin
1/2 onion, thinly sliced
1 teaspoon oil
3 eggs, lightly beaten
sliced green onions for garnish
1. Set up a breading station and break the chunks of chicken by dipping in flour, shaking off excess, dipping in egg, and then in panko. Continue until all chicken is breaded.
2. Heat up oil to 375?F in a frying pan. Shallow fry chicken in batches until golden brown and cooked. To check, cut a piece of chicken in half. Drain on paper towels and set aside while you cook your onions and eggs.
3. Heat a teaspoon of oil in a sauce pan on medium-high heat. Add the onions and pan-fry until cooked and soft, but not brown. Add the dashi, soy sauce, and mirin and turn the heat to high. When the mirin mixture comes to a boil, add the eggs and turn the heat off and cover the pan so the eggs cook in the residual heat for about 3-4 minutes.
4. Fill rice bowls and place chicken katsu on top. Scoop soft omelette and dashi broth onto the chicken and rice. Garnish with green onions. Enjoy!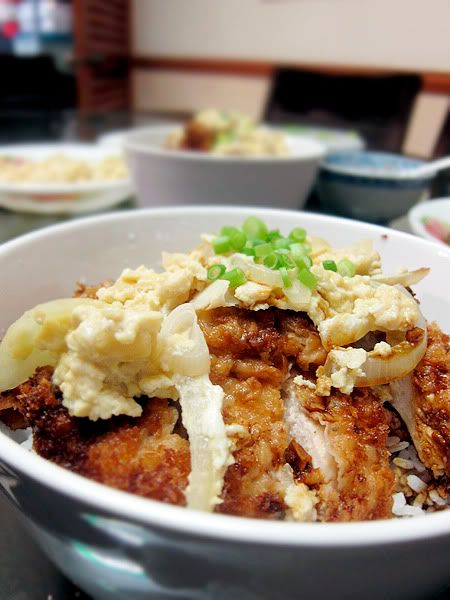 It's flexible to cut the chicken to smaller pieces then katsu them or katsu-ing the entire cutlet whole then slice them. I do find the latter better though it may take a longer time to cook, but just the idea of seeing an entire piece of chicken katsu makes me happy ! I tried with breast meat as well. I'd suggest bashing them a little so they are thinner.
OK I may just make them again tomorrow.. >.<