Booo it's Monday but that means it's Ice Cream Day !!
So, no.2 Ice cream is Ben and Jerry's Cherry Garcia. B&J is like such a fun, colourful, happy ice cream thing. I was at Ben & Jerry's in Vivocity Singapore last year and you can see they're all bright and happy. Isn't it just the place to be to cure any weekday blues ? hehehe.
I bought their Ice cream book a long long time ago, even way before I had an actual ice cream machine. I don't know. I just can't resist happy books like that. It's small but it's packed with lotsa ice cream information and bonus baking recipes !! yummy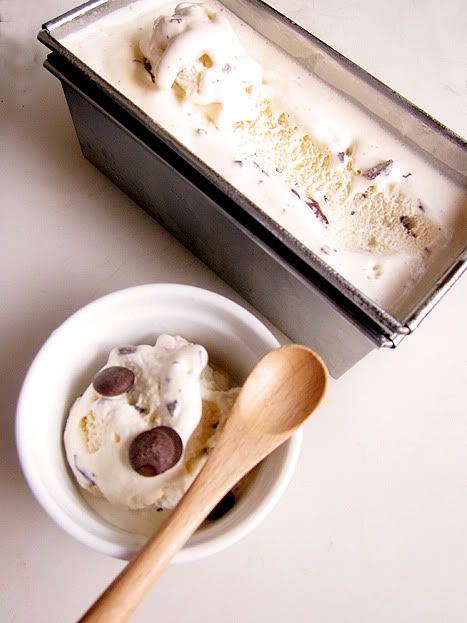 Ben & Jerry's Original Cherry Garcia Recipe
(Makes about 1L)

1/4 cup shaved plain chocolate (B&J prefer Hershey's Special Dark Chocolate Candy bar. I didn't have any hersheys so I used Callebaut's dark chocolate calets, then chopped finely since they were, calets )
1/4 cup fresh Bing cherries, halved and pitted (I used canned cherries, but sure to drain the syrup)
2 large eggs
3/4 cup sugar
2 cups heavy or whipping cream
1 cup milk
Method
Place the chocolate shavings and the cherries in separate bowls. Cover and refrigerate.
Whisk the eggs in a mixing bowl until light and fluffy, 1 to 2 minutes. Whish in the sugar, a little at a time, then continue whisking until completely blended, about 1 minute more. Pour in the cream and milk and whisk to blend.
Transfer the mixture to an ice cream maker and freeze following the manufacturer's instructions.
After the ice cream stiffen (about 2 minutes before it is done), add the chocolate and the cherries, then continue freezing until the ice cream is ready.
* I used more chocolate shavings and cherries actually for the ice cream.
* The ice cream was lovely with all the chocolate crunchy bits and stuffs, but it melted reallllllyyyyyy quick. The first photo I took was fine and dandy, then during the 3rd click, I could already see little meltings of it already.
Yum… be sure to check back next Monday for another installation of Ice Cream!