Ok Initially when I saw the Japanese Beef Roll on Seasaltwithfood's page, I was tempted to make it. But we don't eat beef at home, so I tempted to use pork instead. And because it was such a spontaneous thing, I had to use whatever I had left in the fridge. I always try to use up whatever that is left in the fridge and just, adapt the recipe here and there.
Oh and because of that, I used pork belly. mmm , yeah…
And the mushrooms weren't enoki, but oh well, it still turned out great, with the sweet and sticky caramelizing sauce..
Pork and Mushroom Rolls
(adapted from seasaltwithfood.com)
8 thinly slices of Beef (sirloin) *I used sliced pork instead
8 stalks of Asparagus, trimmed *non at home, skipped it*
3 stalks of Scallions, halved *ok this i had some*
100g Enoki Mushrooms, trimmed *It wasn't enoki, but it's a fatter version of enoki*
3 Tbsp Japanese Soy Sauce
Toothpicks or small skewers
Preheat the oven to 400?F (205?C). Oil a baking tray.
Prepare the basting sauce. Mix the soy and mirin. Set aside.
Lay the pork slices, place the asparagus, scallions and mushrooms. Roll them tightly, and secure with toothpicks.
Bake in the oven for 5 minutes and baste the beef rolls with the sauce. Repeat the basting every 5 minutes until the beef rolls are cooked.
Boil the remaining sauce lightly and brush the beef rolls again. To serve, remove the toothpicks. Top it with some chopped scallions! DELISH!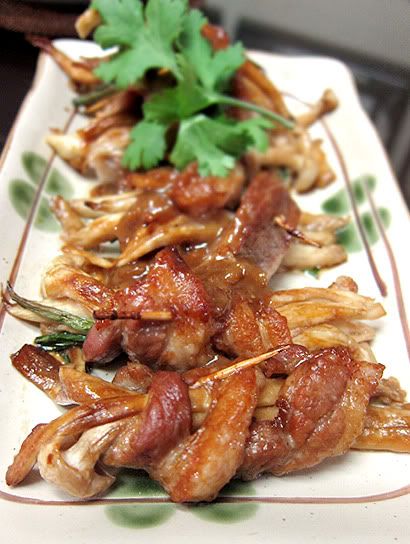 Ok I have to admit. I forgot to take out the toothpicks when I placed them on the plate because my ratio of mushroom versus pork was not balanced. So I was afraid that when I took out the toothpick, something somewhere will fall.
Anyways, If I were to make the dish again, I'd use a bigger piece of pork with more meat than fat.