Carbonara is one of my favourite of many many comfort food, along the rest like lasagne and mac n cheese. It's also one of the easiest to make. I've made this when I was a student in Sydney, very easy and straight forward, but just a little tricky.
This recipe was adapted from Nigella's How To Eat and revised to my liking tee hee.. . <3


Fettuccine Carbonara
Serves 2
200g fettuccine
2 tsp olive oil
100g pancetta (I used back bacon instead)
4 tbsp white wine
1 egg yolk
1 whole egg
4 tbsp freshly grated parmesan cheese (of course I added a lil more)
4 tbsp cream
1 cup sliced fresh button mushroom
black pepper
salt
1 tbsp butter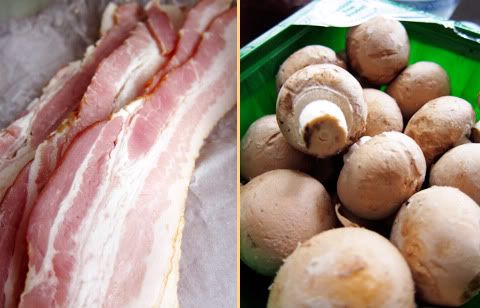 1. Put some water on and when it's boiling, add a decent amount of salt and pasta. Cook pasta as written on the packaging.
2. Heat up saucepan, drizzle some olive oil and toss in the chunky pieces of bacon and mushroom. Fry for about 5 minutes, until it begins to crisp. Pour in the white wine and let it bubble away for 3 minutes.
3. Remove from heat and prepare the egg mixture, while checking on the pasta.
4. For the egg mixture, beat the yolk, whole egg, cheese, pepper, cream with a fork. When pasta's ready, quickly put the bacon pan back on the heat, adding the butter as you do so. Give the pasta a good shake in the colander and then turn it into the hot pan. Toss with a spatula and a wooden spoon.
5. Turn off heat, count to 10, then pour in the egg mixture over the bacony pasta and quickly thoroughly turn the pasta so that it's all covered in the sauce. Do not turn the heat back on otherwise you'll get scrambled egg. The heat from the pasta and pan will set the eggs to form a thickly creamy sauce than binds and clings lightly to the pasta.
It's not THHHAAATT creamy and over the top. Just nice, tho I'd probably add a little bit more cream hehe. Oh don't forget to grate some parmesan on top for the extra cheese!