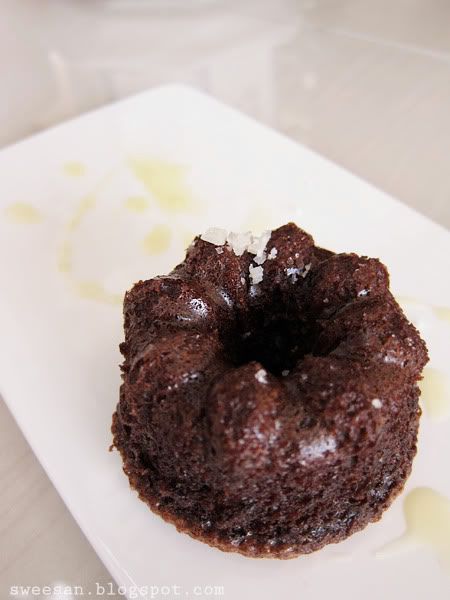 Versatility is up to creativity, of course not entirely but I would say mainly. It involves some 'thinking out of the box' and some daring points to do so. As usual, I was blog-hopping on some of my favourite food bloggers, I came across Ellie's Gateau au Chocolate à la Fleur de Sel et Huile d'Olive. Quite a name huh? 
I looked at it for a while and my mind just went "Ok I have to do this". Its just like if you're in a new place and you meet a bunch of new people. Some you may click with and some you may not relate to. Baking for me is just like that; how it clicks. It doesn't have to be a very complicated recipe or an over the top one. If I like what I see, I'll try it, very simple! 
And just like this cake, it's pretty simple to make. You don't have to use a mixer if you want some hand workout haha, in which I did. 

Chocolate Cake with Olive Oil and Sea Salt
(Adapted from Trish Deseinea's Nobody Does It Better…)
Ingredients

200g dark chocolate (min 70% cocoa solids)
200g unsalted butter
4 medium eggs
150g caster sugar
60g plain flour
1½ tsp baking powder
Extra virgin olive oil
Fleur de sel (sea salt)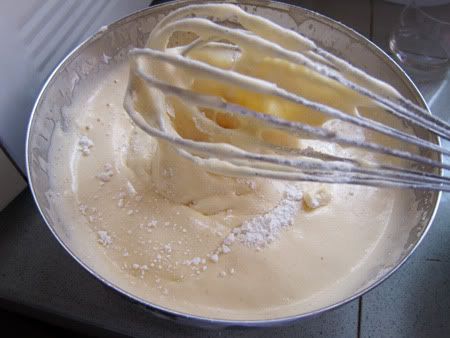 When I saw the recipe, I wanted to cut in half and just mix it by hand. Furthermore, I just made the Upsidedown Pineapple cake days before, it seems almost too difficult to have too much desserts to eat for my family. So I took out the ikea bowl and a whisk. Crack some eggs and started whisking… 


After a while, I paused and see, how many eggs did I actually cracked in it? 2 ? 4 ? .. Must be four =__= It's gonna be one hell of a whisk. But oh well, I used to do everything without mixer when I first started out at Le Cordon Bleu for 3 months. No turntable, mixer, dough presser, etc; everything has to be done by hand! So it wasn't too much for me to handle, furthermore I like whisking it by hand just to feel the lightness of the eggs.. It worked out just like using mixer so I was more than happy yay!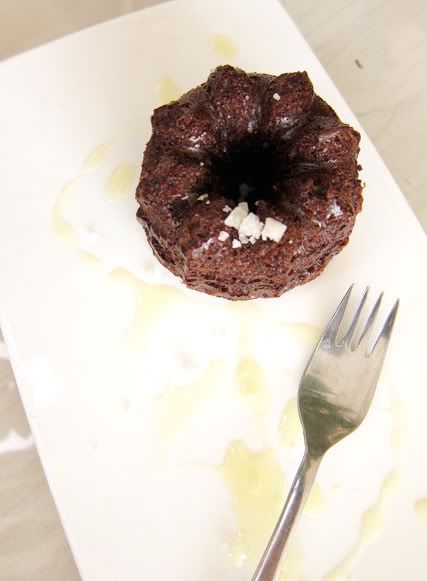 Methods
Preheat the oven to 200C/400F.
Melt the chocolate in a heat proof bowl over a saucepan of hot simmering water. add butter and stir well to mix the two ingredients completely.
Put the eggs and the sugar in a bowl and whisk with kitchen mixer until the mixture turns pale and doubles in volume. Add the flour, a tablespoonful at a time, and the baking powder.
Mix in the chocolate mixture, pour the lot into silicon pans / 8″ moulds and bake for 30-40 minutes. The cake is cooked when a knife inserted into the centre comes out clean.
Leave the cake to cool for 15 minutes before turning out.
To serve, cut the cake into slices, set them on plain white plates and pour some extra virgin olive oil around. Sprinkle with some fluer de sel on the cake and serve.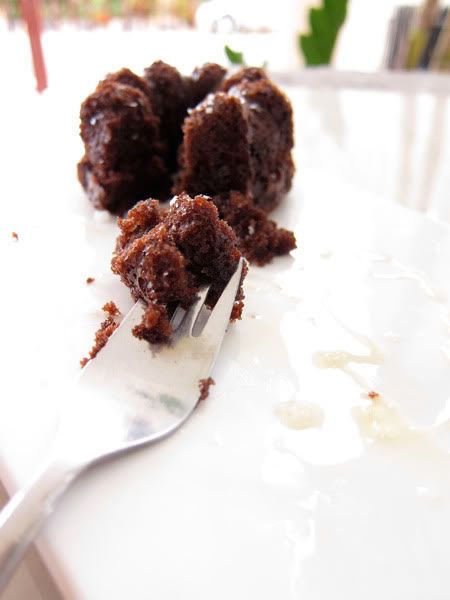 Who would have thought that chocolate, olive oil, sea salt would make such an impact? When I first saw the name, I thought, okay, wouldn't olive oil leave an after taste or overpower the chocolate if baked together? But after reading it, it's served alongside just like the breads in Italiannies. The sea salt makes it quite addictive. Serious. So do try it out, even if you don't fancy olive oil and salt on cakes, the chocolate cake is quite a winner. 🙂


I don't exactly know where to buy Fleur de Sel here, ok maybe in Cold Storage but I happened to find a packet of coarse sea salt at home…