If you haven't noticed yet, I am a dessertholic. And sometimes I'd rather eat a cake than a plate of rice or noodles; really. So me and my friends went for a little dessert-escapade in Siam Paragon. 4 of us ate 5 slices of cakes; after a light dinner. Goodness, thankfully I have friends who like eating desserts too!
Last year in 2009, we stumbled upon Lenotre in Siam Paragon. This time around, we went there on purpose to try other cakes. Next time, we'll go to the crepe place, eh?
So on your mark.. get set ….
GO !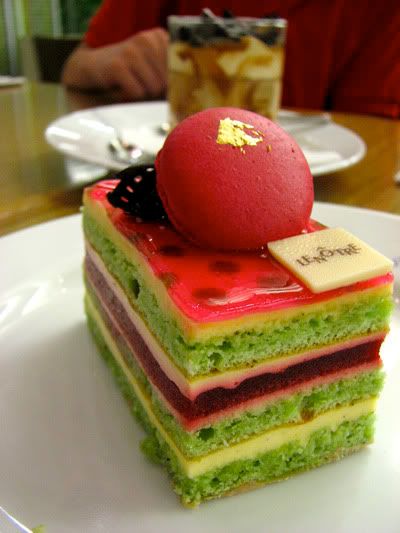 Emeraude (125 Baht)
Creamy vanilla bavarian cream layered between these jade-coloured kirsch soaked pistachio biscuit sponge with a touch of raspberry jelly for texture. We've actually ate this before but we couldn't resist the colour!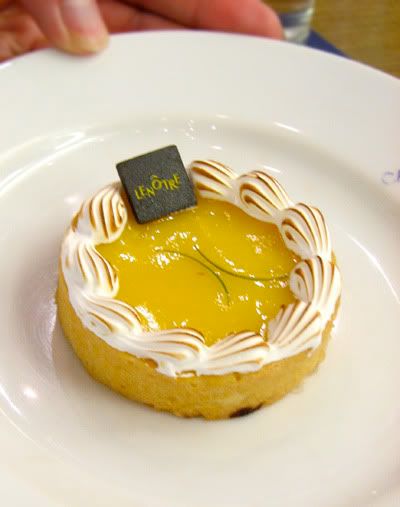 Lemon Tart (75 Baht)
Tangy lemon curd encased in a buttery and sweet shortcrust tart topped with lightly torched Italian Meringue. To compare this and Canele's version, I actually prefered Lenotre's cause it's more balanced in terms of the meringue and curd, letting us taste more of the lemony zesty refreshing curd.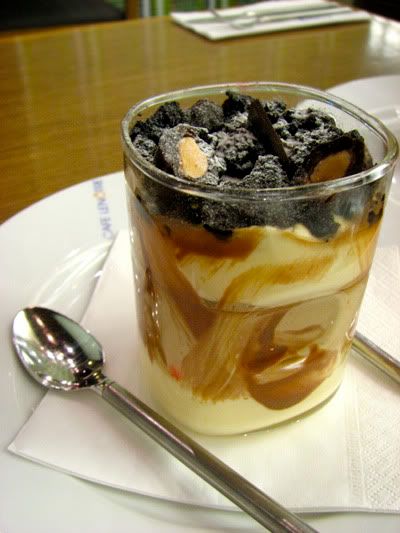 Tiramisu (135 Baht)
I don't usually order tiramisu but I was feeling for something creamy and tiramisu seems to fit the bill! It's a combination of light mascarpone and coffee cream layered with chocolate sponge fingers soaked with coffee syrup. The crunchy chocolate balls on top did give it a contrast of texture. I wished they had added some of those in between the creams, then it'd be perfect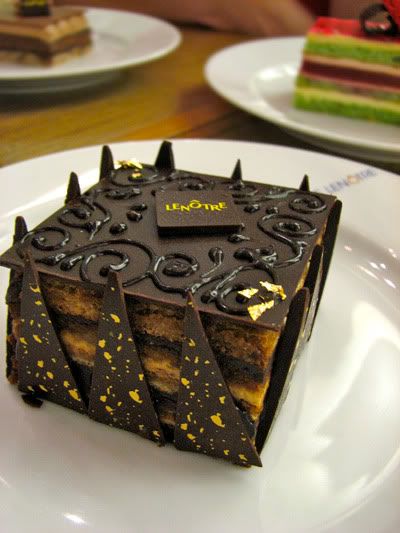 Opera (110 Baht)
I have a special story with Opera; or I'd rather say it's a love-hate relationship. To begin with, I wasn't a coffee person; infact, I hated it. But it was
THIS
little Opera cake I made in Le Cordon Bleu YEARS AGO that changed my mind about coffee in desserts. Lenotre's version consist of all the basic elements of an Opera, almond joconde, coffee buttercream and rich chocolate ganache. When I first learned how to make Opera, the chef insisted that all these layers must be the same height, tough job eh? I only wished that in this version, the ganache was more creamy and soft to compliment the rest of the elements.
Last but not least…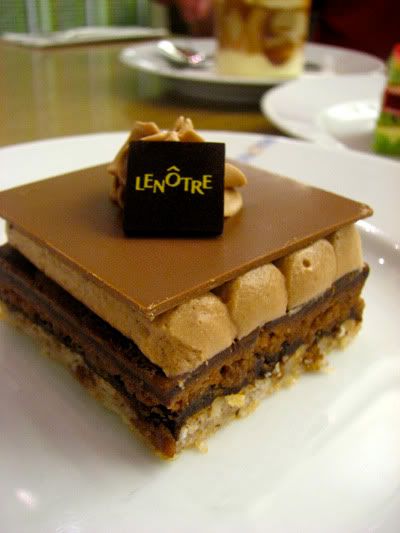 Douceur Noisette (125 Baht)
To die for!! Chocolate and hazelnut are my favourite combinations; as boring as it may get, it's one of the best. Douceur Noisette consists of a layer of crispy hazelnut joconde sponge, then topped with a bursting flavour of praline feuilletine, chocolate whipping cream and a milk chocolate layer. Oh dear this is evil…
If cakes does not interest you, check out their range of viennoiseries and breads.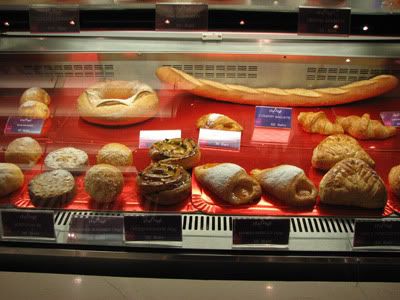 Lenotre Thailand
G floor, Siam Paragon Shopping Centre,
Rama 1 Road, Pathumwan, Bangkok
10330, Thailand