yeah confusing, I know but it literally is! There are cakes and a faux tart on a big cake!
Anyway I have a little something to share. I met with a different group of food bloggers today (the ones that talks more about cooking / baking, not so much on reviews) and it was great! There were 11 of us all together and we probably talked about the danger of buying dragon fruits, living life overseas and about cakes! lol it's a common language with very different people from 4 countries but of 1 nationality; and people always wonder how to live harmoniously 😉 It's actually not that difficult!
Well hopefully I'll steal get some photos from the ladies and post it up later.
In no particular order we had, Reese Kitchen, petite nyonya, Dodol & Mochi, Elinluv, Bitter Sweet Flavours, Baking Quinn, Nasi Lemak Lover, My Kitchen Snippets, Honey Bee Sweets, and me! Do check out their blogs 🙂
But for now let's check out this cake tee hee ..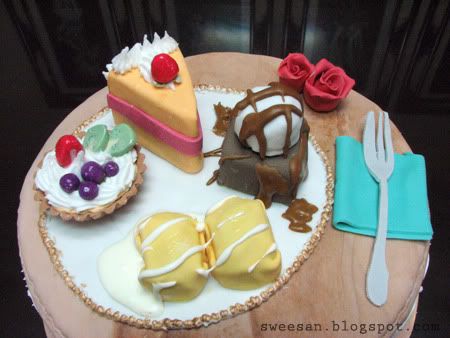 clockwise from far left; fruit tart, strawberry cake, brownies with icecream, fork, and durian pancake
The impression was to create a platter of desserts because she likes desserts! especially Durian pancake. So there goes it and I particularly like the brownie with ice cream drizzled with fudge sauce.
But all it was were cakes covered with fondant and royal icing!!
Can I now qualify to make the faux food display in front of Japanese eateries ?
PS as you can see it's a new layout, very simple. I do hope it loads in IE now !!