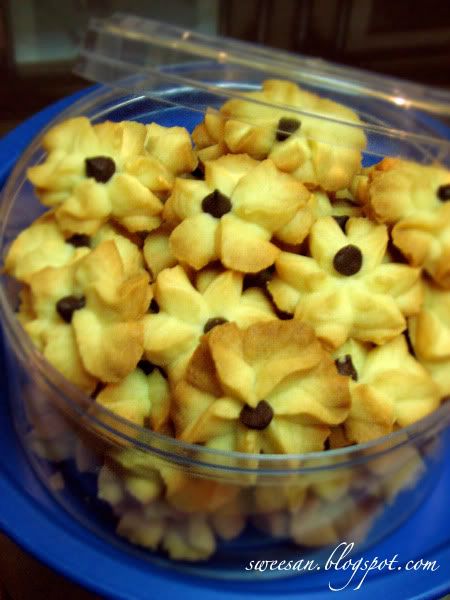 Sometimes simplicity is the best, so I decided to get back to basics and make some butter cookies. These were made for a beach side picnic and they were gone in no time!
Butter Cookie Recipe
(makes alot!)

180g butter
120g caster sugar
1 egg
2 tsp vanilla essence
250g All purpose flour
pinch of salt

Method

1. Cream butter and sugar in a mixing bowl with a beater till light in colour. It doesn't need to bee too fluffy otherwise the cookie will be a little crumbly.
2. Add in the egg and vanilla essence and mix till well incorporated
3. Gradually add in flour and salt and mix with a slow speed (speed 1 or 2) with a beater. Scrap sides of bowl.
4. Fill in the batter into a piping bag with a star nozzle. In the pic, I'm using the Wilton tip 2D. Basically the pattern is up to you. Press batter onto pan lined with baking sheet. Add cut cherry bits or chocolate chips or sprinkles on top of the cookie before baking
5. Bake at 180 C for 15 minutes or until cookie becomes slightly golden brown.
6. Cool down for 15 minutes and keep them in an airtight container.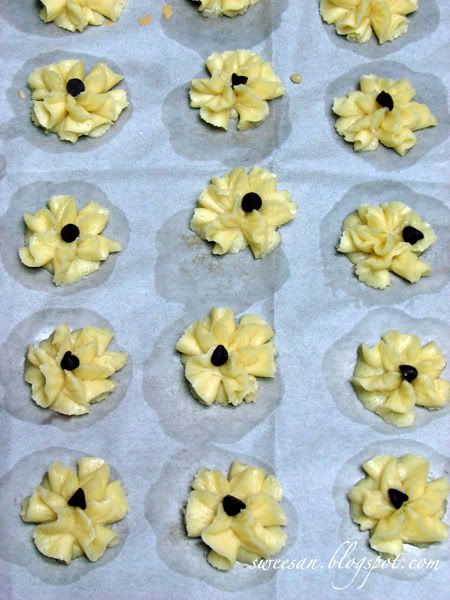 Note : Since this is the basic recipe, it can be quite flexible in terms of flavours and shapes. Add in citrus zest for extra flavour, or even coffee!
Now I shall go make some different ones XD