Orange Chiffon Cake with Lemon Curd
The weather is literally killing. Scorching sun all day long, but when it rains, it rains like cats and dogs. But most of the time it's superbly hot. *turns on fan at max speed*
There will be a talk on May 8th 2010 from 11am to 5pm in MPH 1 Utama about Tropical Oil and what you probably don't know about it yet. Take this chance to find out from Dato' Dr. Steve Yap and Dr. Kamariah Long about the yes and nos of tropical oil. Lindt Chocolate will also be there. It's time to know more about what's in your chocolate!!!! Plus healthy Thai cooking session by Chef Trakol-Yudsok from Erawan Thai Restaurant (my fav Thai Rest.!)
check out the poster. click for bigger image.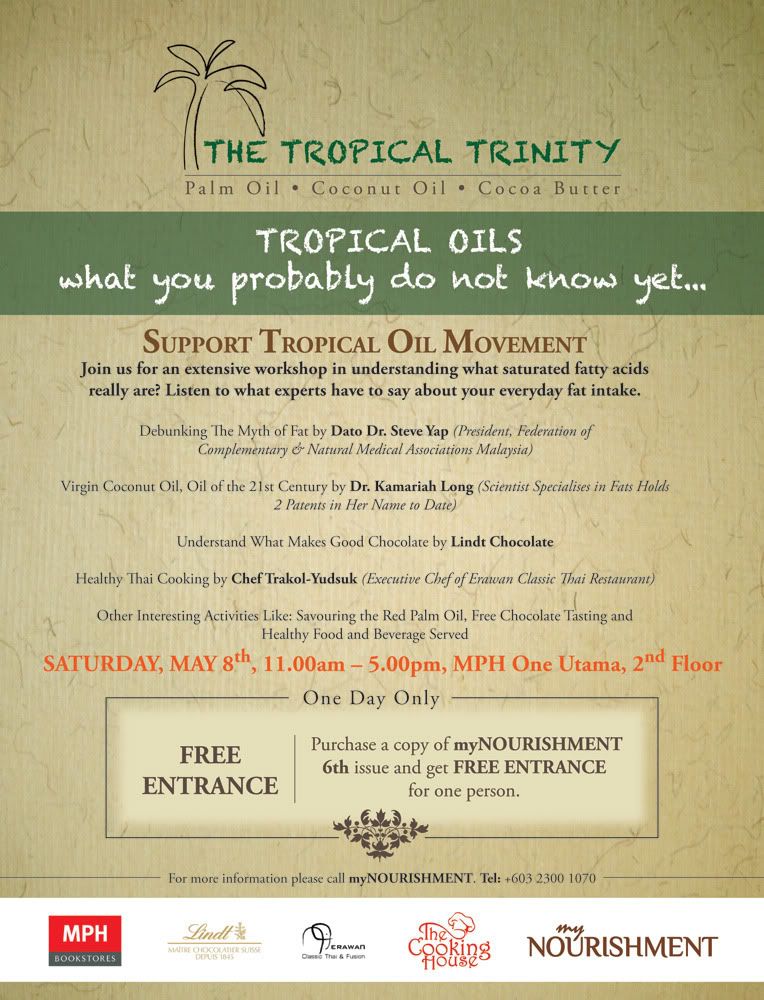 ——
I made this chiffon cake a couple of weeks back. I have this secret love for chiffon cakes. I can eat half of the whole cake, really. Cause it's just so light yet it's moist. It's quite versatile in terms of flavouring as long as you get the basic one right. Citrus fruits will give it an extra tangyness so I used orange this time around.
Before I started making cakes, I always thought chiffon cakes were difficult (from people around me) and they've also said that chiffon cakes aren't so healthy cause there's alot of oil in it. Well then it caught me, generally, cakes aren't the healthiest thing to eat ever. But when I started making cakes, chiffon cakes weren't actually difficult at all!! Really.. you have to try it..
Orange Chiffon Cake Recipe
(fits a 10″ chiffon cake pan)
140g All purpose Flour
1 tsp baking powder
6 egg yolks
2 orange, zested and juiced
100ml full cream milk
4 tbsp Corn oil / Canola oil
50g caster sugar
pinch of salt
6 Egg whites
1/4 tsp cream of tartar
120g Caster Sugar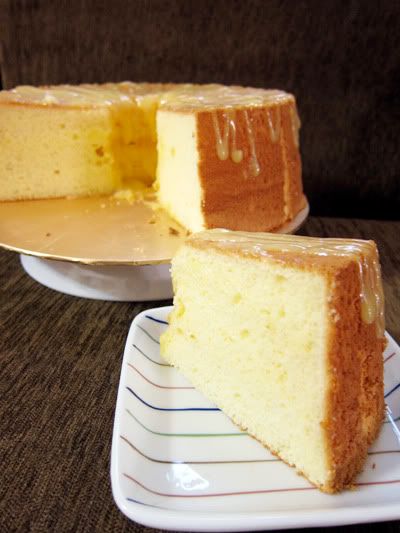 Method:
1. Combine yolks, orange zest and juice, oil, caster sugar and salt with a whisk. Add in flour till it forms a smooth batter; lump free.
2. In a mixing bowl, whisk egg whites and cream of tartar until foamy. Gradually add in caster sugar while whisking at high speed till medium peak. It should also be glossy.
3. Gently fold in beaten egg whites into egg yolk batter until well combined with a whisk. A little TLC needed here.
4. Pour batter into a 10″ chiffon cake pan. DO NOT GREASE PAN. * Bake in preheated oven at 175 C for 35 minutes or until cooked.
5. Once cooked, remove from oven and invert it to cool completely. To remove cake, slide a knife around the inner perimeter of the pan, twist it out. Then slide a knife at the bottom to release it, and knock it out onto a plate / board. Basically it's upside down now.
6. Serve as it is or pour lemon curd on top. (Optional)
*The reason why you don't grease chiffon cake pans are so that they stick to the pan when they rise. And when you cool the cake, it has to be inverted upside down so the height of the cake remains "high" and it doesn't sink back down.
If you want to make other flavours such as pandan, you can add in pandan paste or juice and omit the orange zest. Replace milk with coconut milk for the extra earthy flavour.