So earlier today I posted up about the cutting and peeling and removing the eyes off the pineapple. Pretty simple eh. I'm just somehow addicted to watching people peel, remove eyes, cut, core on the pineapple for Rojak. They do it so fast it's almost perfect.
Ok back to the cake. Canned pineapple rings are mostly used in this upside-down pineapple cake, mainly because it's sweet enough! But it's also because when these cakes were introduced in 1920s, canned pineapples were reasonably cheap and fresh pineapples are rare. This guy, canned 95% of his crop, hence the affordability. But nowadays, especially in Asian countries, pineapples are easy to find! and quite cheap too! So why use canned pineapples when you have the fresh ones.
Upside-down Pineapple Cake
(makes 9 inch )
30g Salted butter
150g brown sugar
1 medium pineapple, cut into rings and cored
125g Butter
100g Brown sugar (or caster, it's ok)
2 medium eggs
160g All purpose flour (Cake flour is better)
1/2 tsp baking powder
100ml Milk
1 tsp lemon zest
1/4 tsp grated fresh ginger
Method
1. In a saucepan, melt butter and brown sugar till completely dissolve. Stir and let it cook further till it caramelize. It will probably take 1 minute or so. So don't burn it as brown sugar tends to deceive your eyes to whether it's caramelized or not. Then, pour into 9″ pan and arrange sliced pineapples on top of it. Feel free to add cherries but I didn't have whole cherries, so I used diced cherries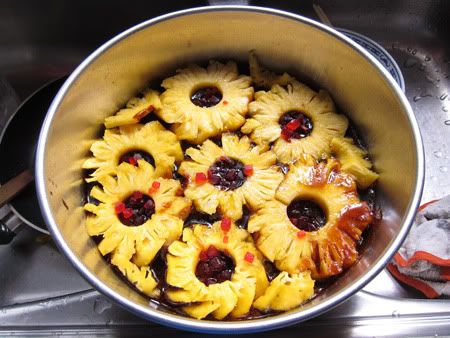 I overcooked the caramel a little hence it was a bit dark.
2. Then prepare the cake batter. Cream butter, sugar, lemon zest and grated ginger in a mixing bowl till light and fluffy. If you want more cake, you can double the recipe.
3. Add one egg at a time and beat till egg has incorporated before adding the second egg.
4. Sift dry ingredients in a separate bowl. Fold in half of the flour into the mixing bowl.
5. Fold in milk, then lastly the remaining flour. If u're using a mixer, use the lowest speed possible to keep a nice texture on the cake.
6. Pour batter onto pineapples and bake at 170 C for about 20-30 minutes or till done. Leave it to cool and invert it out on a plate. Serve warm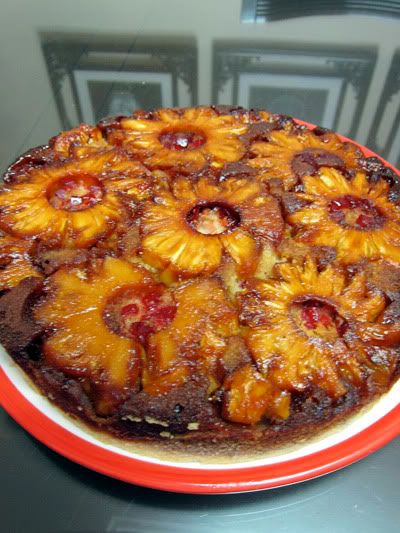 As you can see, it's a bit dark, so I'd prefer to not caramelize the brown sugar too much. Or probably use half caster and half brown. My mum decided to just scoop out the pineapple and leave the cake behind, cause caramelized pineapples are just too good! Hehe..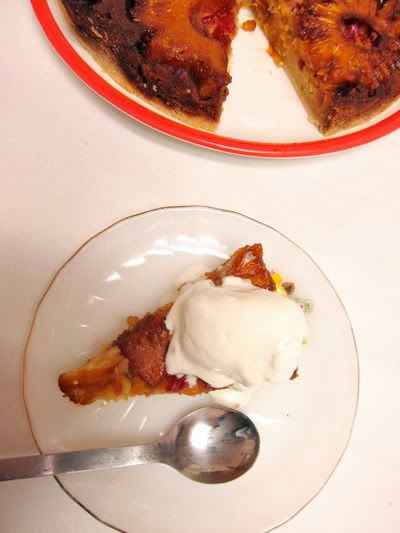 Please be kind and serve with ice cream 😀