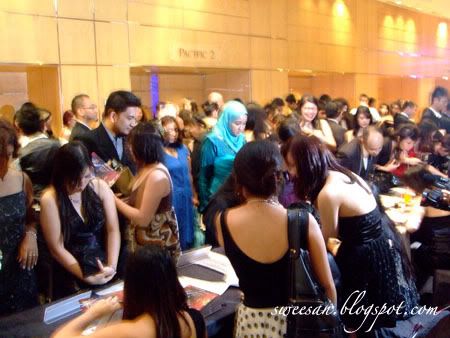 At the reception area..
During the awards night, it was like putting faces to their blogs.. No, actually more like.. "Eh that person looks very familiar but I don't know which blog is he / she from" jeng jeng jeng …
And there probably are far too many bloggers to remember.. T__T
I'm guessing like 400+ (cause there were 41 tables :P)
It's like a wedding banquet already!!
Everyone was dressed to the nines! Girls were hot and pretty, guys were smart and cute! lol and to say, it's a global event. 4 countries, ok mah, considered global right?? Bloggers from Malaysia, Singapore, Philipines and Australia were there. Kudos to Nuffnang for organizing such a great event, and the next-day-tour was good too even tho very super tiring!
The emcee was Allan Wu, who is the host for Amazing Race Asia. I thought his hair looks abit weird and I think the short hairstyle looks better. Hrmm. Performances were from JC Sum & 'Magic Babe Ning who're first Singapore illisionist to be awarded coveted Merlin Awards from the International Magicians Society for "Most Original Illusionists 2009", and Electrico who performed in the NAPBAS.
Photos taken with bloggers during the Nuffnang Asia-Pacific Blog Awards on 23rd Oct 2009 ..*rub shoulders* WHY DID I NOT TAKE A PIC WITH XIAXUE~! sigh nvm lah next time, if there is.
Ok here goes..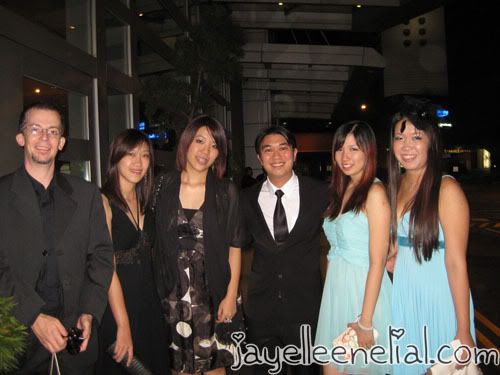 *pic taken from Jolene.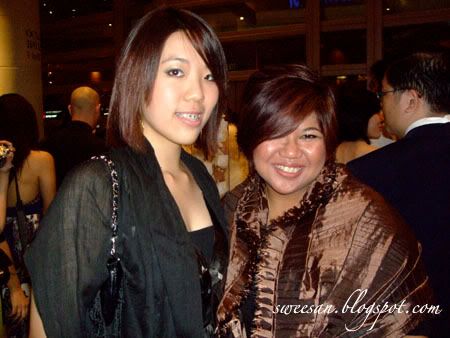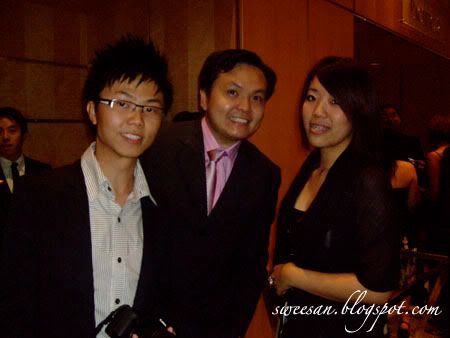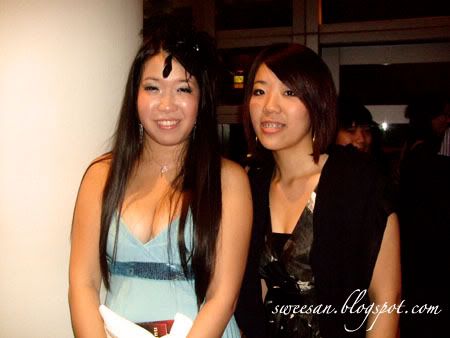 with
Jolene
. her head piece is so nais!!!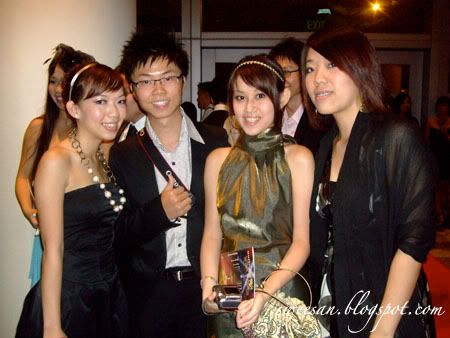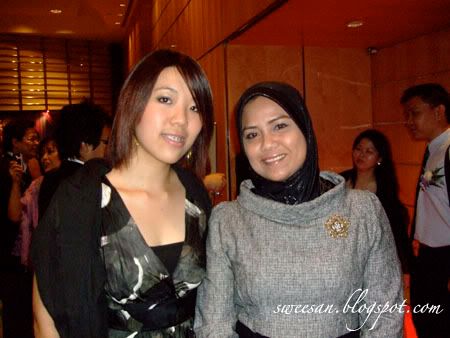 with Nani.. who is like the only person i know not thru blogging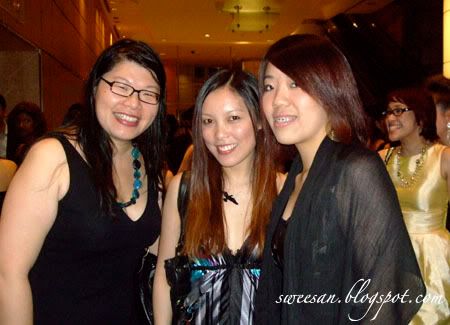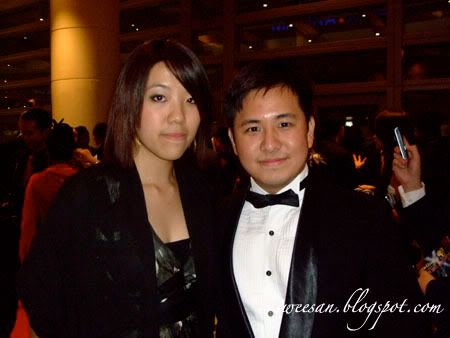 with
Kennysia
, who won best entertainment blog. *hands down*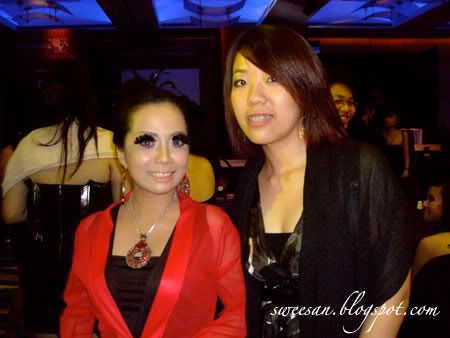 with
RedMummy
. Don't know how many times I wanna say this but, head piece so pretty and the lashes too!! I have to confess, I didn't know her blog until I saw Project Alpha, but all praises to this woman!!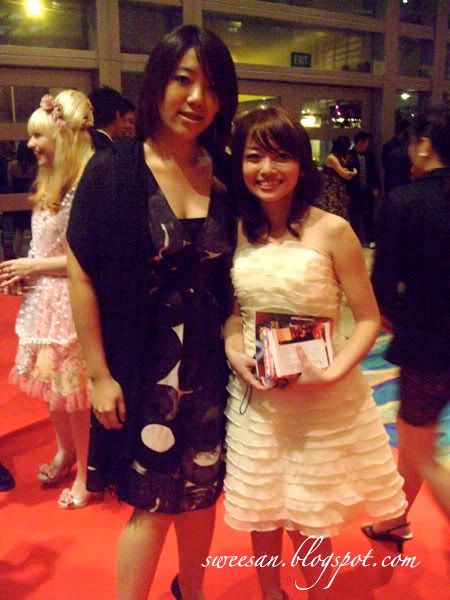 with
Audrey
of fourfeetnine fame. Yah actually her dress did remind me of wedding cakes 😛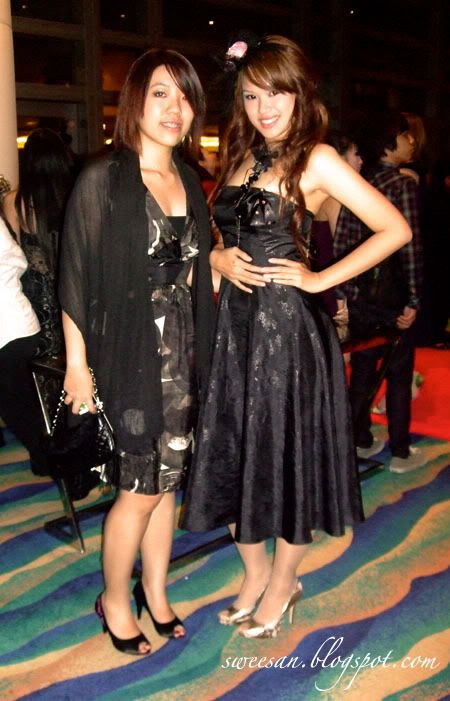 with
Nicolekiss
. who was nominated for Best Travel Blog. She is so pretty and being a travel blogger is so fun. I also wan..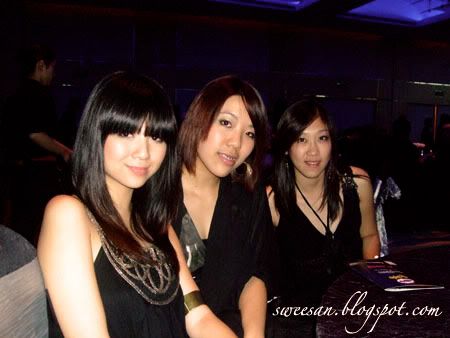 with Cynthia. who happened to be on the same table as us..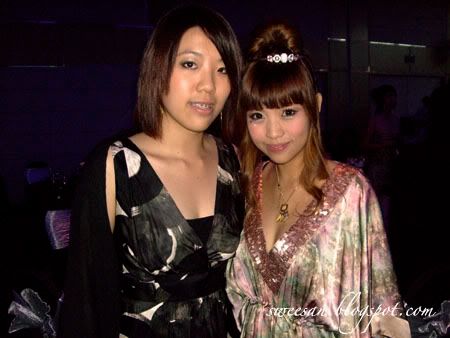 Last but not least,
Ringo
from Cheeserland. She's also very pretty lor! why all the bloggers so pretty de..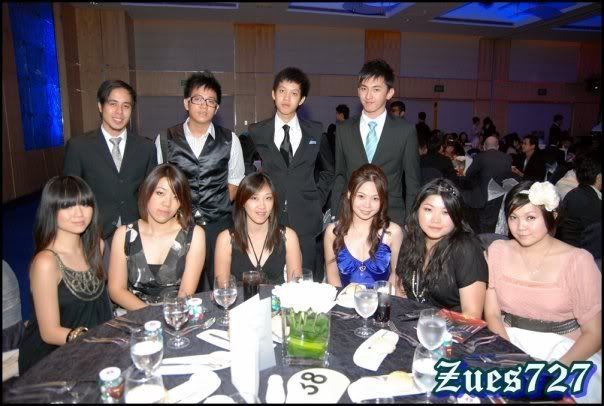 *pic taken from Zues. seated on Table 38. Eh quite good number hor
*phew.. put up photos also take so long T__T
The list of winners
Region's Best Blog : XiaXue
Best Blog Shop : Bonito Chico
Best Food Blog: I eat I shoot I post
Best Fashion Blog: Lady Melbourne
Best Parenting Blog: Childhood 101
Best Travel Blog: Iron Wulf
Best Celebrity Blog: Joanne Peh
Best Entertainment Blog: Kennysia
Best Geek Blog: Mr Gadget
Best Original Blog Design: Xiaxue
Most Influential Blog: Xiaxue
Best Hidden Gem: dedoodleblog
and those nominated are also winners too!!. Click here to see complete list
But how come no KarenCheng. She is my blog-idol
There's also an award of SGD5000 for the best video entitled "It's Krrunch time, get playful"
check it out. It's really really good!!


Lastly, thank you nuffnang for organizing such a great event and for the invites! And for the tour day after. and the accomodation in Link Hotel!