If you've been following me on twitter, I've mentioned that I was going to Singapore for a short couple of days. I go there like 3 times a year. Goodness!! But I don't shop myself silly there or hog at the sale items. Most of the time I'm there, I eat like I've never seen food for days! Eh but right, I still think M'sian hawker food are better. But anyways, you'll see what I meant.
So, as usual I take a coach down to SG and this time around, I was arriving at The Plaza on Beach Road. Most of the time I'm usually stop at Novena, but I think The Plaza is quite cool too cause just it's just a headbridge away from Arab Street and Haji Lane, where all the cool boutiques are located at. Oh but I was more interested in going to this bakery called B Bakery.
It was 3.30pm, sorta tea time and I've only had a cappuccino and triangle nasi lemak from Gloria Jeans for breakfast and nothing since then. So then I walked over to B Bakery nestled amongst Middle Eastern restaurants.
It was empty, well it's 3.30pm!! So I looked at the display and wanted to pick something non chocolatey as I know, it will be a lonnnnnng feast ahead, so I opted for the Banana, Espresso mousse and Mascarpone Cake. The mousse was light and the layer of mashed bananas well accompanied the mousse. I could only wish for a stronger coffee.
And 1 cake down, a couple more to go.
I wrote down my maps and addresses and bus numbers to take. Next I took a bus to Ann Siang Hill area. The ONLY reason why I'm familiar with the place was, a couple of months back, I was at Nuffnang's Award thingy and they had a tour around SG, Maxwell Food court was listed there. So since the food centre is only merely a few steps away, I was pretty sure I won't get lost in there.I remembered while walking along Ann Siang Road, I told my friend then that we should come back here as there're so many pretty cafes !
The bus stopped infront of an Indian Temple and well, I just had to walk a bit and there it was, K-ki.
K ki is like this fun hippy cozy store that sells nostalgic childhood toys and polaroid cameras and amazing japanese inspired cakes. The selection aren't many. (Well at least for me) All that's left was Little Red Riding Hood and Mont Blanc!! I was all the way there for the Antoinette, but they were booked !! No choice then, wasn't in the mood for Mont Blanc, so I took the LRRH.
But mainly because it was FREAKING SHINY!! damn the ganache!
Little Red Riding Hood consist of a classic combination of Chocolate Mousse and Raspberry jelly covered with a smooth and an amazing ganache. Yum.. I wished I had the stomach to try more but I had to reserve for some later..
After all that, I was hungry. No actually I wanted to eat something savoury. Since Maxwell Food Court was around the corner, I decided to get some chicken rice. It was around 4.30ish..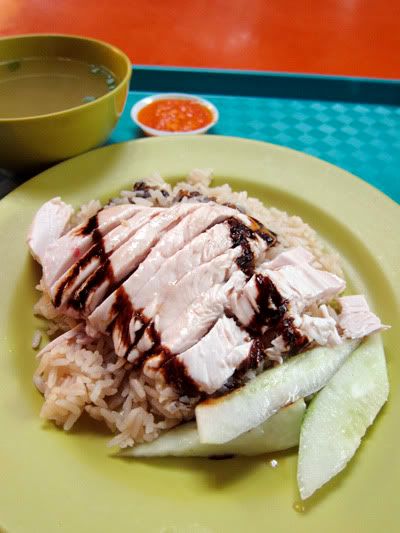 I'm no chicken rice connoisseur. For me, if the rice is fragantly spiced with garlic and ginger and not mushy, I'm good to go. Got this from Tian Tian Chicken Rice (why alot of shops like to call tian tian ??)
Then!! See, I've planned my journey well. All I have to do is walk abit and I'm at another eatery. Once Upon a Milkshake is actually at the other end of the road, so I decided to walk there, say 5-7 minutes walk ? It's located at Maxwell Chambers next to the Red Dot Museum. Luckily the weather was fine. It did rain a while but I was savouring my cake at k ki then, so I wasn't worried.
Once Upon a Milkshake is a cute dainty white and purple cafe with tiny stools and low coffee tables. All I had to do was to ask, so what's your best seller and I got an Agent Strawberry Milkshake, mini. Tho I was actually thinking of the lychee milkshake. Milkshakes are cool but it can't be too big. I particularly like the incy wincy mini cup, uh, especially when u've just had chicken rice and 2 pieces of cake earlier. *burp*
And then, I was actually hunting for Patisserie glace for a souffle. Really!! But tragic
See, from google maps, I just need to walk about 10 minutes or so to Craig Road. Yup I was there, but there were no Patisserie Glace!! Cause they moved to Icon Village, which probably is another 10 minutes walk.
I still had alot of time before meeting up with my friend, so I decided to walk there. By the time I'm there, I think I would need some food already. So I walked for what seemed like eternity. I saw this uber cool building with lots more cafe downstairs. So I walked in and saw Patisserie Glace (suddenly it came up to me that, actually I'm pretty good with directions, DAMN GOOD) and there weren't any sit ins. It's more like a take away place now ? Correct me if I'm wrong. Hrmm I was so tired by then, from carrying the laptop bag and a handbag filled with a notebook, purse, camera, handphone, gps. They never seemed heavier!! T___T
And then, I don't know why I didn't decide to take a cab back, but instead WALKED freaking back to The Plaza to take my luggage. What was I thinking ?? Oh right, the cakes. Yup. To burn them off.
I went back, took my bag and took a cab back to Bugis Junction to meet my friend. Damn feet blisters.
That's not the end!!
I had a fantabulous Korean BBQ dinner after that, in which I'll blog later. I'm sure this is too damn long already .
ciao
———–
B Bakery
15 Bussorah Street
Singapore 199436
Tel 6293 9010
k ki Sweets
7 Ann Siang Hill
#01-00
Tel 6225 6650
Tian Tian Chicken Rice Stall
Maxwell Food Centre
Once Upon a Milkshake
32 Maxwell Road
#01-08 Maxwell Chambers
Tanjong Pagar 069115
Tel 9823 3779