I've probably never cooked 5 recipes out from the same book. Infact sometimes just 2 or 3 then I'm done. But there are also certain books in which I would love to try everything in there, just not too sure how much sugar we can handle per week. So often, I'd look for cakes that are SLIGHTLY healthier or not so rich and heavy. And maybe perhaps keep the rich and heavy cakes for another weekend. Lol, it's like an alternate affair thingy.
And when your family starts asking you "eh got cake to eat or not", then you know it's time to make some. It seems like a norm to find some sort of cake / dessert at home. Lol, There was once, there were 3 different types of cakes in the fridge at the SAME time. Luckily my brother still goes to school and his friends were fed happy.
So anyway, back to the recipe. I saw this from the book Okashi sweet treats made with love (see other recipes made from the book) while I was looking for recipes with pineapple. Ok fits the bill and super easy to make, just need to change a little stuffs. Yup In the book's recipe, it calls for homemade pineapple compote, but I had some canned pineapples that I need to get rid off, so I used canned ones instead.
Pineapple Yoghurt Cheesecake
(makes a 18cm square cake)
Digestive biscuit base (the book calls for sponge, but I made a biscuit base cause it was faster)
200g digestive biscuit
80g salted butter
Yoghurt Cream Cheese
150g canned pineapple rings
200g Cream cheese
80g Caster Sugar
2 small tubs of mango yoghurt ( about 300g)
100g whipping Cream
1 tbsp lemon juice
1 tbsp cointreau liqueur
8g gelatine powder
Method
1. Process digestive biscuits till it's crumbly and fine. It doesn't need to be 100% fine. A little crunch here and there would be okay.
2. Melt butter and mix with the biscuit well. Pour onto springform pan and level it with a spatula or spoon. Put in the freezer to let it cool while you make the cheese filling. Otherwise you can put in the fridge / chiller overnight.
3. To make cream cheese filling, cut drained pineapple rings into small wedges (get 8-10 pieces) out of 1 ring. Pour in cointreau or other liqueur (like malibu) into the pineapple rings and let it macerate. Set aside.
4. Dissolve gelatine powder with 2 tbsp of cold water. In a mixing bowl, beat cream cheese and caster sugar till creamy.
5. Add yoghurt, cream and lemon juice and blend together.
6. Heat up gelatine in the microwave / double boiler, once it has melted, add into the cream cheese mixture. Add in pineapple pieces and fold gently.
7. Pour mixture onto digestive biscuit base . Chill in refrigerator for 3 hours or overnight to set.
8. To serve, use a warm knife to slice the cake. Add dessicated coconut for that extra "tropical" feel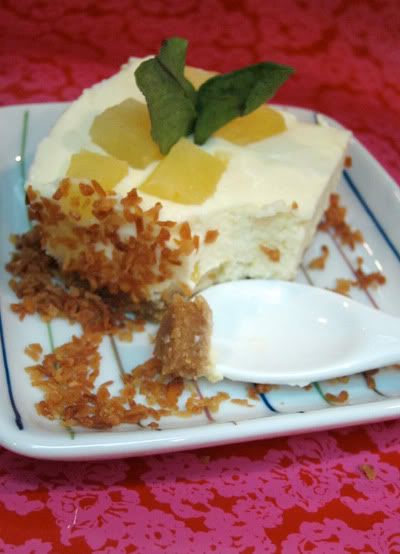 Ok on a totally unrelated note, I'm thinking of planting some garden herbs and stuff. Anyone knows where to get the small plants (that actually lives ?) Thanks !!