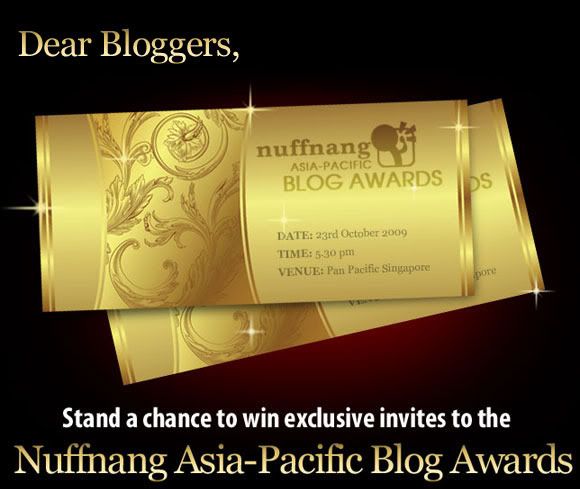 Yup, this is Part 2 of winning my way to the Nuffnang Asia Pacific blog Awards.!! If you haven't entered yet, quick, do it before this Saturday (Part 1 is over here)


Well I'm glad this award is held in Singapore, because if it's held here in Malaysia, I wouldn't know how to compose this post. Honestly, when people say the grass is greener on the other side, I wouldn't deny it. As much years as I've lived here in M'sia, I would always want to try living somewhere else. I've tried Sydney, I kinda loved it. Singapore is a … "cool" place to live in I reckon. I went there for a short trip a couple of months ago and it was fun!
Before I get drifted away, here's the question : WHY you should be given this opportunity to experience the rich blend in culture, cuisine, arts and architecture of Singapore.
Well, because I haven't had enough of Singapore yet!! Even though it's a small country, I think there's just so much to offer. So many restaurants to try, so many clubs to go (ooppss), so many places to photograph, and so many desserts to try!!
Now if I were to plan a 1 day itinerary in Singapore, here's how it would probably look like. (and let's just imagine, transportation is not quite an issue here)
8am – Does anyone go for a spa so early in the morning? I would foresee a very busy day so yoga / spa / massage would be great in the morning..
10am – Ah!! Breakfast Brunch at Graze Seems like a crazy expensive breakfast place! But I really dig the all american pancake oozzing honey runny scrambled eggs fat juicy sausages breakfast platter.. T__T It looks like a pretty nice place. (very sydney-ish :P)
11.30am – Ok I think the food has digested, so it's time to get adventurous!! I want to try the trapeze… Trapeze ?? Flying Fox ? I think I'm crazy :S
12.45pm – Must Go. Pluck. Ice cream. Waffles!!
1-3pm – Haji Lane for SHOPPING ! The last time I was there in SG, I didn't had the time to do much shopping. Well cause I was more keen on eating 😛 But I've seen on Karen Cheng's website long time ago.. I like shopping at boutiques, than in shopping complexes and odd pieces than designer stuffs. Even TIME has recommended.. oh com' on
Lunch would be, then be some arabic / middle eastern / lebanese food. Kebabbssss!! Humus chickpeas tabbouleh .. What's a good place to eat there ? I'd have to ask a local there 😉
3-6pm – Cooking or baking class at Shermay's Cooking School. I really enjoy going to baking / cooking classes (OK wait I'm not so sure abt cooking, but baking is a yes yes!! its just in the blood 😛)
6.15pm – Ah, prior to dinner .. a snack ?? Kuih Tutu!! A friend brought me to a housing area to have some kuih tu tu .. really really good but I forgot where was it..!! Plus, it's hard to find here in M'sia..
Oh, oh I think I can squeeze a bit of time outta here, let's go Wonka!! I mean, Candy Empire. Seriously I do need some souvenirs right?? hehehe Can I fit a coffee in ??? Pleassseee…
8pm – Dinner at the Singapore Flyer! That would be really cool!! It's my super duper dream to do Dinner in the Sky (click link) I cannot imagine how it would be like to be hung up for a few hours just to have dinner T___T puzzled but it would definitely be an experience of a lifetime (I do think, once is enough hahaha) So I think Singapore Flyer could satisfy me till I get the real deal.. It actually also reminded me of a place i went to a couple of months ago.. Vertigo Grill & Moonbar in Bangkok .. Man, I love heights!! Cause the view is just too amazing to miss!!
9 pm – Night Safari It's having the halloween theme!! I've not been to the zoo for the longest time ever, I think I should re-visit!!
11 pm – Clarke Quay. This place really reminds me of Darling Harbour in Sydney. I just had a stroll the last time I was there, so next time around, I think some drinks or ice cream would be great! Oh no wait, I think I wanna go Chijmes too !!!
AH !! how how how ???
Ok let's skip the Night Safari…
10pm lets go Bungee!! I think by the time now I would have puked all the food out T____T Must go. g-max!
And then …..
10.30pm … Desserts! YES !!!!! where ? 2am dessert bar. I love this place.. It probably is one of my dream to open such a thing here in M'sia.. Chill. wine. desserts. chocolate… yum.. They now have a d10 degustation menu, oh I MUST go back there
So basically, all in all, these are the few places I'd go if I'm back there.. Pluck, 2am dessert bar, g-max and shermay's cooking school and haji lane..
Wow, who stays up till 4am to write an itinerary ?? I think if I follow this itinerary, I'd either die of exhaustion (hey, I told you there's SO MUCH things to do in Singapore, 1 day not enough) or I need a teleport machine to bring me from place to place… 😉
And this trip is a mix of shopping, eating, learning, plus, there's even outdoor activities!! It's indulging in the uniquely Singapore experience, eh..
*tired*