Chinese New Year is just 4 weekends away. I guess it would be here in NO TIME at all. Weekend 1 would be my mum's birthday. Weekend 2, we'll be heading to Broga Hills for sunrise. PLease if anyone has been there before, tell me it's not that scary to hike at 5am T__T For weekend 3, we'll be heading to Bangkok for some serious shopping. and that's it! By the time we come back, it's the week of crazy cookie eating session and visiting relatives who only see you once a year ? HAHA.
OH okay, I'm suppose to  blog about these Green Pea Cookies.
Well they weren't all so traditional. I remember seeing them only in the recent years, and it's becoming a norm for it to appear alongside classic favourites like Pineapple tarts and Kuih Bangkit. (Kuih Bangkit is actually my favourite!!)

Chinese New Year Cookie: How to make Green Pea Cookies
Ingredients
140g Green Pea, grinded (most of them sold in stores now are grinded)
60g Icing Sugar
1 tsp salt
170g Flour
½ tsp Baking Powder
½ tsp Corn Flour
100ml Corn oil (or other vegetable oil)
Instructions
Measure and sift dry ingredients in a bowl. Use a whisk and combine the dry ingredients.
Add in oil to the mixture and mix thoroughly till a dough / ball is form.
Roll dough in small balls of 10g or however much your wish. The total weight of the dough was 500g, so I thought it was easier to make them at 10g each. Use the back / tip of chopstick and make a mark. Brush with yolk glaze or milk. (In this case I used milk to keep it entirely vegetarian for mum)
Bake in a preheated oven of 170 C for 15 minutes or until golden brown. If using egg glaze, the browning may be more apparent than just using milk. So I left mine in the oven and increased the top heat of oven to 190 for quick browning.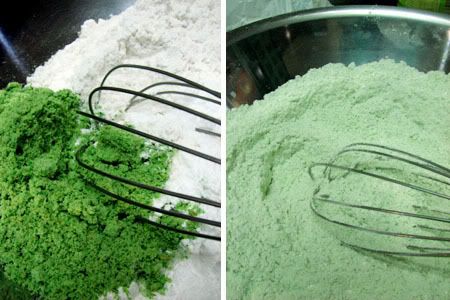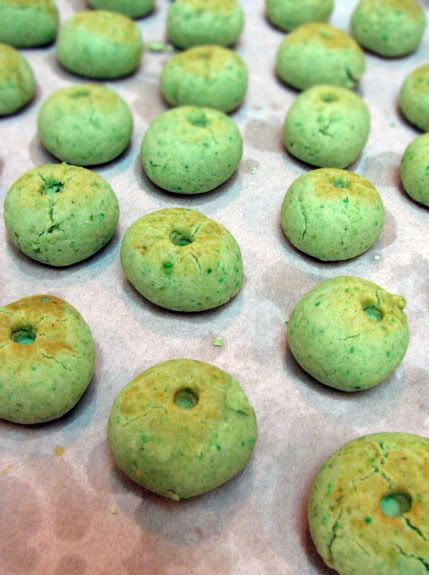 There are some things I found about baking these cookies. They don't smell nice while it's baking. Actually the smell put me off, I wondered what was going on with the cookies / oven. When it's baked and cooled, I kept it in an air-tight container for a day to rest. Tasted the next day, it was much better than when it's out from the oven.
But I also realized that the green peas weren't fragrant enough so the next time I make it, I'm probably going to toast them for that extra kick. Or maybe get a pack of grinded green peas from somewhere else..