Hi everyone, this is Faith and Donald.
Faith is my niece and since today is her birthday, it makes better sense to post this up today.. Faith turns 5 today and I like it when she says "Why you don't want to share? sharing is gooood" to other kids who doesn't want to share their toys. haha I mean, which kid says that anyway?
So as usual, she will decide on the theme and I'll make the cake for her.. This year it was Under the Sea. She likes Ariel cause her hair is red, and her sister likes Flounder.. So I made these 2 characters on the cake…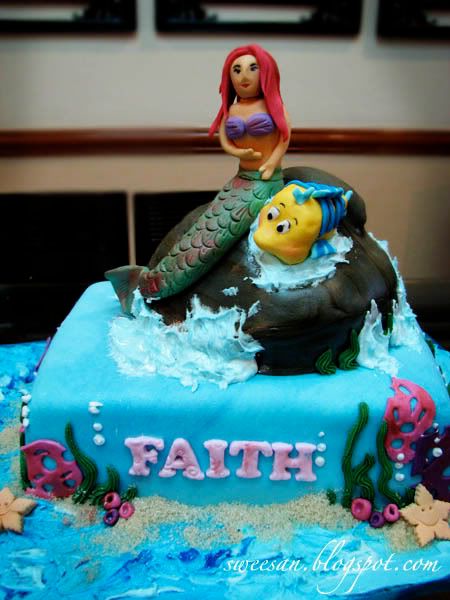 The "sea" cake was a red velvet cake with french buttercream and the "rock" where Ariel and Flounder is sitting on is a dark chocolate cake sandwiched with chocolate buttercream and covered with ganache. I made it the very next morning after coming back from Hat Yai.. T__T I was still a little blur at that time haha .. The "sea and waves" on the board was done with royal icing coloured with blue and white. As for the "sand" they were brown sugar, although I think digestive biscuit would be good too!!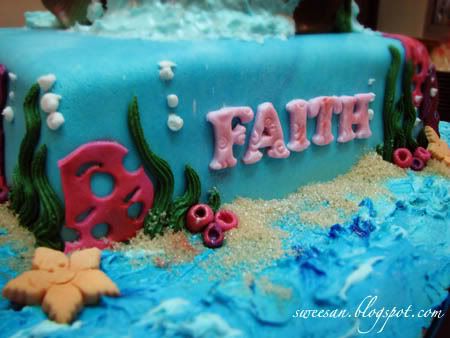 Last year she asked for a castle, I didn't upload her 3rd birthday's cake. When she was 2, I wasn't in Malaysia. And this was her very first cake or rather my very first attempt on novelty cakes.. Her younger sister Adira had a Barnyard Animals Cake on her 1st birthday last year.. Look at how they have evolved.