Hi all,
How's everyone coping with the Raya Open Houses and curries and rendangs ? Remember to not over eat as the effect of overeating (especially in a buffet spread) is the same as smoking 2 cigarettes. like how ? Your arteries actually stiffens for a few hours after a big eat session. So guys, becareful!!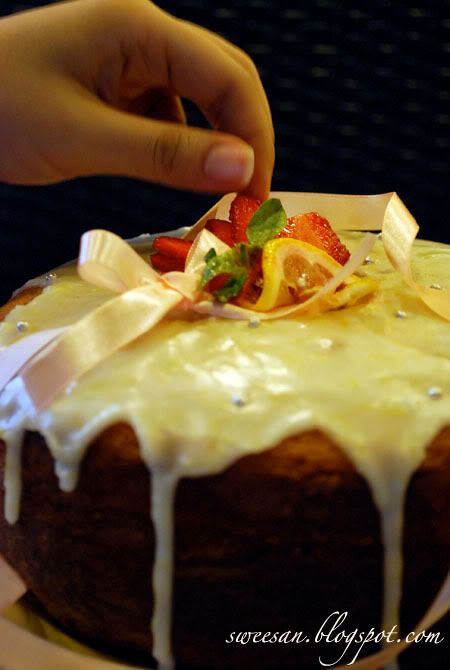 Oh right, yup. I decided to make some simple stuffs over the long weekend. Sorta like, back to basics.. Pound cakes are made with a pound of everything, which I guess the name came from there. I sometimes like cakes with a little citrus tastes so it's not so in-your-face. 😛
And sometimes there's a confusion over Pound & Butter Cake. I would categorize as butter cake being more asian (hence, lighter, less sweet and a little oilier) and pound being more traditional / westernized (hence, heavier, denser and a little sweeter). Which do you prefer, or it doesn't really matter actually ?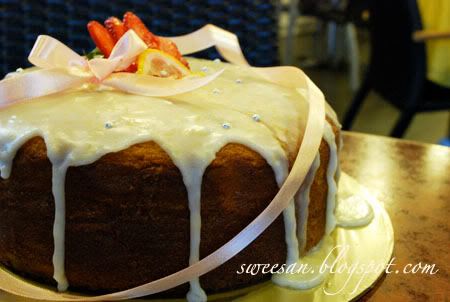 Classic Lemon Pound Cake

250g Butter
250g Caster Sugar
4 Eggs
280g All Purpose Flour
1 tsp Baking Powder
1 cup Milk
pinch of salt (if butter is unsalted. Omit if butter is salted)
1 whole lemon zest
1 tsp Vanilla Essence

Method.
1. Cut butter into cubes, preferably still cold. Sift dry ingredients into a separate bowl.
2. Cream butter, sugar and lemon zest in a mixing bowl with a beater for 3-5 minutes or till light and fluffy.
3. Gradually add in eggs and vanilla one at a time at 30 seconds interval.
4. Alternate dry and wet ingredients, starting and ending with the dry with a slow speed.
5. Scrape batter into lined 20cm pan and bake at 170 C for 40-50 minutes or till skewer comes out clean when inserted to the middle of cake.
6. Let it cool for 10 minutes and remove from cake pan. Serve with custard sauce or jams & preserves.
I made some glazing for the cake for simple deco. One can eat it with Creme Anglaise or homemade strawberry jam or dipped into coffee.. 😀