Oh cookie madness it seems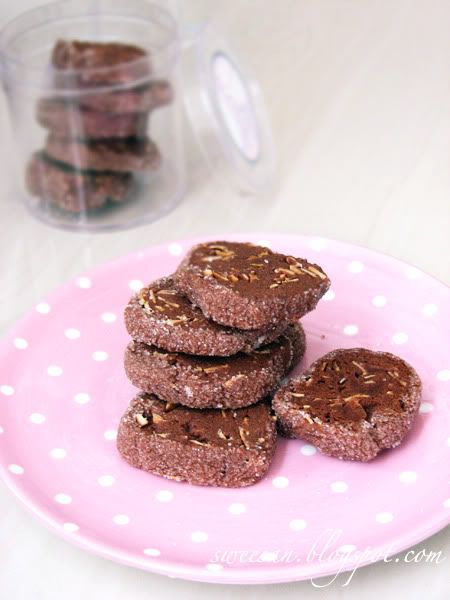 I like making cookies when my nieces are around, they always bug me to let them do something. Like balling them or putting the choc chips or rolling or cutting, or something.
Like the butter cookie we made last week, they (2 nieces) helped to put the chocolate chips on top. And they will ask me "yi yi (means aunt), how long till it's done?"
or "yi yi, are the cookies done ?"
Faith
, the little kitchen helper 😉
Orite, back to the cookies. Well if u've read my blog for some time you will notice that there's
alot
of post abt Singapore. And funny thing was I was really OCD that I needed to get the book Okashi by Keiko Ishida from Shermay's cooking school. See, that was the
first place
we went upon arriving Singapore. See how desperate ?
That's all because I know the book is not available here in Malaysia. (or is it now?)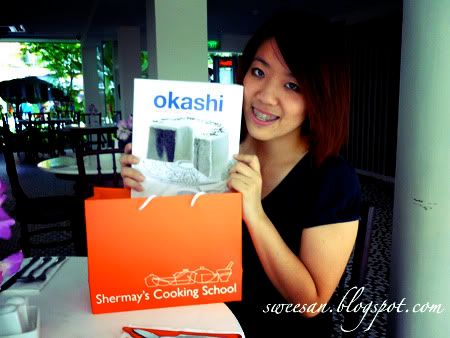 jeng jeng jeng yay!
I've always been a fan of Japanese inspired French patisserie, no doubt. The book was good either for beginners or professionals as collectibles as it was loaded with photos at every page and even step by step photos. Best part was there's even a section for pets;
read chicken liver cookies and homemade jerky
. Also in the book was a section of special recipes;
read dairy and egg free
.
I tried a couple of recipes from the book and it's pretty good. Here's one of them
Chocolate Almond Cookies
makes about 40
(adapted from Keiko Ishida's Okashi, pg 144)

Recipe

40g Almond flakes
150g Flour
20g Cocoa Powder
120g Unsalted Butter
70g Icing Sugar, sifted
pinch of salt
1 Egg yolk
granulated white sugar for dusting
Method
1. Preheat oven to 150 C, then bake almond flakes for about 20 minutes. Sift flour and cocoa powder together.
2. Beat butter, sugar and salt until softened. Add egg yolk and mix well.
3. Fold flour, cocoa powder into butter mixture. Add toasted almond flakes and fold through. Chill dough in refrigerator for 15 minutes.
4. Divide cookie dough in half. Shape into logs about 4cm diameter in parchment paper. Wrap logs and chill till it's harden.
5. Increase oven temp to 160 C.
6. Slice cookie dough log into 7mm thick pieces. Roll edges of cookies in some granulated sugar. Place cookies on a baking tray and bake for about 20 minutes.
7. Remove from heat and cool on wire rack. Store cookies in airtight container.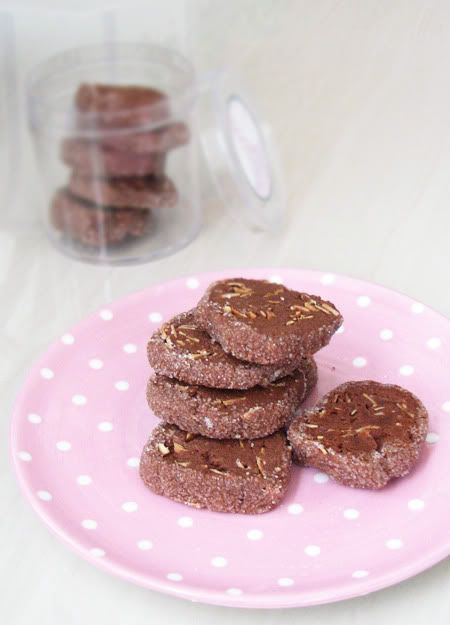 Note : Be patient and make sure the dough is hard enough to cut, and doesn't changes its shape. Otherwise you get cookies which are shaped like mine, a little odd instead of round.
Once u've rolled them in log shapes, they can be kept in the freezer for up to 2 months. That makes it easy whenever u need some last minute cookies to serve guests or to kill cravings ;P