EEeekkk !!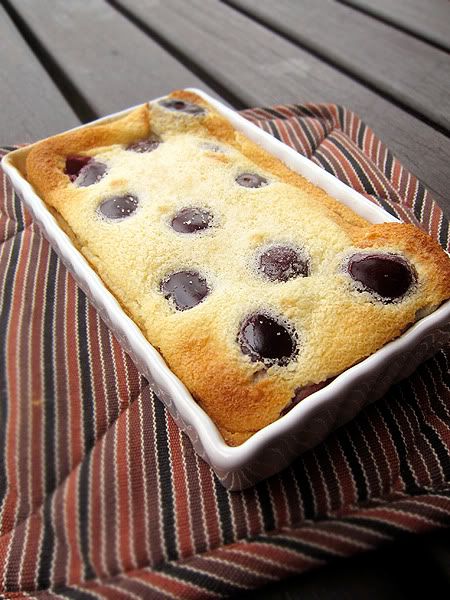 Since it's almost the end of cherry season, I might as well post this up for who might wanna finish up the last bit of cherries.
Cherry Clafoutis (Pronounced "klah-foo-tee") is a simple French dessert, somewhat a cross of pancake, pudding and flan like texture and baked in a hot oven until the batter has set with a nicely browned and slightly puffed edges. The steps are easy and this clafoutis smells AMAZING !!! I don't know why but it's this cake that made whole showroom smell darn amazing. Sweet vanilla caramelized flavour lingering around the office. Yes I do sometimes bring some food to the office and reheat it.
This dish is traditionally made with unpitted cherries, so the seeds release an almond aroma. But of course, you can also make it with pitted cherries. I made mine with the kernel still intact. Well it DOES have a light almond flavour on the cherry. But seeing i've baked the cherry pie with pitted cherries, I would definitely like it better with pitted cherries, as I'm really not a huge fan of almond flavoured things.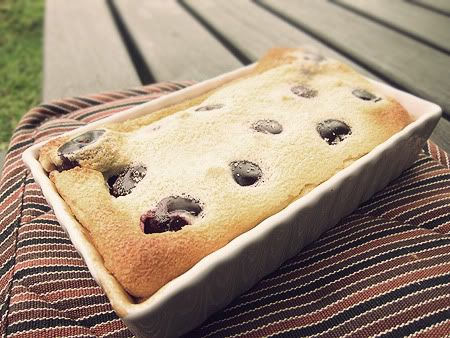 Cherry Clafoutis
(adapted from Table for 2 … of more)
70gm whipping cream
30gm milk
1/2 tsp vanilla extract
1 Tbsp sugar
1 egg
23gm or 3 Tbsp all purpose flour (sift before measure)
A few fresh cherries, pitted or unpitted.
1. Preheat oven to 180C
2. Heat milk, cream into a small saucepan and bring to boil on the lowest heat. Put in sugar to melt. Set it aside to cool down.
3. Meanwhile, beat the egg and vanilla extract in a bowl. Pour the cream mixture into the egg. Whisk to combine.
4. Put in flour and whisk to combine.
5. Pour into a shallow baking dish. (no need to grease, it comes off nicely)
6. Put in pitted cherries and bake for 30 minutes until surface of the clafoutis is golden. Serve warm.