Sweet Ridge gourd probably has a lot of different names to go with, petola, sponge gourd, luffa and even ridge gourd. They're somewhat similar but I think they're not entirely the same. I guess they still belong to the same family. Haha ok I don't want to give the wrong information so I just found a picture of the gourd I used. *If you want to know more about the gourd, you can check my comment box*
It has ridges of very hard skin (see those lines) and well they're meant to be peeled away. Inside is white, almost like a zucchini but sweet gourd is spongier and lighter. I've see my mum cooked it long time ago and she usually peels off everything till it shows a little of the skin. The outer skin is usually very hard and leathery, so it's better to peel it off.
It's actually the first time I'm cooking with this sweet gourd. I was trying to recall if I need to peel off everything or just the ridge part. But just to be safe, I peeled the entire thing leaving to look like this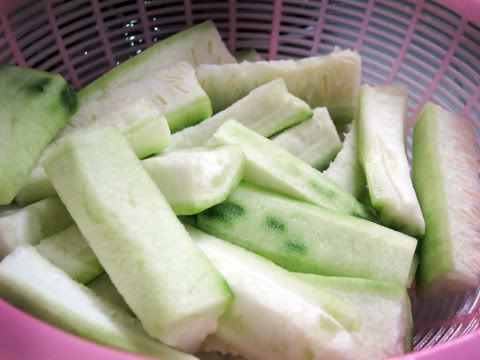 This are cut into wedges already. Somehow they are like sponges, they absorb the liquid or stock or broth from the dish and it becomes extremely soft and nice to eat.
Braised sweet ridge gourd with egg tofu recipe
(serves 4)
2 packets egg tofu
oil for deep frying
1 chopped garlic
1 tsp chopped ginger
1 ridge gourd (about 200g)
Seasoning
1/2 tbsp oyster sauce
1 tbsp light soy sauce
1 tsp salt
dash of pepper and chicken stock granules
150ml water
1 tsp corn flour mixed with 2 tbsp of cold water for thickening.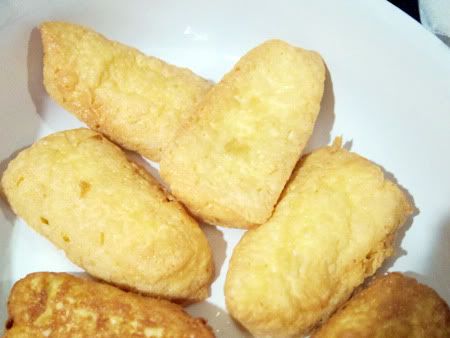 deep fried egg tofu
Method
1. Cut the tofu in half. Remove egg tofu from wrappings, slice lengthwise into half again, then you'd have 4 pieces from each egg tofu. Heat oil in work and deep fry tofu. It takes quite a while for it to turn to golden brown. Dish and drain. Arrange onto serving plate.
2. Remove skin and ridges from gourd. Cut into wedges about 2-3 inches length.
3. Heat up 1 tbsp oil in another pan, saute chopped ginger and garlic until fregrant. Add in sweet gourd and stir well.
4. Pour in seasoning and cook for 4-5 minutes. The sweet gourd would absorb all the broth and soften up. Thicken with corn flour water and pour over fried tofu.
Serve hot.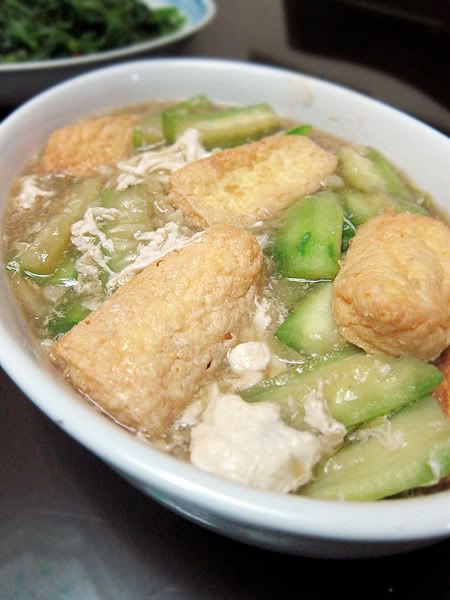 Incase you're wondering what the white stuffs are, they're egg whites. After I thicken with corn flour, I stream in an egg white and stir for a couple of seconds before dishing it up. It's a nice vegetarian dish, or if you're bored with eating just green veges by itself, add some tofu to it, just like this dish.
—-
Ok since I'm also on the topic of my dogs (yesterday's post) I might as well put up more pics. Haha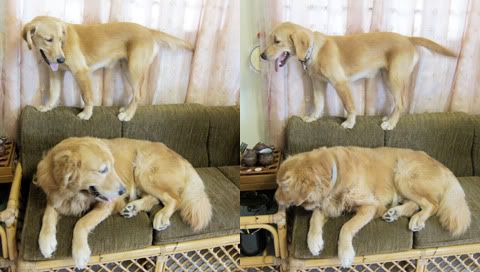 I tell u . this little fella have this idea of standing on the sofa just like that. Admittedly, it's quite a hard piece of sofa but still….. !!!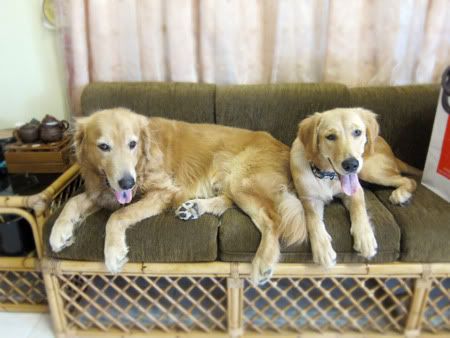 WAh They finally sat still for me to take a picture!! Do they look alike ? They have the same colour of coat tho.. Which I like.. wheee … OK I'll try to take a pic of my other favourite dog aorund my neighbourhood. he's a goldie as well he's really like a BIIIGG round furball with super round eyes.
😀